SCHOOL IS CLOSED
Friday December 15th is a minimum day.
MONDAY DECEMBER 18TH 2017 – MONDAY JANUARY 1ST 2018
SCHOOL RESUMES TUESDAY JANUARY 2ND 2018
THE JOY OF YEARBOOKS
A yearbook is one of the few things that is treasured forever.
Honor your student's story by ordering one online by December 15, 2017.
When you do, you'll be entered for a chance to win a $250 Best Buy gift card. Yearbooks are only $30 until Feb. 8 when the prices rises to $40. Order today!
*NO PURCHASE NECESSARY | SEE RULES
KOREMATSU CHOIR SPRING 2018
Spring 2018 Choir's first class/rehearsal ("trial class") will be Wednesday, January 3rd at 1:35pm. Sign-ups are welcome to consider/join in up until the second official class on January 17th. To secure your student's spot for the Spring Session, submit $150 payment (total payment for all of the 16 class) soonest OR let us know your student will be on scholarship (or payment plan). For more information, contact Georgina and Mary at: korematsusings@gmail.com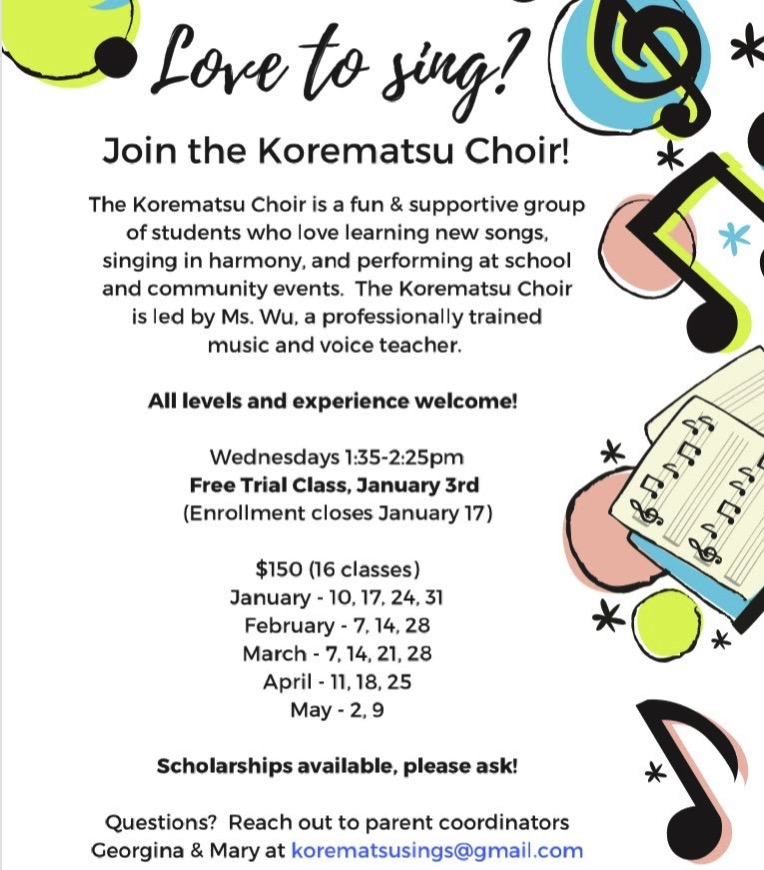 CELEBRATE KOREMATSU


Saturday, January 27th 2018

5:30 – 9:30 pm
Please join us for Celebrate Korematsu, a fundraiser for our school, our community, and our fabulous bands. Enjoy great food, a silent and live auction, and music performed by our great, young musicians.
Tickets go on sale January 2nd.
Click on the link for more details, to sign up to volunteer, and help make the event a success for our children.
BAKERS NEEDED
Dessert of the Month is looking for bakers.
This is one of our favorite Celebrate Korematsu auction items,
because of the amazing treats that show up on the winner's doorstep.
All desserts are welcome!!
If you have a dessert you'd like to contribute to this
please contact Tammy Garretson at tammylou@sbcglobal.net.
Once we know the winner, you will receive an email with their name, address and the month
you are assigned.
It will also include any food allergies.
ECHS WINTER SYMPHONIC CONCERT TONIGHT!!
featuring Concert Band, Symphonic Band and Wind Ensemble
Thurs, Dec 14th at 7:30pm in the ECHS Performing Arts Theater
$8 adults, $5 students (Korematsu band students, free)
Free reception to follow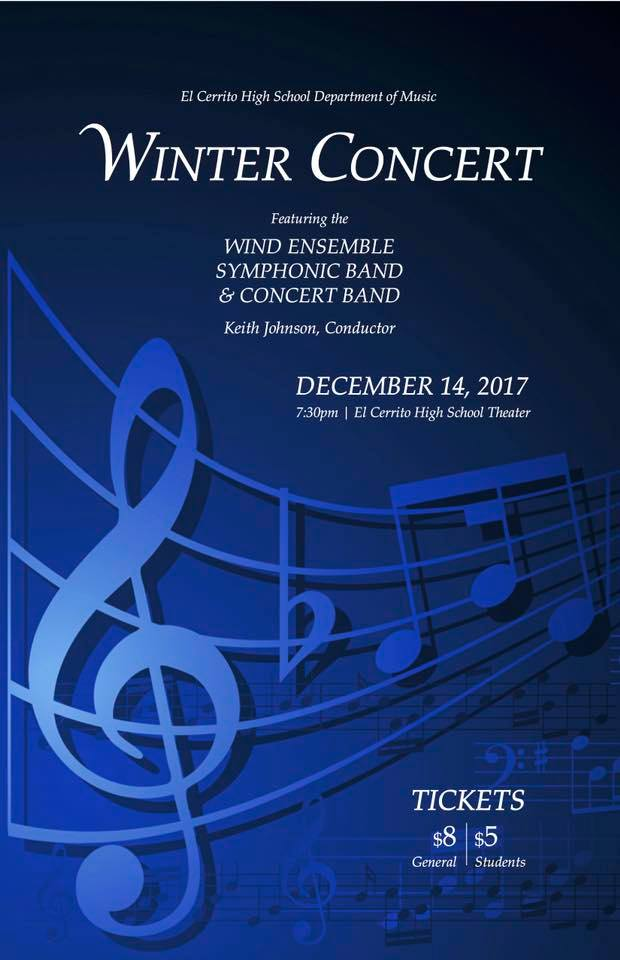 SHOPPING ONLINE? SUPPORT US WITH AMAZONSMILE

How does it work?
Log into AmazonSmile with your existing Amazon password.
Choose Fred T. Korematsu Middle School, El Cerrito, CA as your charity. Link: smile.amazon.com/ch/94-6173241
Shop as you normally would, and we collect .5% on eligible purchases.
Consider installing the Amazon Assistant to your Chrome bar so that AmazonSmile is always a click away.