TEACHER LUNCHEON
The last teacher luncheon for this year is tomorrow, Friday December 8th. 
The theme is food that makes you happy. Bring whatever dish puts a smile on your face, makes your tummy jump and makes you feel good. To sign up here.
MAGIC IS IN THE AIR
It's the holidays. And a great time to order a yearbook. Place your order online by December 15, 2017 for a chance to win some holiday help with a $250 Best Buy gift card.
 *NO PURCHASE NECESSARY | SEE RULES
CELEBRATE KOREMATSU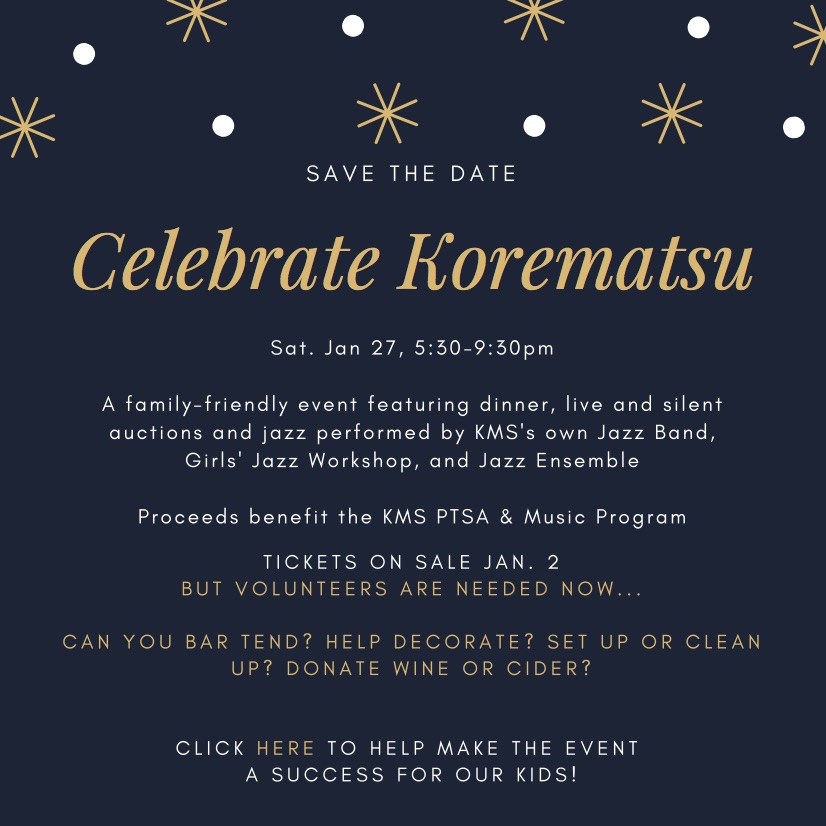 DESSERT OF THE MONTH
Dessert of the Month.  Got a sweet tooth?  
We've got the auction item for you!  For a WHOLE YEAR, you'll get one dessert each month prepared by a Korematsu family and delivered to your door.  From a fruit tart in May 2015 to a red velvet cake for Valentine's Day 2016, you'll get a wide variety of homemade sweets. Come to Celebrate Korematsu to bid!
NEEDS ASSESSMENT SURVEY AFTER SCHOOL PROGRAM 
 The City of El Cerrito Recreation Department has been asked to conduct a needs assessment to determine if the families of Korematsu Middle School would benefit from the addition of more program options after school.  Please fill out this survey to help us ascertain the level of need for more programs and the types of programs that would be most utilized.  
https://www.surveymonkey.com/r /3BQBYFF
KOREMATSU SPIRIT WEAR
Order your Korematsu Spirit wear ​​
Details: ​Korematsu spiritwear
WARRIORS

The Ed Fund & WCCUSD Invites you to see the Warriors!!!
You are invited to support the Ed Fund in collaboration with the West Contra Costa Unified School District to go see the Warriors play on February 22, 2018 @ 7:30pm at the Oracle Arena. The deadline to buy tickets is December 15, 2017.
The proceeds will go to support the Ed Fund and our mission to serve as a resource that aligns with the efforts of our partners to ensure that all our students succeed in college, career, & life. Recently, we awarded $20,000 in Bradley Arts grant to support 22 schools around the district to help fund their project.
Click on the link below for details: Warriors Poster
​
ECHS Winter Jazz Concert
Featuring Jazz Workshop, Jazz Ensemble and Jazz Combo
Fri, Dec 8th at 7:30pm in the ECHS Performing Arts Theater
$8 adults, $5 students (Korematsu band students, free)
Free reception following the event
ECHS Winter Symphonic Concert
Featuring Concert Band, Symphonic Band and Wind Ensemble
Thurs, Dec 14th at 7:30pm in the ECHS Performing Arts Theater
$8 adults, $5 students (Korematsu band students, free)
Free reception following the event