Below is information about a few of the excellent classes offered at KMS. If there is a link to a separate page that the teacher has created, you can click through to see more details about what is happening in class. If your student is in one of those classes, please feel free to check the teacher's website regularly to help your student keep up with course assignments and actively engage with their learning.
Recommended Books from Mr. Vedder
Also:
1. If you have an account at your local library, you can download books to your phone or preferred reading device. I, personally, use the app "Libby" to reserve books, and read them on my iPhone using the "Kindle" app.
2. If your student opens up the Clever App on their tablets, they can also download texts through the "Destiny Library" from Korematsu.
3. You can also buy titles online from places like Amazon and Thrift Books.
HISTORY
Our history teachers have been digging into the "DBQ" Project.  DBQ, or Document-Based Questioning and MiniQ's integrate skills with content in history. Historical content is embedded in a pedagogy which we now call The DBQ Method, which helps students learn to think and write. As a result, our lessons address most all of the Common Core Standards in reading, writing, speaking and listening, and several stan
dards in language. The DBQ Method helps students read with understanding, think analytically, and write clearly about history by using authentic historical documents.
Mr. Fulumirani's Green Crew has been invited to participate in a clean-up of the Greenway under the BART tracks. This is just one example of our students supporting our community.
Mr. Pohl's Gateway to Technology Page
Mr. Douglas Lee in the Math Page
Mr. Arnold's Library Page.  The library is open throughout the school day, at lunch, and after school every day except Wednesdays until 3 pm. Students come in individually or in small groups, or with their whole class when teachers schedule visits. They are welcome to come anytime the library is open. Students need their IDs to check out books and may have up to four books at a time. Current library projects are the Library Reading and Tech Stars (RATS), the Battle of the Books, and the National Junior Honors Society.
Ms. Aloccer's Spanish Classes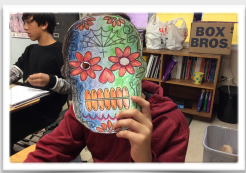 With good study skills and respect for the language, students have begun to read write, and speak Spanish. Gradually, students will continue to be exposed to the lifestyles, history, politics, and culture of Spanish-speaking populations. Through exposure to children's Spanish literature, hands-on art activities, research projects, and the textbook curriculum, students will gain knowledge and access to a new cultural awareness as well as the ability to one day communicate internationally.
Ms. Alcocer's Beginning Art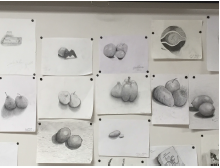 Students are being introduced to materials, techniques, concepts, and processes necessary to understanding visual arts. Students are developing an awareness and appreciation of self-expression and the visual experience through a variety of projects, critiques, readings, and writings. Students are learning to respond, analyze, and interpret others' artwork as well as their own.
Jackson Lee's History Classes
My name is Jackson Lee and I started teaching at Korematsu this year.  Information about how I shape my curriculum and instructional pedagogy can be found here.
Mr. Fulumirani and I have been collaborating weekly on implementing a Project Based Learning curriculum for 7th graders. Along with 21st Century Learner skills. Our instructional strategies are shaped by Bloom's taxonomy which is theory that suggests that students should do more than just memorize and regurgitate facts. As such, Me and Mr. Fulumirani are focusing more on student-centered learning and we are creating our own DBQs this year, we call them 'Mini-Q's'.