ANNUAL GIVING CAMPAIGN
Please make your contribution today! The PTSA needs your support to run all of its programs this year. Many thanks to the 60 Korematsu families who have already donated! Please join them with your donation in any amount. If you donate $100 or more, you will receive a Korematsu car magnet! Click here to donate now! See our flyer for more details.
ANNUAL STORY AND ART CONTEST OPEN TO KOREMATSU STUDENTS
All Korematsu students are invited to participate in "Fright Write," an annual story, art, and comic strip contest sponsored by the PTSA. Submissions must be given to the office or English teacher by Thursday, October 5th.
Every participant will be entered into a raffle for a Basket of Halloween Goodies

The writers of stories that have been selected for publication will each receive a copy of "Fright Write."
Rules & Guidelines:
Each student may submit ONE original entry on a Halloween-related theme in EACH of the following categories.

Story/Poetry Category— Length: One-page MAX.Format: Typed on 8-1/2" x 11" paper, no smaller than 10 pt. font size.

Comics Category— Length: One-page MAX. Format: Must be on 8-1/2" x 11" paper, with original hand-drawn artwork in BLACK INK. NO pencils or computer-generated graphics.

Art Category — Materials/Media: Must be on 8-1/2" x 11" paper, with original hand-drawn artwork in BLACK INK. NO pencils or computer-generated graphics. Format: 

a) Front cover: artwork must fill up a page of 8-1/2" x 11" and include the title "Fright Write 2017-18." b) Back cover : artwork must fill up a page of 8-1/2" x 11".
KOREMATSU BENEFIT YARD SALE
SATURDAY OCTOBER 14 , 9 am- 4 pm
NEXT DROP OFF DATE FOR DONATIONS IS
TOMORROW, FRIDAY, SEPTEMBER 29th!
6:00 – 9:00 p.m.
We need donations of gently-used household items, toys, sports gear, small furniture, ETC. PLEASE BE DISCERNING. PLEASE ONLY GIVE US THINGS YOU YOURSELF WOULD BUY.
Please drop off items at our Parent's Room in Building A, right across the main office.
The next drop-off time is Friday Sept 29th donation drop off 6-9 pm. THANK YOU FOR YOUR SUPPORT!!!!
FREE Volunteer Fingerprinting Parties For Parents Saturdays!
The fingerprinting parties are designed for parents and community members who want to volunteer in WCCUSD. This is a drop-in day, no appointment needed. The online application must be completed BEFORE the date of the event. Please use the link below to complete the online application.
http://www.beamentor.org/now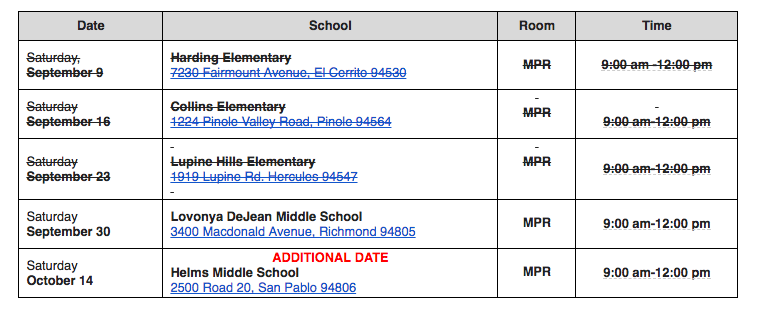 12th Annual Parents as Partners & Leaders Conference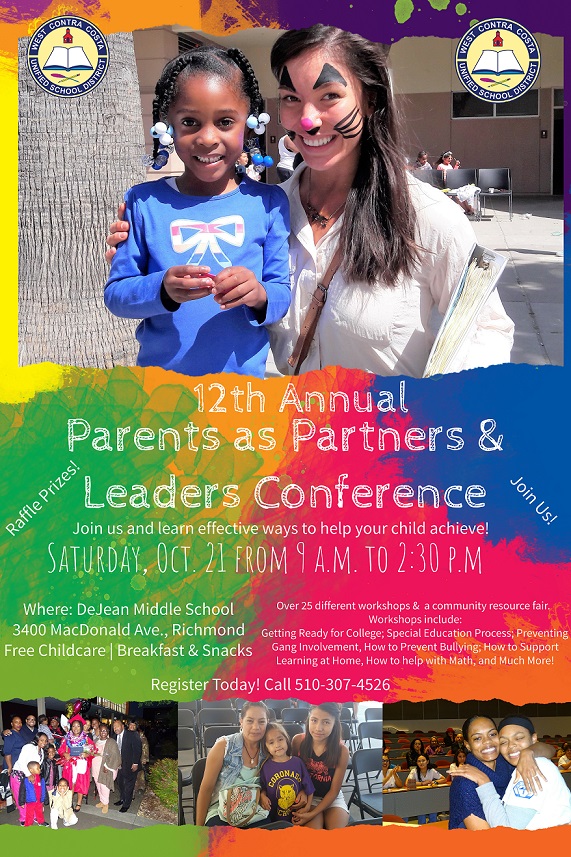 Families are cordially invited to the 12th Annual Parents as Partners and Leaders Conference, Saturday, October 21st, 2017! This conference draws hundreds of parents every year and provides parents with information through interactive and engaging workshops that will help them support their child's academic career. Paper registrations for the conference will be sent out this week via interoffice mail. Please help us distribute the flyers as soon as you get them.
Paper Registration Flyer (Bilingual)
Marín Trujillo
Community Engagement Coordinator
West Contra Costa USD
1108 Bissell Ave
Richmond, CA 94801
510-307-4526-office
510-970-7963-fax
WCCUSD Highlights
Join the WCCUSD Mailing List
Click on link to see a video about Parent University
Teachers' Wish Lists
Our Librarian, Ms. Bogie
 Check out my Wish List. Wish Lists are great for keeping track of things you'd like to have and for helping your family and friends buy gifts you really want. Thanks for taking a look.
English teacher, Mr. Vedder