Does your student use the public library?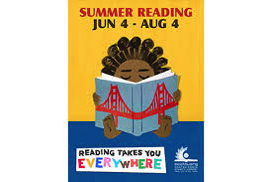 Would they like to start?
Librarians from the Contra Costa County public library system will be at the Korematsu library at lunch on Monday to share information about the public library and the summer reading program.
If students don't have library cards yet, they should get an application from the library or their English teacher before Monday, and then they can get a card on Monday.
Ask Ms. Bogie if you have any questions.
Jazz+Art+Dance Under the Stars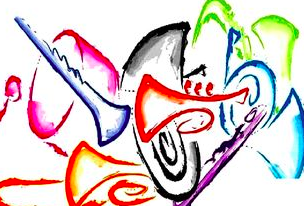 Monday June 4th, 2018 Amphitheater outside MPR
6 p.m. Art Show opens
6:30 p.m. Dance performance followed by Girls' Jazz Workshop, Jazz Band & Jazz Ensemble
8TH GRADE PROMOTION CEREMONY
ATTENTION 8TH GRADE STUDENTS AND PARENTS. CONGRATULATIONS 8TH GRADE STUDENTS (and Parents)!
The year is almost over and the Promotion Ceremony is coming up.
Crucial information is contained below; please call (510) 231-1449 if you have questions.
Eighth Grade Picnic
Tuesday June 5th, 2018
12:30 – 2:25 PM
Promotion Rehearsal
Tuesday June 5th, 2018
Period 7 and 1
Promotion Ceremony
Wednesday June 6th, 2018
6:00 PM Sharp
ATTIRE
Dressy attire (e.g. suitable for church/synagogue/mosque) is recommended; however, tuxedos, long gowns, and other formal attire are inappropriate.
Clothing with spaghetti straps or that exposes bare shoulders and/or torsos will NOT be acceptable.
We caution against shoes with tall heels since students will be going up and down stairs.
PRACTICE / TICKETS / LOCATION
Student practice will take place June 5th during periods 7 and 1.
Students will receive two tickets only due to the size of the class.
There will be space for more audience members but we cannot guarantee seating.
There will be standing room. The ceremony will be outside on our upper-yard area.
Parents will be able to sit on the short concrete walls/steps, at the picnic tables and in all the available chairs we can provide, and we are requesting and encouraging parents to bring camp/portable chairs.
The setting is stunning and should provide our students with a great outdoor promotion experience, but you may want to dress warm.
ARRIVAL / STUDENTS
Parents: Drop off students at Korematsu. Students must arrive at 5:30 PM and report to the gym.
This is very important.
Students who are not in their area when they begin lining up will not be allowed to participate in the processional.
Students must be lined up by 5:45PM.
Students should take all personal belongings with them or give them to their parent/guest to hold before reporting to the line-up area.
ARRIVAL / PARENTS
After dropping your student off, parents/guests should present their tickets at the Lawrence street gate above the upper-yard.
We will be accepting tickets from 5:15 – 5:55 PM.
Many areas of the school will be cordoned off.
The Lawrence gate entrance is the only place that parents/ guests should be gathered.
NO one may enter the upper-yard through a different door.
There will be NO parents / guests allowed near the "line-up" area while students are lining up.
Parents/guests must present a ticket to gain admission to the ceremony.
PROCESSIONAL
Parents and guests must be seated when the processional starts (6:00 PM Sharp).
NO one will be allowed to enter once the processional starts.
Please remain within the designated seating areas during the processional and for the remainder of the ceremony.
While students are in line or in their seats, PLEASE DO NOT DISTRACT THEM by calling out names or other cheers until all of the certificates have been given out.
We are all looking forward to the Promotional Ceremony.
We need the cooperation of both Parents and Students for the ceremony to run smoothly.
PARKING
Parking is limited at Korematsu and the upper parking lot will be closed accommodate guests.
Please park along the school and next to the park. Please carpool if possible.
Please exercise the utmost care and respect for our neighbors when visiting.
Please use your best parking and driving behavior, observe all rules and regulations, never block a driveway.
Consider parking a few blocks away and walking to campus.
** STUDENTS ON ACTIVE SUSPENSION ON 6/6/18 ARE NOT ALLOWED TO PARTICIPATE IN SCHOOL ACTIVITIES PER WCCUSD BASIC COMMITMENT- DISCIPLINE POLICY
VOLUNTEER 8TH GRADE PROMOTION CEREMONY
Thank you to all who have already signed up to help at the 8th Grade Promotion Activities. We need a few more volunteers at the Promotion Ceremony. Sign up on the Promotion Ceremony tab. Your help will be greatly appreciated!