FIRST ANNUAL KOREMATSU DANCE PERFORMANCE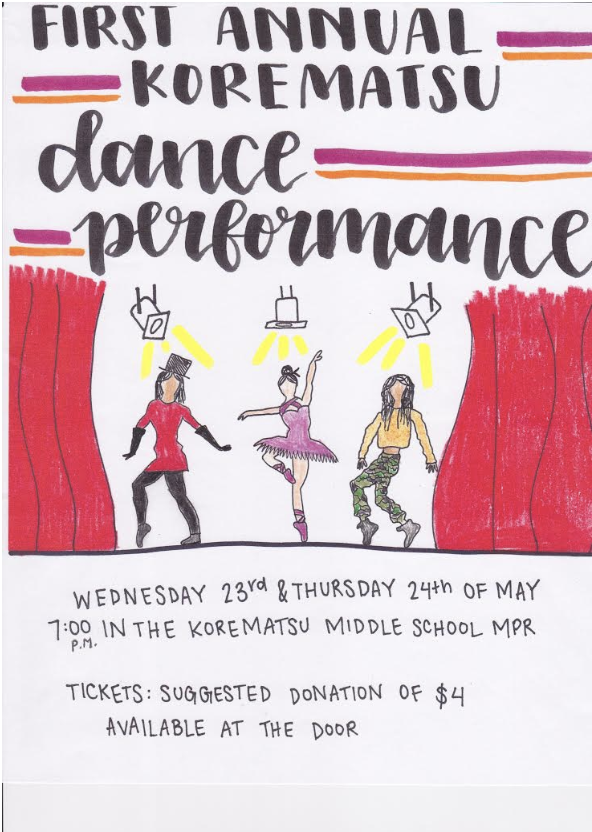 Who: Level Two dance students
When: Wednesday 5/23 & Thursday 5/24
Time: 7:00 pm show (doors open at 6:30)
Where: Korematsu MPR
Tickets: Suggested $4.00 donation at the door
PTSA SURVEY
Hello fabulous Korematsu families,
Thank you to those who participated in our parent workshop on executive function, at the last PTSA meeting.
We'd be grateful for some (brief) feedback from you. If possible, please complete this 2-minute survey: https://www.surveymonkey.com/r/7LXXY3H
Here is the link to the video we watched: https://developingchild.harvard.edu/resources/inbrief-executive-function-skills-for-life-and-learning/

Thank you for passing it on.
Please let me know if you have any questions. We'd be happy to come back in the fall!
In community,
Lisa Miller
Director
2436 Sacramento Street
Berkeley, CA 94702
1050 Bridgeway
Sausalito, CA 94965
510.540.8646
www.classroommatters.com
TEACHER LUNCHEON THANK YOU
We want to say Thank You to our hard working Teacher Luncheon coordinator, Astrid Broberg, and all of you who helped out and contributed to the monthly teacher/staff luncheons at Korematsu. The staff really appreciates and looks forward to it and it wouldn't happen without your efforts. Thank you, thank you, thank you!
EMBRACING DISCOMFORT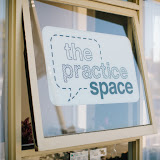 You are invited to "Embracing Discomfort: The Practice Space Celebrates Community Voices," a community-centered event focused on celebrating public speaking and performance.
Join us for a showcase featuring speeches and stories by students from El Cerrito High School, and The Practice Space, a non-profit helping people communicate and speak effectively. Celebrate our one-year anniversary with dinner, music, community booths, speeches, and stories! This event is free to all – RSVP at embracingdiscomfort.eventbrite.com.
When: Sunday, May 20, 2018, 6:30pm Dinner Reception, 7pm-9pm Student and Adult Performances
Where: East Bay Center for the Performing Arts, Community Theater, 339 11th Street, Richmond, CA 94801.
Who We Are: The Practice Space is a non-profit that builds confidence and community voice through communication skill development. We provide educational content and supportive practice experiences to improve the culture of communication in schools and communities. Our programs help people of all ages communicate effectively, address social anxieties, be authentic, and feel connected to others. We develop leaders who can help people feel comfortable speaking up, learn from each other, and elevate underrepresented voices. Visit www.practice-space.org for more information.
ARE YOU HEADED TO EL CERRITO HIGH? COME CHECK US OUT!!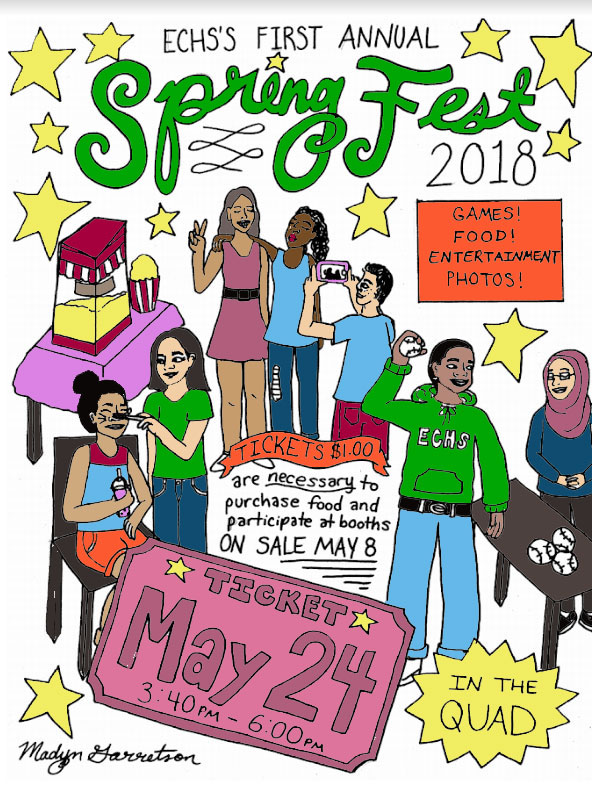 El Cerrito High School's Leadership Class invites you to…
El Cerrito High School's SPRING FEST
Thursday, May 24, 2018
3:40 p.m. – 6:00 p.m.
El Cerrito High School Quad
540 Ashbury Avenue El Cerrito, CA 94530
Let's celebrate SPRING!
Join us at this free community-centered event!
Entertainment and Performances by our school's classes and clubs!
Light food and beverage will be sold. Tickets will be available day of on the Quad.
This is the perfect opportunity to find out what's happening at your local high school.
We'll see you there!
Sponsored By ECHS Leadership
Questions? Please contact us at: gaucholeadership@gmail.com, or by phone at (510)-231-1437 ext. 26520 or Pat Jimenez at 510-381-1092