FIRST DAY!
School begins Monday, August 21st
First Bell rings at 8:10 a.m. It is a Minimum Day. School ends at 1:25 p.m.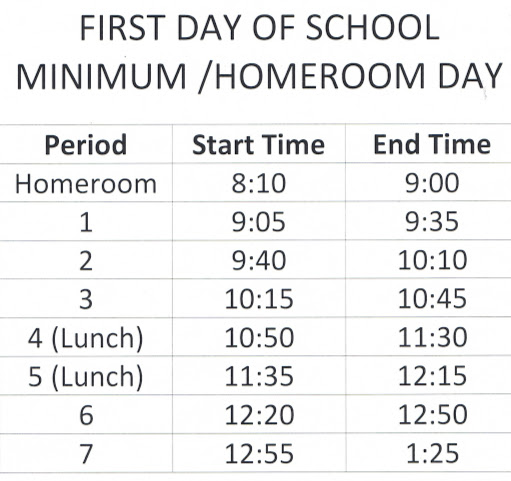 SCHEDULES & ID's
Schedules given out at orientation were draft schedules. There could be changes. There will be lists posted around the school and also adults standing around campus holdings lists, directing students to their first period class. Once they are in their first period class, they will get a copy of their official schedule. If a student was unable to come and get their ID picture taken prior to the first day of school, they need to go to class and we will make an announcement letting them know when they can come to get their ID. This will NOT be done on the first day.
WHAT SHOULD I BRING?
School ID on lanyard.
Class schedule and map of campus.
Sharpened pencils and erasers (mistakes OK!!).
Lunch or meal card or cash to purchase.
Binder with paper inside.
Backpack to hold it all!
Some returning students report they used a composition book for each class. You may need a 5-tab binder with pockets to hold handouts. Teachers will tell students what is required for class. If you buy ahead, save the receipt in case a teacher changes it up.
You do not change for P.E. on the first day.
DROP OFFS AND PICK UPS
Drop off and pick up students at the marked, designated areas on Norvell and Lawrence. Drive around the school in a clockwise direction. For student safety, and to improve traffic flow, drop students on the school side of the street. Please do not drop off students directly in front of the school on Donal Avenue. In the mornings and afternoons, Donal Avenue is used by AC Transit and other buses, therefore, it must be kept clear so that the buses can make their stops.
PARKING
There is no parking on the school side of Donal Avenue. The school side of Donal Avenue must be kept clear for AC Transit and other bus use. Please park legally on Lawrence, Gladys or Norvell Streets.
Please respect our neighborhood and our neighbors. Please do not park in front of and block driveways …. even for a minute … and always follow traffic rules and regulations.