BACK TO SCHOOL PIZZA PICNIC!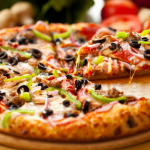 TONIGHT!
WHAT'S FOR DINNER?….PIZZA!
THURSDAY, AUGUST 25th 5:00 p.m. – 7:00 p.m.
Korematsu Amphitheater (outside the Multipurpose Room)
Meet new families and reconnect with old, eat pizza, and learn more about school life at Korematsu. $5 per person (pizza, salad, drinks & dessert).
There are still a few more spots available where you can volunteer your time. Please sign up by clicking on this link
IT'S STILL NOT TOO LATE TO JOIN THE PTSA MEMBERSHIP OR MAKE DIRECT DONATIONS!
Sign up over our website. Go to KorematsuMiddleSchool.org. Click on the yellow "Donate" button, which will take you to our PayPal link. In the "Comments" field, enter "PTSA Membership" and we will do the rest!
FIRST PTSA and KOREMATSU MUSIC PARENTS MEETING OF THE YEAR!
TUESDAY, September 5, 2017
Korematsu Music Parents Association
Meets 6:00 p.m. – 7:00 p.m.
Band Room
PTSA
Meets 7:00
Multipurpose Room
INTERESTED IN THE LATEST DEVELOPMENTS AND DIRECTIONS AT KOREMATSU?
Everyone is invited to come out and hear the "State of the School" address by Principal Matthew Burnham. You can review the agenda here!.
If you are a band parent, the KOREMATSU MUSIC PARENTS ASSOCIATION (BAND PARENTS) MEETING will be held from 6 PM to 7 PM in the Band Room on the same evening.
These meetings as OPEN TO ALL. You do not need to be a member to come, but you'll need to be a member to vote!. Check us out! See what we do!
ANNUAL GIVING CAMPAIGN 2017
California K-12 public schools are still woefully underfunded. California ranks about #42 in per pupil spending.
At our school, your contribution helps to pay for much-needed extras such as:
A math tutor for enrichment, remedial, and after school homework help. This tutor is available to parents and guardians too!
Classroom grants for our teachers ( Read here….Not uncommon for teachers to pay for their own supplies! )
Library books, paper, assemblies, and more.
Please give to our Annual Giving Campaign 2017! For 50 days, from now to October 31, our goal is to raise $50,000. Every little bit counts. 55 cents a day would amount to almost $100 over the course of our school year. If every family donates $100 or more, we would surpass our fundraising goal. Please contribute what you can! For more details, See our Flyer and donate now!