Fiddler on the Roof Jr.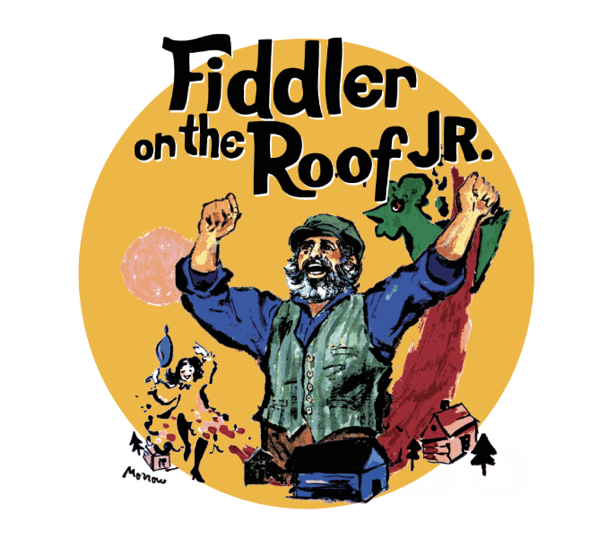 Come see Fiddler on the Roof Jr.!
May 1st, 2nd, and 3rd
7pm in the Korematsu MPR
Over 50 Korematsu drama students have been working hard to bring you our spring musical, Fiddler on the Roof Jr. Bring the whole family!
Fiddler on the Roof Jr.
May 1st, 2nd, and 3rd
7pm in the Korematsu MPR
Tickets are a recommended donation of $4 at the door.
—
Note from Ms. La Due: THANK YOU to everyone who offered to help us pick up the cart for Fiddler: we were able to get it and it is perfect! Thanks to Mr. Gonzalez who got it and dropped it off. You're awesome!
We now have just a few outstanding items that we are looking for — please let Ms. La Due know if you have any of these items that you can loan us for the show!
– A white or off-white sheet (will be attached to rods and used as a canopy)
– A lace tablecloth, preferably white or off-white
– Challah bread (we need a few loaves of this… this will not be returned to you, sorry!)
– A wooden bench that seats about 2 people
– Large pieces of fabric that could be used to create "bundles" (we'll wrap them around clothing items, etc.)
– Several long black coats/trenchcoats
Thanks in advance for any help you can provide! Hope to see you at the show!
CONTACT: sarah.ladue@wccusd.net
SPRING (PRIMAVERA) DANCE!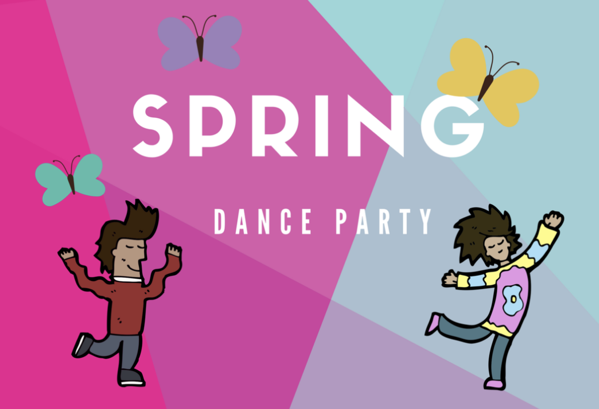 Wednesday, May 15, 2019
1:30- 3:00 p.m.
Parent Volunteers/Contributions Requested!
The dance committee is planning a Primavera Dance with primarily Spanish language music for Wednesday, May 15th. We would like to get parent volunteers and food donations. We will need 3 volunteers for set up during 7th period (12:45-1:25 pm), 4 during the dance (1:30-3 pm), and 3 volunteers to cleanup (3 pm-3:30). Food for about 70 students can include cupcakes, rice crispy treats, fruit snacks, cookies, fruit, lemonade, orange juice, Capri Sun or anything else parents want to donate.
SIGN UP TO DONATE OR VOLUNTEER HERE!
Contact: mariela.alcocerruiz@wccusd.net
Only a Few Yearbooks Left!
We have nearly sold out of all our yearbooks. Online sales are now closed, but a very small number of yearbooks are still available for sale in the Korematsu office. Yearbooks will be distributed at the end of May.
Thank you to everyone who purchased books. And thank you to all of the people who helped with this year's book, and without whom it would not have been possible: to the students from the DECA yearbook club (and beyond), who helped with the theme, cover art, and gathering of photos; to the parents who submitted photos; to the PTSA, who have sent out emails and spread the word about photos; to the KMS office staff, who have taken orders, helped with photos, and fielded questions throughout the year; and to Jackson Lee, who was the faculty advisor this year, and who provided so much support to the students. Thanks to a great team!
SAVE THE DATE RESTAURANT NIGHT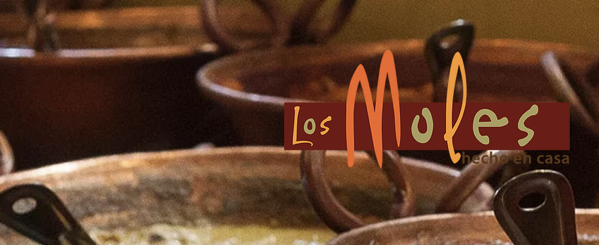 Monday, May 6th
El Cerrito's Los Moles
Cino de Mayo Mas Uno
(Cinco de Mayo Plus One)
Come and join us at this popular, delicious and local favorite!
You eat, we profit!!
CHINA APPLICATION IS NOW AVAILABLE!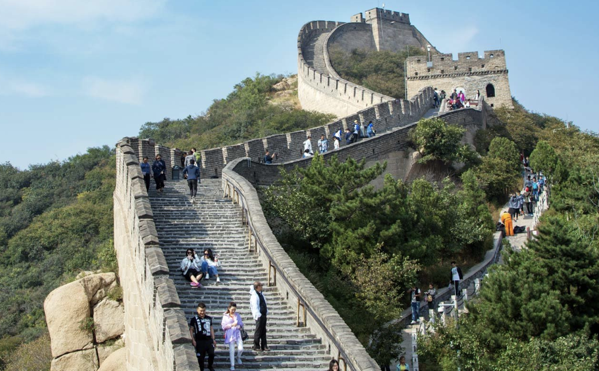 PRIORITY DEADLINE MAY 3
The online application is available at https://www.pccedu.org/ambassadorprogram.
The application due date for priority consideration is May 3.
Annual Speech and Debate Showcase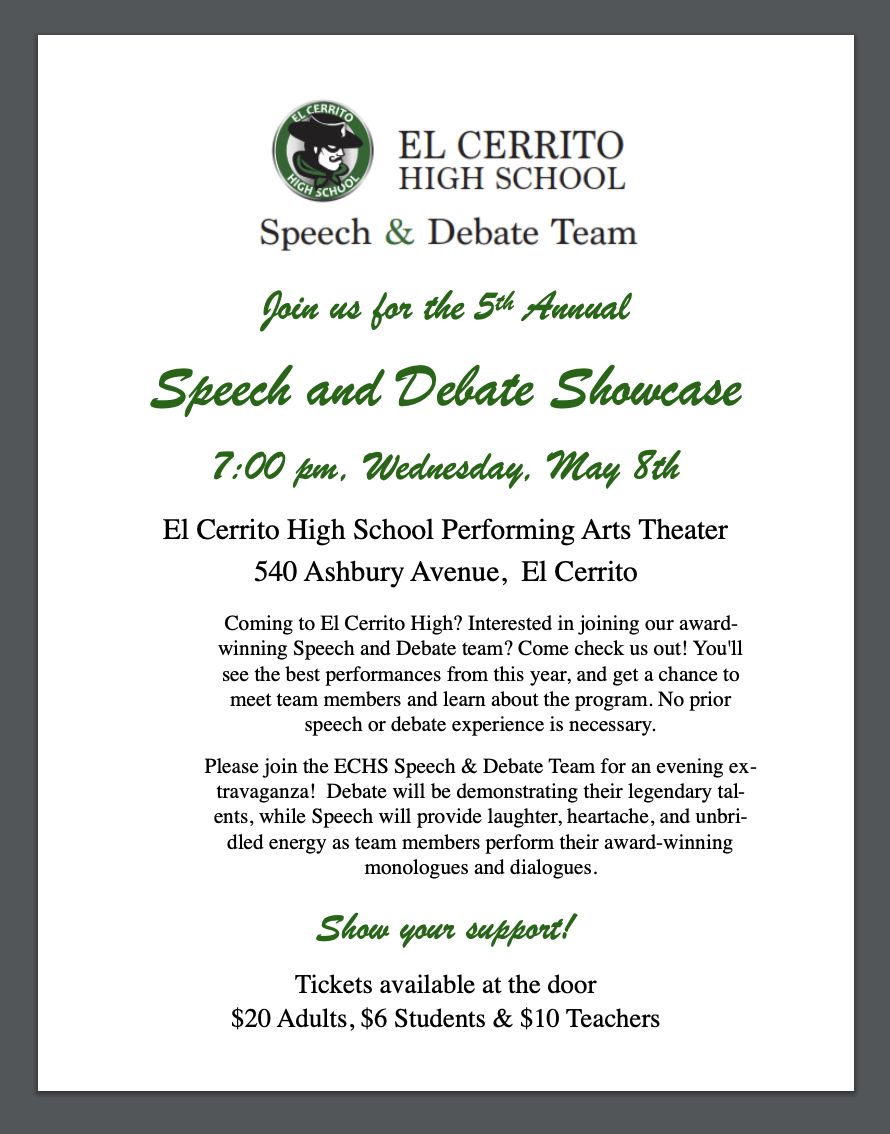 Wednesday, May 8, 2019
7:00 p.m.
El Cerrito High School Performing Arts Theater
Coming to El Cerrito High?
Interested in joining our award-winning Speech and Debate team? Come check us out!
You'll see the best performances from this year's students, and get a chance to meet team members and learn about the program.
No prior speech or debate experience is necessary.
See you there!
AFTER HIGH SCHOOL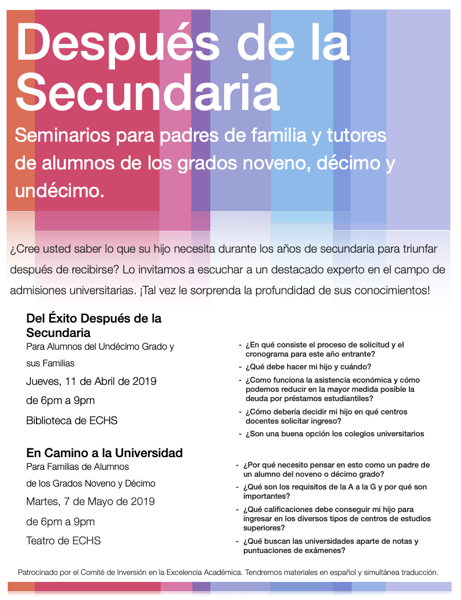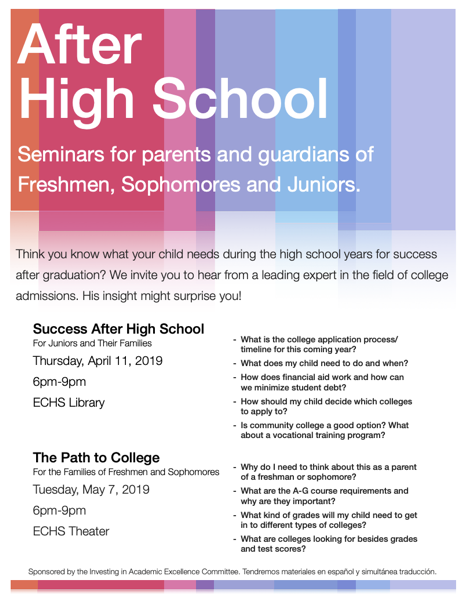 EIGTH GRADE FAMILIES WELCOME AND ENCOURAGED TO ATTEND
The Path to College
for 8th, 9th, 10th Grade Parents, Guardians and Students
Tuesday, May 7, 2019
El Cerrito High School Theater
6:00 p.m. – 9:00 p.m.
Habra Traducciones al Espanol!
El Cerrito Summer Band Workshop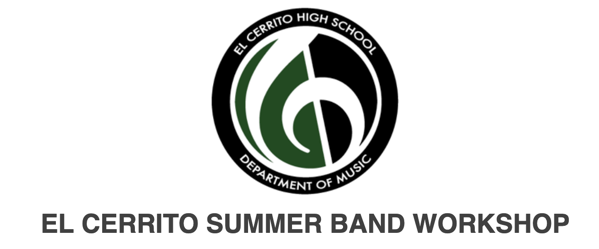 The second annual El Cerrito Summer Band Workshop is a week long camp at El Cerrito High School for band students entering grades 8, 9, and 10 with 2+ years of playing experience. Sponsored by the Friends of El Cerrito Music, the Summer Band Workshop is designed to help strengthen fundamental music skills and prepare band students for the start of the new school year. Participants will have the opportunity to work with master teachers and participate in music theory sessions, full band rehearsals, and sectionals with peer mentors. http://echsbands.com/summerworkshop/?fbclid=IwAR2DMg52al7Ef0S4qc29XgJjLmIPNzEDmuM-19nfie-iL9qBkK_85QrFbXs
General Information:
Cost: $250 per student by June 1, 2019; $300 after
Dates: July 29, 2019 through August, 2, 2019
Time: 9:30am – 12:30pm (see schedule below)
Prerequisites: 2+ years playing experience and the ability to read music
Instrumentation: Flute, oboe, clarinet, bass clarinet, bassoon, saxophone, trumpet, french horn, trombone, euphonium, tuba, bass, percussion
Director: Keith Johnson [keith@echsbands.com]
Registration Deadline: Friday, June 29, 2019
Daily Schedule:
Monday, July 29th
9:30am – 9:55am: Introductions and Warm-up
10:00am – 10:50am: Full Band Rehearsal
10:50am – 11:00am: Break
11:05am – 11:55am: Master Classes (Session 1)
12:00pm – 12:30pm: Sectionals
Tuesday, July 30th
9:30am – 10:25am: Full Band Rehearsal
10:30am – 11:15am: Music Theory (Session 1)
11:15am – 11:25am: Break
11:25am – 11:55am: Group Game
11:55pm – 12:30pm: Full Band Rehearsal
Wednesday, July 31st
9:30am – 10:25am: Full Band Rehearsal
10:30am – 11:15am: Master Classes (Session 2)
11:15am – 11:25am: Break
11:25am – 11:55am: Group Game
11:55pm – 12:30pm: Full Band Rehearsal
Thursday, August 1st
9:30am – 10:25am: Full Band Rehearsal
10:30am – 11:15am: Music Theory (Session 2)
11:15am – 11:25am: Break
11:25am – 11:55am: Group Game
11:55pm – 12:30pm: Full Band Rehearsal
Friday, August 2nd
9:30am – 10:15am: Full Band Rehearsal
10:20am – 10:45am: Sectionals
10:45am – 10:55am: Break
11:00am – 11:30am: Dress Rehearsal
11:35am – 12:10pm: Group Game
12:15pm – 12:30pm: Concert *
* In the El Cerrito High School Theater or Band Room
AmazonSmile Mothers Day


Mother's Day is coming up on Sunday, May 12 and many of you might shop Amazon for gifts. This is a great opportunity to support Korematsu Middle School's AmazonSmile donations by reminding your supporters to shop at smile.amazon.com.
How does it work?
* Log into AmazonSmile with your existing Amazon password.
* Choose Fred T. Korematsu Middle School, El Cerrito, CA as your charity.
* Shop as you normally would, and we collect .5% on eligible purchases.
* Consider installing the Amazon Assistant to your Chrome bar so that AmazonSmile is always a click away.
DISTRICT NEWSLETTER

CLICK ON THIS LINK TO READ!