SBAC Testing Starts Monday, April 22, 2019

The SBAC testing season is upon us. While the SBAC is not the only measure of student success, it is an important indicator for our students, our school and our school district. We encourage all to take it seriously.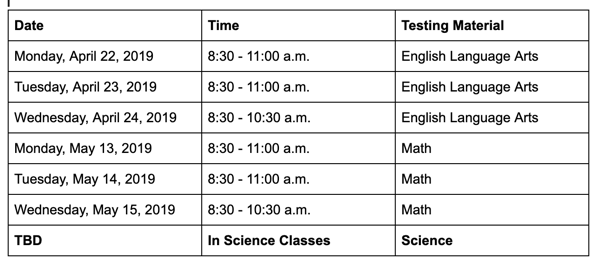 Here are some important reminders:
Please have students bring their tablets and chargers with tablets fully charged. The test is taken on the tablet.
If, for some reason, students are not routinely bringing tablets to school, please have them bring the tablets because tablets might need software updates, and the updates can only be done at school.
Please have students bring headphones if they have them.
Students should bring home SBAC brochures, where they recorded the testing targets they hope to reach. Ask your student about it, and review it together.
Please schedule all non-emergency appointments (Dr. dentist, etc.) after school hours so that all students can test.
Please make an extra effort to have students show up on time.
Students should eat a good breakfast prior to the test and get a good night's sleep.
These efforts will help to make the testing period smooth and orderly.
Thank you for your help!
Practice Tests can be found here: https://sat170.cloud1.tds.airast.org/student/V728/Pages/LoginShell.aspx
SPRING (PRIMAVERA) DANCE!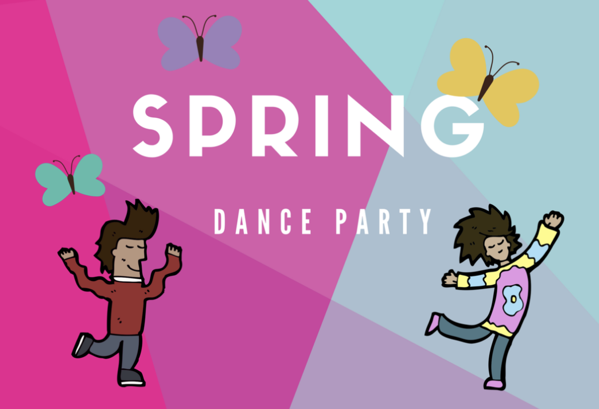 Wednesday, May 15, 2019
1:30- 3:00 p.m.
Parent Volunteers/Contributions Requested!
The dance committee is planning a Primavera Dance with primarily Spanish language music for Wednesday, May 15th. We would like to get parent volunteers and food donations. We will need 3 volunteers for set up during 7th period (12:45-1:25 pm), 4 during the dance (1:30-3 pm), and 3 volunteers to cleanup (3 pm-3:30). Food for about 70 students can include cupcakes, rice crispy treats, fruit snacks, cookies, fruit, lemonade, orange juice, Capri Sun or anything else parents want to donate.
SIGN UP TO DONATE OR VOLUNTEER HERE!
Contact: mariela.alcocerruiz@wccusd.net
Only a Few Yearbooks Left!
We have nearly sold out of all our yearbooks. Online sales are now closed, but a very small number of yearbooks are still available for sale in the Korematsu office. Yearbooks will be distributed at the end of May.
Thank you to everyone who purchased books. And thank you to all of the people who helped with this year's book, and without whom it would not have been possible: to the students from the DECA yearbook club (and beyond), who helped with the theme, cover art, and gathering of photos; to the parents who submitted photos; to the PTSA, who have sent out emails and spread the word about photos; to the KMS office staff, who have taken orders, helped with photos, and fielded questions throughout the year; and to Jackson Lee, who was the faculty advisor this year, and who provided so much support to the students. Thanks to a great team!
CHINA INFORMATION SESSION AT DEANZA!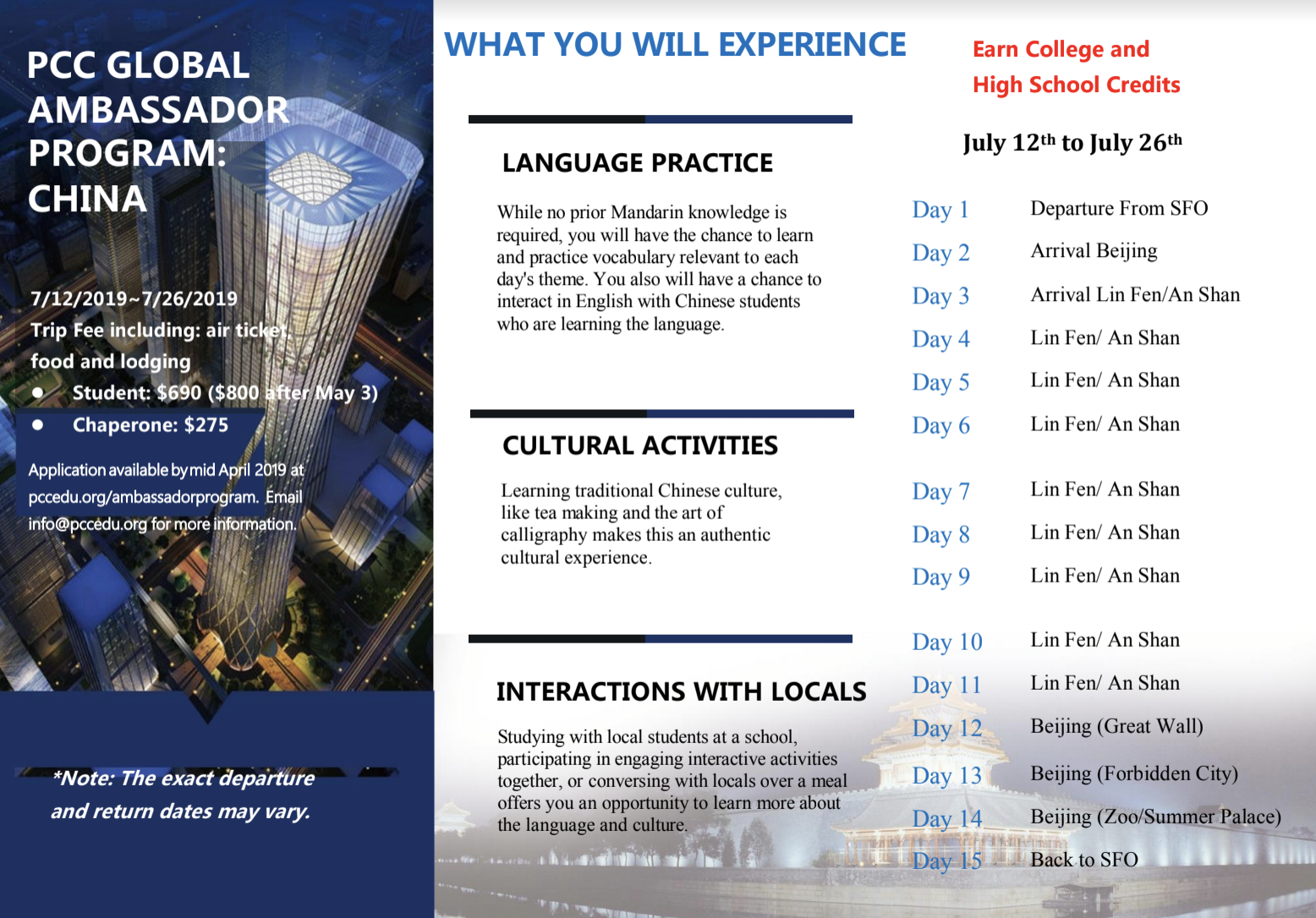 Monday, April 22, 2019
DeAnza High School LIBRARY
5:00 – 6:00 PM
5000 Valley View Rd, Richmond, CA 94803
Habra Traducciones al Espanol
Flier Here
China! This Summer!
This summer, the WCCUSD will once again offer to District students the China Global Ambassador Program!
Program highlights:
The main program dates are July 12 – 27. The program for all groups will be approximately 16 days including travel.
The program fee per student is only $690 ($800 for applications received after May 3). Fee includes flight, lodging, food, and activities. Passport, if needed, and a China visa are additional. (Passport approximately $145; Visa $140 + processing fees. Your costs may vary. Please check).
High school & middle school students will again be able to earn 3 semester units of college credit which translates to approximately 10 high school credits.
At least 100 total students from District high schools and middle schools (for middle school applicants, 8th graders will be given preference). Each high school and middle school are allotted a minimum number of spaces in the program.
Student Ambassadors will engage in cultural exchange activities with Chinese students at a school or university campus and do sightseeing to key Chinese cultural sites (Great Wall, Forbidden Palace, etc.)
While there is no firm GPA requirement, PCC will look to select students that have the academic and social-emotional skills necessary to represent our District well as student ambassadors. Principals must also approve the application.
The online application will be available in mid-April at https://www.pccedu.org/ambassadorprogram, and the priority due date is May 3. Applicants will be notified of acceptance by May 15, 2019.
There is an in-person information sessions Monday, April 15, 2019 El Cerrito High School Cafeteria, 5:00 p.m. – 6:00 p.m., 540 Ashbury Avenue, El Cerrito, CA 94530. Be there!
Habra traducciones professionales al Espanol!
Questions?: info@pccedu.org
SAVE THE DATE RESTAURANT NIGHT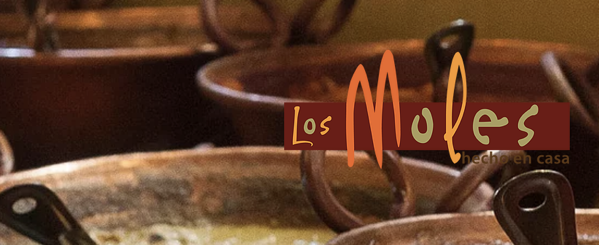 Monday, May 6th
El Cerrito's Los Moles
Cino de Mayo Mas Uno
(Cinco de Mayo Plus One)
Come and join us at this popular, delicious and local favorite!
You eat, we profit!!
AFTER HIGH SCHOOL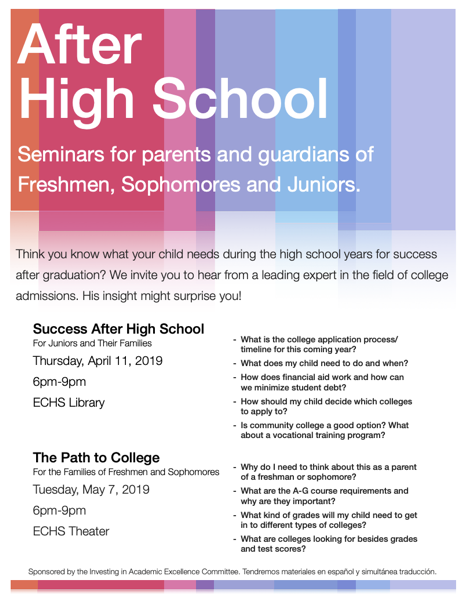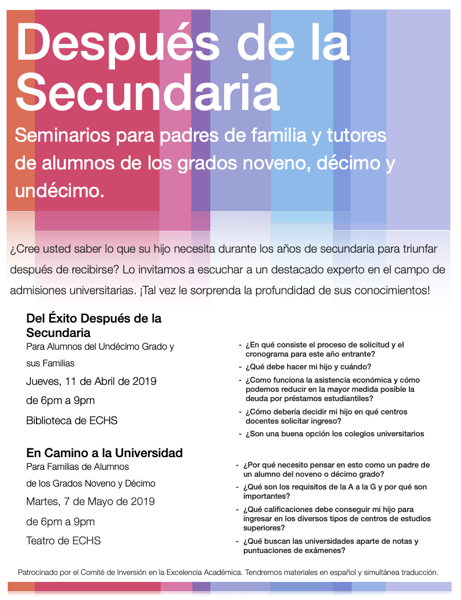 EIGTH GRADE FAMILIES WELCOME AND ENCOURAGED TO ATTEND
The Path to College
for 8th, 9th, 10th Grade Parents, Guardians and Students
Tuesday, May 7, 2019
El Cerrito High School Theater
6:00 p.m. – 9:00 p.m.
Habra Traducciones al Espanol!