MARCH 11, 2020 DISTRICT COMMUNICATION ON CORONAVIRUS (COVID-19)
Dear WCCUSD community,

The safety of the students and staff that call WCCUSD home is our top priority. Over the past two weeks, the anxiety around the coronavirus that causes COVID-19 has heightened. On Monday, we had our first confirmed case of a student's relative testing positive on Sunday, March 8. Contra Costa County Health Services (CCCHS) has assured us that the risk of exposure is low and that the county will step in and communicate directly with that school if/when a positive case is confirmed. 

To the best of our knowledge, no student or staff at a WCCUSD school has tested positive for COVID-19.

We continue to work closely with CCHS, the California Department of Education (CDE) and the California Department of Public Health (CDPH) and are following their guidance. On Tuesday, March 10, CCHS released a new set of public guidance around social interactions. In light of the new CCHS guidance, we are postponing non-essential events with 50 or more people. This means that the following upcoming events have been postponed until further notice.  We hope to be able to reevaluate future events as additional guidance is received. For now, those events include, but are not limited to:
Open House
Math and/or STEAM Nights
Literacy Nights
Dance Festival
District Spelling Bee
Elementary School Basketball League
In-school assemblies or plays, including Nightmare on Puberty assemblies
Spring music concerts
Essential professional development/training with expected participation of more than 50 people will be offered virtually.
Any other events meeting the above-mentioned criteria
In addition we will limit the attendance at the following events:
Athletic events will be played without spectators (This will occur in all school districts in Contra Costa County).
We have also canceled outside facility use permits for events with 50 or more people.
At schools, we will also practice social distancing as much as possible. School administrators are urged to make any possible changes to daily scheduled large student gatherings. We appreciate your understanding as we strive to make necessary changes to daily school activities.

According to the CDE and CDPH guidelines, our district and Contra Costa County are in Scenario II, which are measures to be taken if there are two or more community transmission cases of COVID-19, but no individuals within the school test positive. We will follow the recommended steps in both Scenario I and II. Additionally, we will deep clean impacted areas, targeting all frequently touched objects and surfaces with disinfectant.

Additionally, we will continue to follow these guidelines from CDPH:
Exclude students, teachers, or staff who have a travel history over the course of the last 14 days to China, South Korea, Italy, Iran and Japan.
Exclude those who have been in close contact with someone diagnosed with COVID-19 for 14 days from the day of their last exposure.
Send students, teachers, and staff who present with fever and/or respiratory infection symptoms home immediately.
Encourage flu vaccine for those persons over 6 months of age who have not had it this season.
Encourage all students, families, and staff to take everyday preventive actions.
Teachers and staff with any fever and/or respiratory infection symptoms should not come to work. Teachers and staff should self- screen (i.e., check themselves for subjective fever and/or respiratory symptoms such as cough) for respiratory infection symptoms each morning before interacting with students.
Limit visitors to the school by not allowing those with symptoms of fever and/or respiratory infection or who have a travel history over the course of the last 14 days to China, South Korea, Italy, Iran and Japan.
This is also time to take individual precautionary measures as advised by the CDC:
Wash your hands often with soap and water for at least 20 seconds, especially after going to the bathroom; before eating; and after blowing your nose, coughing, or sneezing. If soap and water are not readily available, use an alcohol-based hand sanitizer with at least 60 percent alcohol. Always wash hands with soap and water if your hands are visibly dirty.
Avoid close contact with people who are sick.
Avoid touching your eyes, nose, and mouth.
Stay home when you are sick.
Cover your cough or sneeze with a tissue, then throw the tissue in the trash.
Clean and disinfect frequently touched objects and surfaces using a regular household cleaning spray or wipe.
The district has set up a coronavirus page on the main website www.wccusd.net/coronavirus where we have placed updates and resources.

This is also time to make sure we have your correct contact information. You can update or provide your contact information at https://www.wccusd.net/Page/11026. To sign up for community updates visit the communications department page at https://www.wccusd.net/Domain/24 and input your email address on the bottom right of the page.

Thank you again for your patience as we manage this very difficult and fluid situation.

In Community,

Matthew Duffy
Superintendent
CHECK THE SCHOOL CALENDAR FREQUENTLY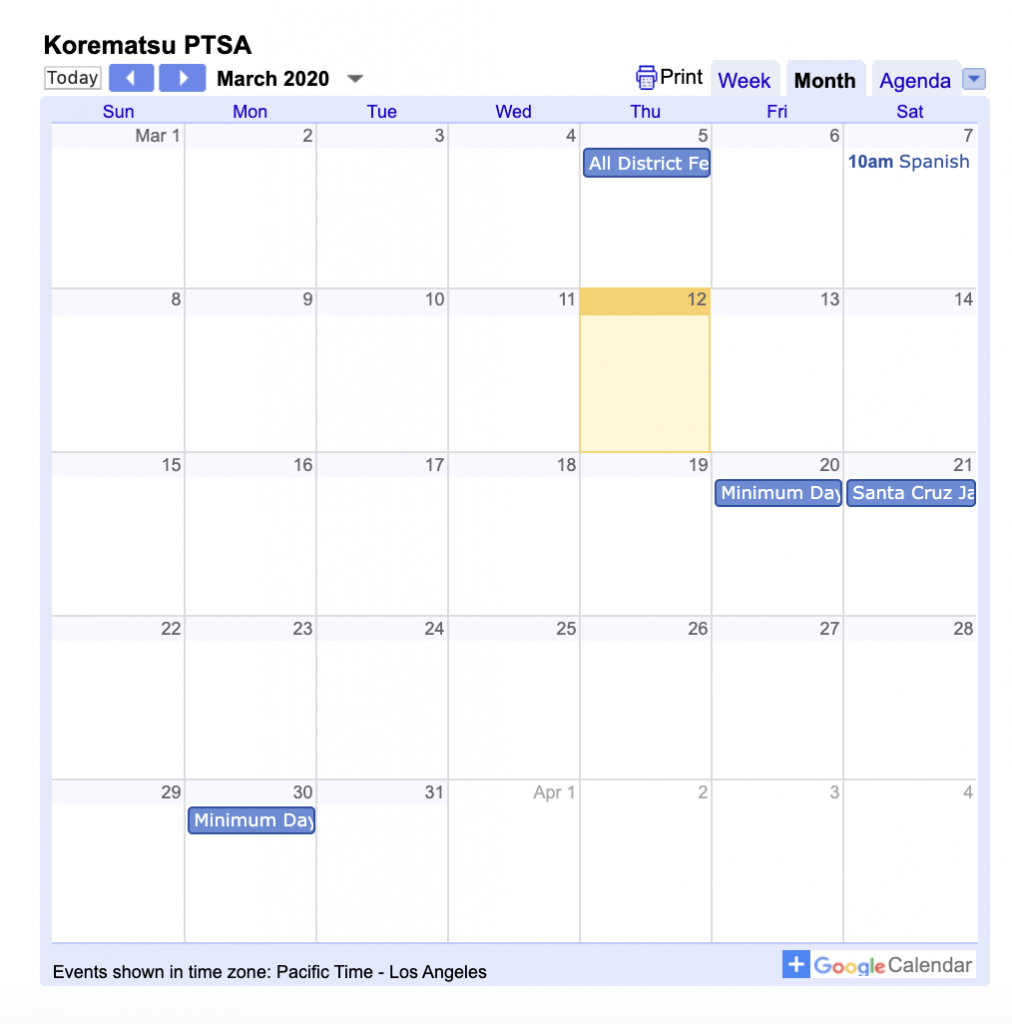 Please bookmark and check our school calendar frequently.  https://korematsumiddleschool.org/?page_id=13 You can even subscribe to the calendar by clicking on the  "+Google Calendar" and events will appear/disappear as the calendar is modified. We will do our best to keep the calendar as accurate as possible. 
TEACHER TREAT DAY CANCELED
Out of an abundance of caution, we've canceled Teacher Treat Day, Friday, March 13, 2020. Thank you to all that have volunteered to bring a meal/volunteer your time.
ASIAN ART MUSEUM STUDY TRIP POSTPONED
Mr. Lee's Asian Art Museum Study Trip (orignially March 18, 2020) has been postponed to May 27, 2020.
EL CERRITO RIALTO/MULAN FIELD TRIP CANCELED
Mr. Lee's El Cerrito Rialto/Mulan Field Trip has been canceled.
OPEN HOUSE CANCELED
Open House, previously scheduled for March 19, is now canceled.
SPRING BANDS CONCERT CANCELED
The March 18 Spring Band Concert is Canceled. A video will be made and distributed so that all can view.
Santa Cruz is canceled as well.
Contra Costa County National History Day

BUT, THERE'S GOOD NEWS!!!

We've got winners from Contra Costa County National History Day and we are sending students to the State Competition!

National History Day (NHD) is a premier competition that engages more than half a million students nationally. As part of NHD, Contra Costa County History Day allows students to participate in authentic, challenging, project-based learning that lasts an entire school year. Students select topics and research them as historians would – by using libraries, archives, museums and oral history interviews. Their analysis and interpretations come together with the facts and evidence they've gathered to become their final projects. This year's theme is, "Breaking Barriers in History." Many Many THANKS!!!! to History Teacher, Mr. U. States are May 8-10, 2020 in Rocklin, CA.
CHAMPIONSJunior Documentary Category
| | |
| --- | --- |
| #Me Too Movement | A. Brown, D. Rojas, T. Doss |
Junior Website Category
| | |
| --- | --- |
| Alan Turing: Enigma | B. Moore, S. Nguyen, A. Hasley, R. Weitzer |
HONORABLE MENTIONJunior Documentary Category
| | |
| --- | --- |
| Breaking the Sound Barrier | M. Hassner, A. Espinoza |
| Ellen DeGeneres | A. Calderon, M. Mendo, M. Perdomo, M. Duff |

More on the competition here:https://www.cccoe.k12.ca.us/programs/for_parents_students/academic_events/national_history_day
You can view the full list of winners and projects here: https://docs.google.com/spreadsheets/d/1tozeMfbB24KymzBhY6i3APWGq29CxhjC3-oxAPVXGTU/edit#gid=0

CONGRATS TO OUR STUDENTS!!