NO SCHOOL NEXT WEEK
February Break
FEBRUARY 17-21, 2010
See you Monday, February 24, 2020
St. VALENTINE'S DAY TEACHER LUNCHEON
Friday, February 14, 2020
Contribute or Volunteer your Time
Valentine's Day is coming up! Time to show some love! Let's treat our teachers, show them love and appreciation. Bring some food, salads, pasta, or rice dishes, bread and pizzas! The luncheon will be Friday February 14th. Questions to liissausa@aol.com. Thanks!
BASEBALL TRYOUTS
Friday, February 14, 2020
Baseball Tryouts
FEBRUARY 14, 2020
3:00 p.m.
CASTRO FIELD
NEXT TO THE SCHOOL
Please bring gloves, bat, helmet and cleats if you own them.
No worries if you don't.
29 Korematsu Students Win at School Fair and Move on to District Finals!
Korematsu held its annual Family Science Night and Science Fair Awards last Thursday, February 6th. Over a hundred came to view our young scientist's projects, partake in demos with the American Chemical Society and Chevron Slime Team, and be wowed by an extravaganza of explosions and flames by ACS scientist Brian Balazs. Following a welcome by Principal Burnham, and hands-on demos, the winning students were invited on stage to have their pictures taken with their teachers.
Out of all student projects completed at the school, 67 were selected by their teachers to present at the fair. A dedicated team of parents, teachers and scientists then reviewed these in an intensive day of judging. Twenty-nine of these received 1st, 2nd and 3rd place ribbons and move on to the District Science Fair, with the rest receiving Honorable Mentions.
Earning ribbons at Korematsu for First Place in 7th Grade were Lachlan M. and Alma C. (BIO), Elsa B. (BEH), and Henry A. (ENG). In 7th Grade 2nd Place our winners were: Umar A. (PHY), and Iris F., Juliana P. and Mya de H. (BIO). In 3rd place in 7th Grade were: Nicolai H., Daniel G. and Madeline N. (PHY), Edda G. (ENV), Clara H. and Oona C. (BEH), Benjamin D. (ENG), and Hazel N. (BIO).
In 8th Grade, our First Place honors went to: Maeve U. and Thomas R. (PHY), Michael H. (ENV), and Romy W. (BEH). In 2nd place were: Chaitanya D. (ENG), Eghosa O. (PHY), Meah B. and Emilia W. (BIO), Vienna K.-T. (ENV), and Brenna M. (BEH). In 3rd place were: Demarrion J. (ENV), Micaela J. (BIO), and Zoe T. (BEH).
Congratulations to all our young scientists for all the extra time and effort to complete their projects!
All our 1st, 2nd, and 3rd place winners got rewarded with a field trip to Pinole Valley High School on Tuesday of this week. After a pizza lunch, they had a chance to talk to scientist judges and explain their projects. All families are invited on Thursday, February 12 to the District awards ceremony at 7pm at the Pinole Valley High School Theater.
GO FUND ME FOR KOREMATSU SPORTS


LAST DAY SUNDAY, FEBRUARY 23, 2020
As most of you are aware, the West Contra Costa Unified School District has serious budget challenges. Even before the current crisis, middle school athletics funding had basically been eliminated. Many middle schools no longer have competitive sports programs. Here at Korematsu, we have been successful at maintaining many athletic programs through largely volunteer efforts of teachers and parents. For example, our four basketball teams are currently coached by volunteers that don't even have kids in the school but realize how important these programs are for the overall welfare of our students.
These programs have been funded by small fundraising efforts and minimal fees to participating families. The purpose of this campaign is to provide funds to maintain and increase the current offerings, pay for referees and umpires, tournaments, uniforms and supplies and hopefully training for our student athletes. Without some funding, it is impossible to even maintain what we have. This effort will also ensure that the cost is not a barrier to any student. Please do what you can through a one time or ongoing donation. Please share this with all of your friends, family and co-workers and post on all of your social media accounts. Let's create programs we will all be proud of and allow hundreds of students to participate in after school athletic activities.
Thank you in Advance-
Matthew Burnham
Principal
SPECIAL JOINT STATEMENT ON THE BUDGET
Camp Ravencliff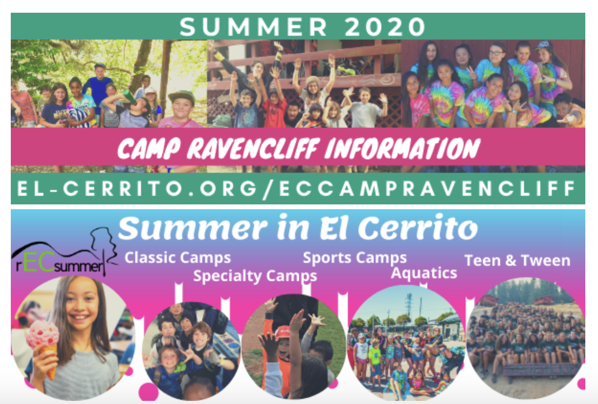 http://www.el-cerrito.org/eccampravencliff
Jenya Jawad
Youth Programs & Sports Coordinator
Camp Ravencliff, Camp Director
City of El Cerrito Recreation Department
7007 Moeser Lane El Cerrito CA 94530
Phone: (510) 559-7012
Community Center Office Hours Are:
Monday, Wednesday and Friday 8am-4pm (Closed every other Friday)
Tuesday and Thursday 8am-6pm