FAMILY SCIENCE NIGHT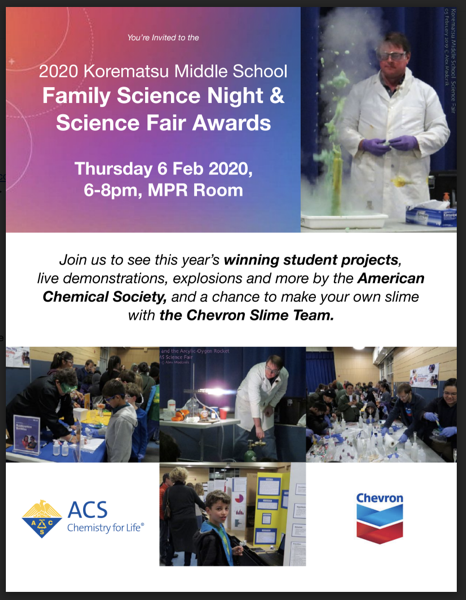 TONIGHT!!
Family-Friendly Science Night.
Siblings Welcome!
Fire! Smoke! Explosions!
Join us!
MANY THANKS TO THE AMERICAN CHEMICAL SOCIETY!!!
GIRLS' SOFTBALL TRYOUTS
Thursday, February 6, 2020
3:00 p.m.
CASTRO FIELD
NEXT TO THE SCHOOL
Please bring gloves, bat, helmet and cleats if you own them.
No worries if you don't.
BOYS' BASEBALL TRYOUTS
Friday, February 14, 2020
3:00 p.m.
CASTRO FIELD
NEXT TO THE SCHOOL
Please bring gloves, bat, helmet and cleats if you own them.
No worries if you don't.
Teacher Treat Day!
Friday February 14th
Contribute a loving lunch to our Buffet!
SIGN UP IN THIS LINK!
MESSAGE FROM TIFFANY JAMISON, FORMER OFFICE MANAGER
Dear Korematsu Community,
It was such a pleasure serving Korematsu Middle Schools' students, parents, faculty and staff for almost 3 years as the Office Manager. It's effortless working to support students who have a lasting supportive community encouraging them to succeed beyond their limits.
I'm doing very well in a graduate program but still have a long road ahead in pursuit to fulfill a career in the medical/health field!
Good luck and Blessings in 2020!
Forever a Korematsu Phoenix,
Ms. Jamison
PS. See you Saturday @ Celebrate Korematsu!!
CELEBRATE KOREMATSU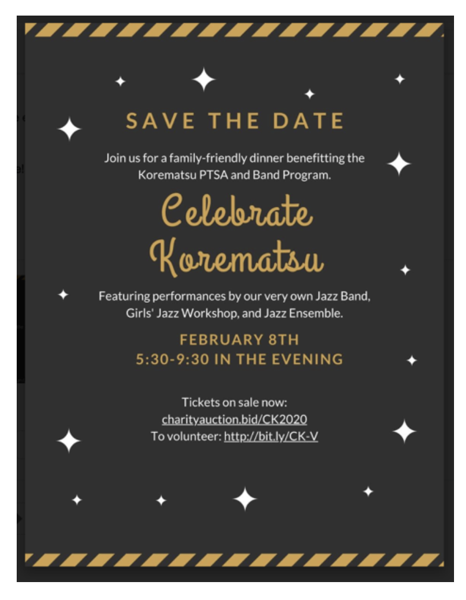 We are Close to Selling Out
Buy Tickets Now!
GO FUND ME FOR KOREMATSU SPORTS

As most of you are aware, the West Contra Costa Unified School District has serious budget challenges. Even before the current crisis, middle school athletics funding had basically been eliminated. Many middle schools no longer have competitive sports programs. Here at Korematsu, we have been successful at maintaining many athletic programs through largely volunteer efforts of teachers and parents. For example, our four basketball teams are currently coached by volunteers that don't even have kids in the school but realize how important these programs are for the overall welfare of our students.
These programs have been funded by small fundraising efforts and minimal fees to participating families. The purpose of this campaign is to provide funds to maintain and increase the current offerings, pay for referees and umpires, tournaments, uniforms and supplies and hopefully training for our student athletes. Without some funding, it is impossible to even maintain what we have. This effort will also ensure that the cost is not a barrier to any student. Please do what you can through a one time or ongoing donation. Please share this with all of your friends, family and co-workers and post on all of your social media accounts. Let's create programs we will all be proud of and allow hundreds of students to participate in after school athletic activities.
Thank you in Advance-
Matthew Burnham
Principal
BUDGET UPDATE FROM SUPT. DUFFY