FAMILY SCIENCE NIGHT
Thursday, February 6, 2020
6:00 – 8:00 p.m.
MPR
Korematsu Science Evening & Science Fair Awards
All students and families invited for an exciting evening of live experiments and explosions plus science fair awards.
CELEBRATE KOREMATSU!!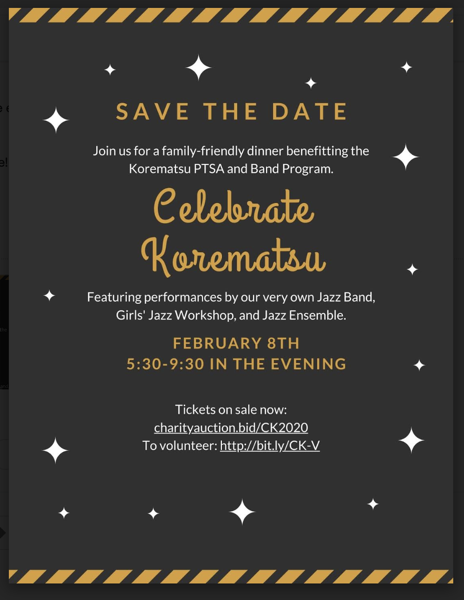 Saturday, February 8, 2020
5:30- 9:30 p.m.
CELEBRATE KOREMATSU!!
Celebrate Korematsu is our community-building, fundraising event. Our band students provide the entertainment, we have dinner, a live and silent auction, and spend some time together.
You do not have to have students in the band program to attend!
All families are warmly welcome, and this is a family-friendly event. Siblings are invited!
AUCTION!!
Thanks to all of your that have donated to the auction!
There's still time! Do you own a business and have a service to contribute?
Can you host a party?
Would you like to coordinate a
Dessert-of-the-Month?
Flower Bouquet-of-the- Month?
Do you have Warriors Tickets?
Theater Tickets?
Football Tickets?
We are also still collecting for our "Stock the Bar" item
Contact us! korematsuptsa@gmail.com
PARENT TOURS 2020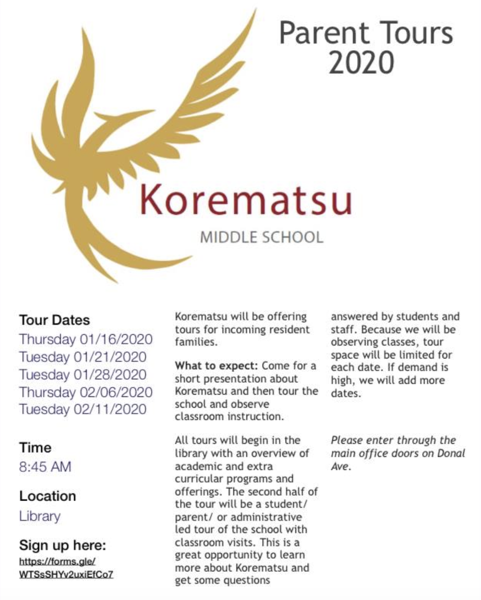 SPANISH PLACEMENT TEST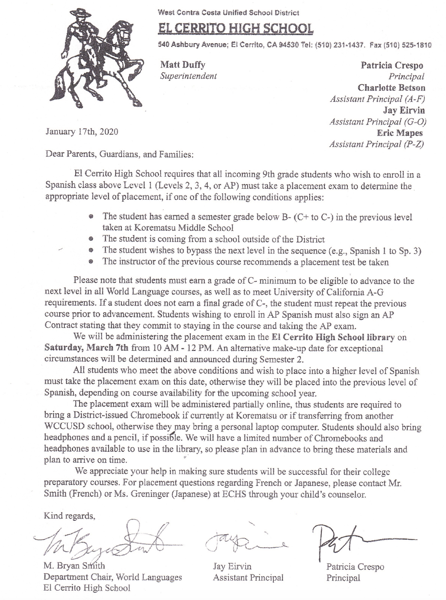 DISTRICT'S JANUARY NEWSLETTER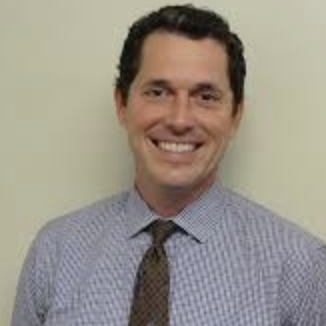 EL CERRITO JAZZ FESTIVAL
Saturday, February 1, 2020
ECHS Performing Arts Theater
FABULOUS TALENT IN OUR OWN BACK YARD!
The 6th Annual El Cerrito Jazz Festival is taking place on Saturday, February 1, 2020 in the ECHS Performing Arts Center. The festival will feature workshops, master classes, clinics, concerts, and adjudicated performances from top high school groups from around Northern California.
Headlining the evening concert is the Eric Harland Quartet featuring Ben Wendel (saxophone), James Francies (piano), and Giulio Xavier Cetto (bass). Multi-Grammy nominated drummer Harland is the most in demand drummer of his generation. At age 40, he has appeared on almost 400 recordings and multiple films.
The festival will take place in the El Cerrito High School Performing Arts Theater located at 540 Ashbury Avenue in El Cerrito, CA, starting at 8 a.m. Tickets: $15 at the theater for daytime activities. $25 at http://www.echsbands.com/festival for the Eric Harland evening concert.
For more information, please go to http://www.echsbands.com/festival.
EL CERRITO LIBRARY
My name is Katy Buder, and I am the Youth Services Librarian at El Cerrito Library. If it is possible, I would love to let the students and families of Korematsu know about a few upcoming programs at the library that may be of interest to them. All programs at the library are free, open to the public, and sometimes even include snacks! Flyers with more information are attached to this email.
El Cerrito Library
6510 Stockton Ave.
El Cerrito, CA
(510) 526-7512
Lunar New Year Celebration, Saturday January 25th, 1:00 pm
Come celebrate the Lunar New Year at El Cerrito Library featuring a spectacular performance from Ah-Lan Dance Studio in El Cerrito! After the performance, stay to make fun crafts and check out some books from our display to learn how many different people and cultures celebrate Lunar New Year.
College Financial Aid Workshop, Tuesday January 28th, 6:00-7:00 pm
Join Nicole Hosemann from On My Way Consulting for a free College Financial Aid Workshop at El Cerrito Library. Gain an educational perspective of the cost of college, essential vocabulary & financial aid terms, where to find the information you will need, and what questions you should be asking.
This workshop is geared toward families of middle school & high school students. While the information will be immediately relevant for high schoolers, it is still valuable for families of middle schoolers who have the luxury of planning far in advance. No registration required.
Family Movie Matinee: WALL-E, Wednesday January 29th, 3:00 pm
Come to the library for an afternoon movie matinee! For special accommodations, please contact the library with 72 hours notice.
Teen & Tween Writing Club, Tuesday February 11th, 3:30 pm
Join other writers ages 10 and up to work on creative efforts of all kinds in a supportive, stimulating, and fun environment! All genres welcome & no experience required. Snacks will be provided!
This free program is made possible by the Friends of the El Cerrito Library.