SCHOOL IS OPEN
Check official WCCUSD channels for school news and information:
WCCUSD Website: https://www.wccusd.net/
WCCUSD Facebook West Contra Costa Schools
WCCUSD Twitter: https://twitter.com/WCCUSD
WCCUSD will Robocall to home:
We will forward anything we hear from official channels:
Follow us:
Korematsu website: www.korematsumiddleschool.org
Korematsu Facebook: https://www.facebook.com/KorematsuMiddleSchoolPTSA/
Korematsu Twitter: https://twitter.com/KorematsuPTSA/followers
Not on our e tree? email us and ask to be added! korematsuptsa@gmail.com
TEACHER TREAT DAY FRIDAY
Friday, October 11, 2019
Teacher luncheon time is here! Colder weather starts to draw in.
Let's treat the teachers to some warming soups and stews. Also salad works well with that. And sides like baguette, sourdough or any other yummy bread.
Please contribute to make this event a success again.
If no time to cook ,no problem.
Bring what you can.
Questions to: liissaUSA@aol.com. Thank you .
REFLECTIONS!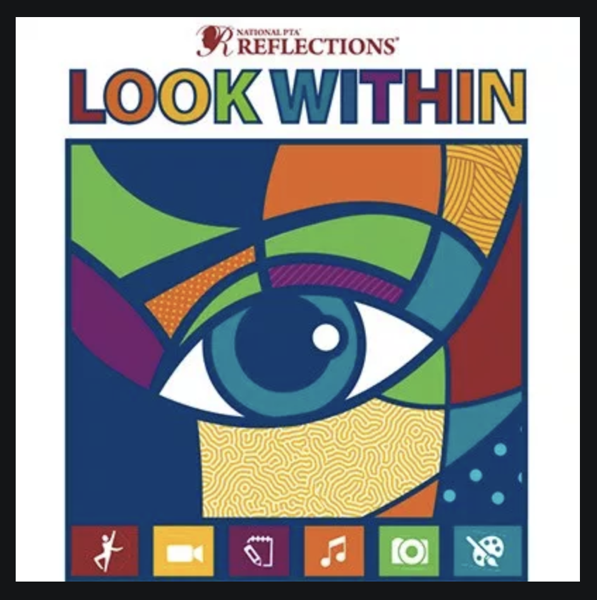 CALL FOR ENTRIES
Are you an artist?
A photographer?
Do you like to write music?
Enter your work in the National PTA Reflections Program!
2019-2020
National PTA Reflections® Theme
LOOK WITHIN
Deadline for entries: October 15, 2019
Entries from all grades and all abilities welcome.
To download entry forms visit https://tinyurl.com/kms2019reflections.
Entry forms also available in the front office in English and Spanish.
To contact the Reflections® chair, email korematsu.reflections@gmail.com
SPRING-HEELED JACK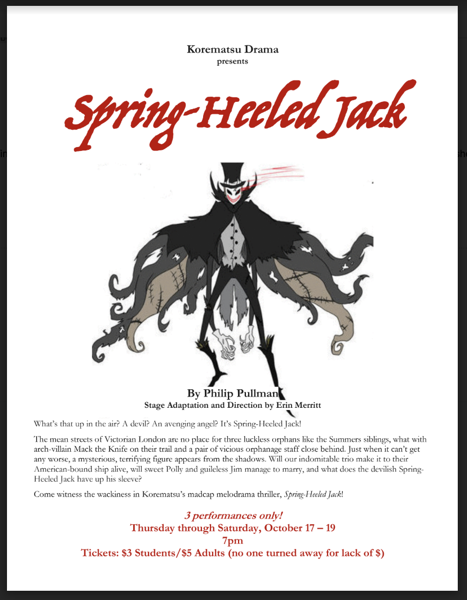 HARDING CARNIVAL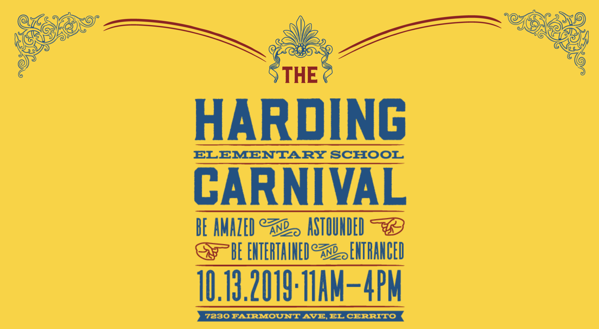 SAVE THE DATE!!!
FUN FOR THE WHOLE FAMILY!!
GIRLS BASKETBALL TRYOUTS
Girls Basketball Tryouts to be held on the following dates/times in the Korematsu gym:
Thursday, October 17: 2:30 – 4:30pm
Tuesday, October 22: 2:30 – 4:30pm
Players must attend both days. Contact Chuck Harris at charrisjr@gmail.com with questions.
KOREMATSU'S FREE 5th/6th GRADE BAND CLASS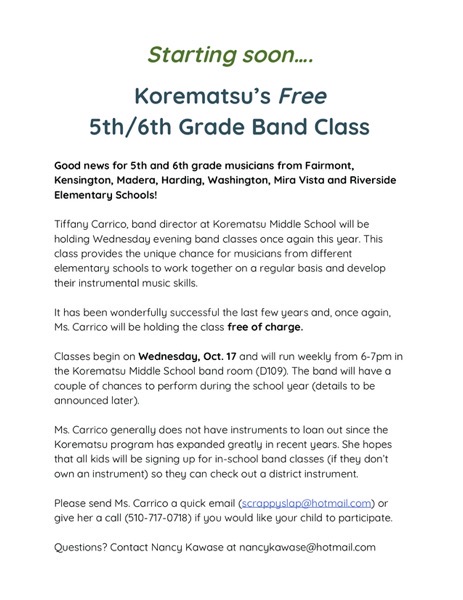 BASKETBALL CAMP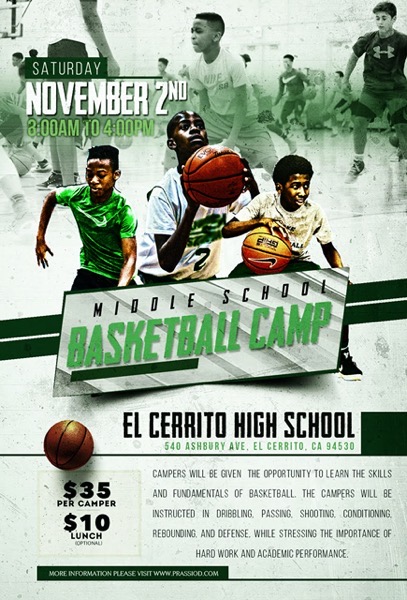 PLAY-A-THON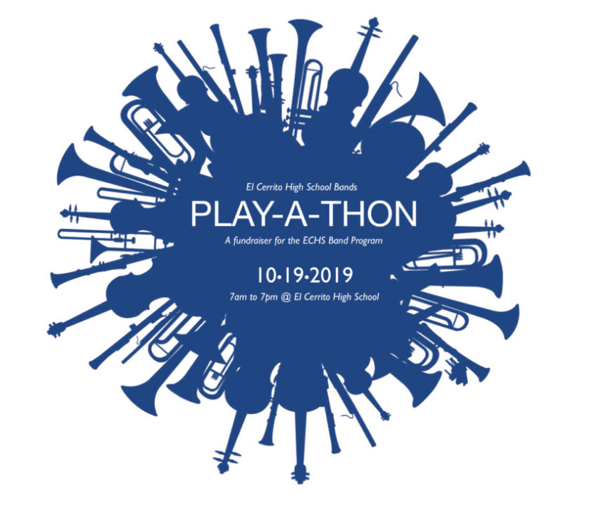 El Cerrito High School Play-a-Thon
Saturday, October 19, 7am-7pm
Presented by the Friends of El Cerrito Music
All events are FREE to the public and everyone is welcome!
Join us for a 12-hour music marathon aimed to raise $15,000. This event will provide funds for new instruments, equipment, and support various musical activities that include band festivals, clinics, coaches, and travel opportunities.
The Play-a-thon will include ongoing musical performances and activities featuring the El Cerrito High School Wind Ensemble, Symphonic Band, Concert Band, Jazz Ensemble, Jazz Workshop, and Gaucho Band.
Highlights include the Gaucho Band's 1pm outdoor Pops Concert in the quad (where lunch from Koja Kitchen and smoothies from Jamba Juice will be available for purchase beginning at 12:30pm) and a 6pm concert by the EC Wind Ensemble with special guests, the Diablo Valley College Symphonic Band
To make a pledge, come to the lobby of the ECHS Performing Arts Theater on the day of the event or go to echsbands.com/play-a-thon/