KOREMATSU SPRING DANCE PERFORMANCE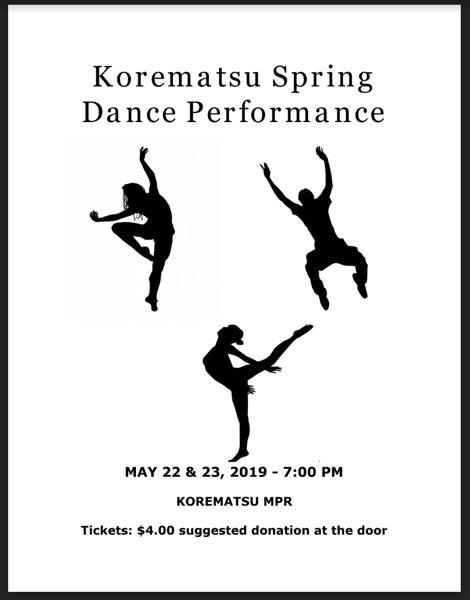 May 22 and 23, 2019
7:00 p.m.
MPR
Did you know Korematsu has a thriving Dance program? Are you coming to Korematsu next year? Are you already enrolled?
Join us and support our students as they perform their work. This is the perfect performance for elementary school students!
Suggested contribution: $4.00. We'll be in the MPR.
Hope to see you there!
WE NEED YOU!
Both the Korematsu PTSA and Korematsu Music Parents Association are in need of board leadership and volunteers for the 2019-2020 school year. These are important positions, because we really do support the school with additional funds, programs and opportunities for students and teachers. Your involvement is really important. We really do make a better school!
Please look over these opportunities and seriously consider giving some of your time. These are not overwhelming time commitments. You make of it what you will. The community is wonderful. You will enjoy yourself, meet people and leave enriched. We promise!
As a reminder, if we do not have a PTSA President, both the music program and the programs PTA funds are in jeopardy. We'd be able to ride for a while, but it will catch up with us. This will mean no math tutoring, no teacher classroom grants, no etree, no funding for drama program, no money for sports and sports equipment, no money for field trips, no funding for 8th grade Field Day, No Celebrate Korematsu, and finally, no organized parent forum for community-building and information exchange. We'd also lose our insurance, as PTA provides insurance for all of our events. Please contact us! We'd love to talk to you. Contact: korematsuptsa@gmail.com
Here's just a sampling of the opportunities available.
Korematsu PTSA President
Coordinate and oversee the unit's activities. Plan the year's calendar, approve the budget and along with the EVP, run five meetings a year.
Korematsu PTSA Vice President
Ideally be a 7th grade parent ready to be the president in 20/21. Along with the president, coordinate the unit's activities – mainly Celebrate Korematsu. Plan the year's calendar, approve the budget and along with the President, run five meetings a year.
Korematsu PTSA Membership Chair
Process PTSA memberships. Most of the work occurs in August and September. The work is largely online, and can be done from home.
Korematsu Teacher Treat Day Coordinator(s) – Coordinates monthly teacher luncheon. Use email to solicit donations of food and volunteers. Set up staffing schedule.
Celebrate Korematsu Chair – Head up a team that collects and processes donations for the Celebrate Korematsu auction. The majority of the work is December/January.
Incoming School Mixer/Ice Cream Social Chair – Welcome new and returning families to Korematsu by chairing the August Ice Cream Social. Ensure we have treats on hand, promote the event through the e tree.
Back-to-School Picnic – Welcome new and returning families to Korematsu by chairing the Back-to-School picnic. Order food, gather volunteers, promote the event through the e tree.
Korematsu Volunteer Coordinator – Find volunteers to staff events.
Korematsu E Tree Editor – Do you like to write? Work to write this weekly newsletter.
Golden Gate Fields Coordinator – Contact Golden Gate Fields to secure at Dollar Days Date, promote event to ensure enough volunteers are on hand, attend event and assure its smooth running.
Cookie Dough Coordinator – Run Fall Cookie Dough Fundraising Campaign. Contact Vendor, pass out and collect forms, organize the distribution of product when it arrives.
Restaurant Night Coordinator – Contact area restaurants and arrange "Restaurant Night" events. Promoted the events through the etree.
Science Fair Coordinators – Work with the science teachers to grade science projects and plan Korematsu's science night. Order awards if necessary. Assist when projects move to District, County and State science fairs.
Yearbook – Work with Korematsu staff and teachers to produce the yearbook. Advertise various deadlines to the school community.
2019-2020 KMPA Open Board Positions
We are in need of 4 volunteers to fill the following band positions for the upcoming school year. Please consider volunteering your time to the KMPA Band Board. It doesn't take a lot of time and most of the work can be done in the evenings from home. The following positions need to be filled:
Chair
Treasurer
Financial Secretary
Jazz Ensemble E-Tree
Now is a great time to shadow the current volunteer! If you know of an incoming 7th grade family that would be interested in volunteering, please send them my way. We cannot continue with the amazing work that we do without volunteers! Please contact nancykawase@hotmail.com for more information.
Korematsu Scientists – Place in Statewide Championship!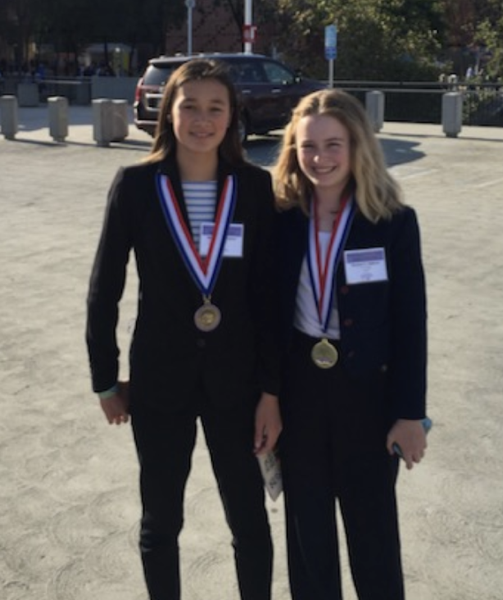 For the first time in many years, WCCUSD won medals in the California Science and Engineering Fair. Korematsu's Eleanor Addison and Nora Thompson took home 3rd and 4th place medals respectively, competing against the top 800 student finalists from regional fairs across the state. Held at the California Science Center in Los Angeles on April 29-30th, the event opened with an inspiring lecture by the 2018 Nobel Laureate, Dr. Frances Arnold. The following morning our young scientists stood for 5 hours of grueling interviews by roving teams of judges.
Congratulations to our winners — we hope this inspires a new generation of Korematsu students to enter next year's science fair.
END-OF-YEAR EVENTS
There is a lot going on!
The Calendar:
ONLINE HERE!
https://korematsumiddleschool.org/?page_id=13
Dance Performance 5/22 – 23 @ 7:00 MPR
Faculty Vs Student Volleyball 5/24 1:00 PM
Memorial Day Holiday 5/27
End of year band concert 5/29 @ 7:00 MPR
Testing Pie-in-the-face Event May 22, 2019, 7th last period of the day – Gym
Awards Night 5/30 @ 7:00 MPR
Study Trip (Ms. Davis) "A Midsummer Night's Dream" 5/31
Art and Jazz Festival 6/3 @ 6:00PM Courtyard
Promotion Rehearsal 6/5 Morning
8th grade Picnic and Softball game 6/5 Lunch – dismissal
Promotion Ceremony 6/6 @ 6 Courtyard
LDOS 6/7 – Noon Dismissal
August 6,7,8 Registration
It is time to plan 8th grade activities!
In this link, you will find three tabs:
Picnic
Promotion Rehearsal
Promotion Ceremony
Please sign up to volunteer if you are able!
We do ask that 7th Grade parents help with 8th grade rehearsal and promotion so that the 8th grade families can enjoy the events!
NEW TECHNOLOGY COMING!
This summer, the District is purchasing and/or refurbishing all student tablets. In August students will return to newer, faster and more secure devices! YAY!
In order to accomplish this, all student tablets will be collected before the last day of school on June 7th. (Your principal or school administration team will communicate the specific collection plan for your particular school.)
Remind your student to prepare for collection with this one step:
● If there are files stored on the tablet's hard drive or their H:\ drive, please remind your student to move those files to Google Drive before tablet collection, so that they can be accessed from the new device. Once tablets are collected, anything stored on the hard drive of the computer will not be retrievable. Some computers will be retired and some will be completely refurbished. Your student will not get the same machine back.
Also know:
● Students will take a tablet home if they have an IEP that specifically calls for a tablet.
● Summer schools will have devices. Seniors doing independent study will be able to take them home.
Thanks for your support in the transition!
¡YA VIENE LA NUEVA TECNOLOGÍA!
Este verano, el Distrito comprará y/o renovará todas las computadoras portátiles (tabletas) para estudiantes. ¡En agosto, los estudiantes contarán con dispositivos más nuevos, más rápidos y más seguros! ¡HURRA!
Para lograr esto, todas las computadoras (tabletas) de los estudiantes se recogerán antes del último día de clases el viernes 7 de junio; (el director o el personal de administración de su escuela le comunicarán el plan de recolección específico para su escuela en particular).
Recuérdele a su hijo/a que se prepare para la recolección haciendo lo siguiente:
● Si hay archivos almacenados en la memoria de la computadora o en su unidad H: /, recuérdele a su hijo/a que transfiera esos archivos a la Unidad Google antes de la colección de las computadoras, para que pueda tener acceso a estos archivos desde el nuevo dispositivo. Una vez que se recojan las tabletas, cualquier cosa almacenada en la memoria de la computadora no se podrá recuperar. Algunas computadoras serán retiradas y otras serán completamente renovadas. Su hijo/a no obtendrá la misma computadora de vuelta.
Además debe saber lo siguiente:
● Los estudiantes llevarán una computadora (tableta) a casa si tienen un Programa Individualizado de Educación (IEP) que específicamente requiere del uso de una tableta.
● Las escuelas en las cuales se realizará el programa de verano tendrán dispositivos. Los estudiantes de doceavo grado que realicen estudios independientes podrán llevar las computadoras a casa.