VOLUNTEERS NEEDED
WE COULD USE TWO MORE VOLUNTEERS
FOR TONIGHT'S PIZZA PICNIC
TO OVERSEE THE FOOD LINE.
5:30 p.m – 6:30 p.m.
EMAIL: korematsuptsa@gmail.com
IF YOU CAN HELP
TRAFFIC AND PARKING REMINDER!!!
RESPECT THE NEIGHBORHOOD!
There will be a lot of people tonight!
Our school is located in a residential neighborhood.
Please, let's all be as respectful and courteous as we can be.
Take cars off the street. Carpool with others.
Alleviate congestion. Park a few blocks away and walk in to campus.
Please follow all traffic rules and regulations.
Park neatly. Don't block driveways. No illegal U-turns and the like.
OUR NEIGHBORS THANK YOU!
TONIGHT! 7th GRADE NIGHT
Thursday, August 30, 2018
6:30 – 8:30 p.m.
Korematsu MPR
Students, parent and guardians are invited for an evening of snacks, activities and important information about how to be successful in middle school. Parents will learn some new tools for helping their kids have a smooth transition to middle school!
WE HOPE TO SEE YOU THERE!
BACK-TO-SCHOOL PIZZA PICNIC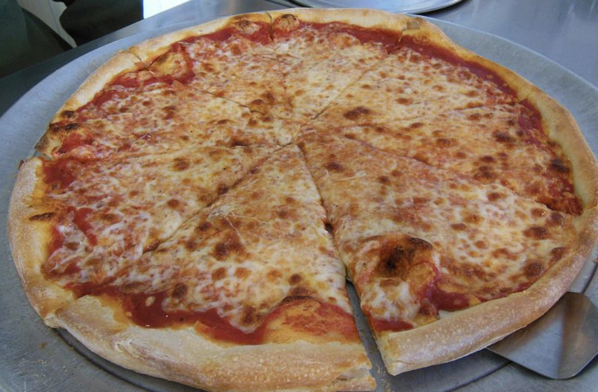 Thursday, August 30, 2018
5:30-6:30 p.m.
OUTSIDE THE MPR IN THE AMPHITHEATER
Join us just before "7th Grade Night" for Pizza and Salad.
$5.00 per person
JOIN THE SCHOOL SITE COUNCIL!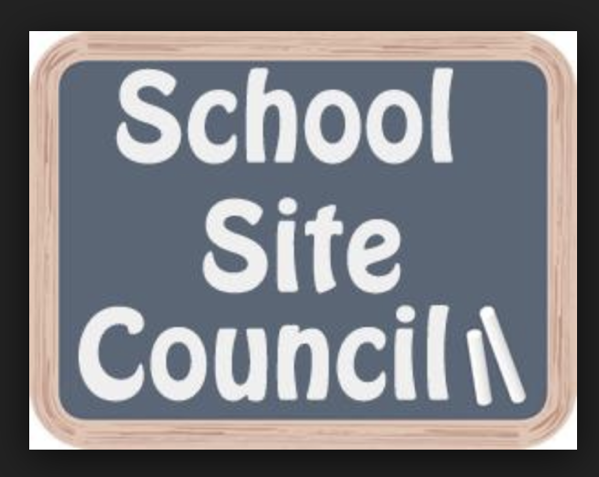 ELECTION SCHEDULE
SSC Declaration to Run form is due no later than 9/5/2018.
Election ballots will be published on 9/6/2018 and elections will last until 9/14/2018.
Election results will be published on 9/19/2018.
OPEN POSITIONS
Parents or Community Members 2
Teachers 2
Classified Staff 1
Students 2
A School Site Council is required by law, and is a very important volunteer position on campus. The School Site Council annually reviews and updates the Single Plan for Student Achievement (SPSA) including proposed expenditure of funds allocated to the school through the Consolidated Application. The SSC must approve the plan, recommend it to the local governing board for approval, monitor its implementation, and evaluate the effectiveness of the planned activities at least annually.
The School Site Council (SSC) is composed of a group that represents all segments of the school community for the common goal of supporting student success. The group is composed of the principal, teacher representatives, other staff representatives, parents/other community representatives, and student representatives at the secondary level, with each group selected by their peers.
Elections take place at the start of the school year. Since we have student representatives, our School Site Council tries to meet directly after school.
Click on this link for the ballot
PDF here: KMS SSC DTRF 2018.pdf
CROSS COUNTRY INFORMATIONAL MEETING FOR PARENTS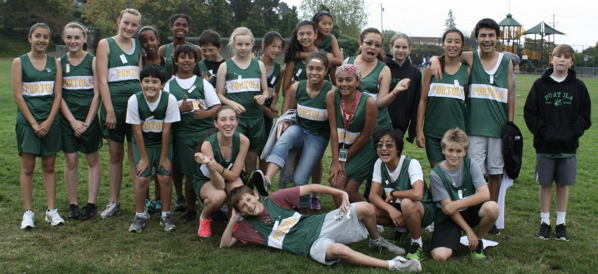 Tuesday, September 4, 2018
6:00 p.m.
C212
Parents, if your student has expressed interest in Cross Country, I invite you to an informational meeting being held on Tuesday, September 4th. The meeting will take place in room C212 at 6 PM.
The agenda for the informational night is as follows:
Schedule
Race day
Parent Drivers
Uniforms
Practice days/times
Expectations
Parent Email List
Please join me in this informational meeting to support your student in their running endeavor! Should you have any questions contact me via email, pedro.uriostegue@wccusd.net
FREE FINGERPRINTING IS BACK!
Thank you for volunteering! A fingerprinting/background check is required prior to taking on any volunteer assignments! All sessions are free of charge, and you may attend any session in the district.
Please complete the online application prior to the fingerprinting event.
If you already have a badge, you do not need to re-apply. Schedule Below!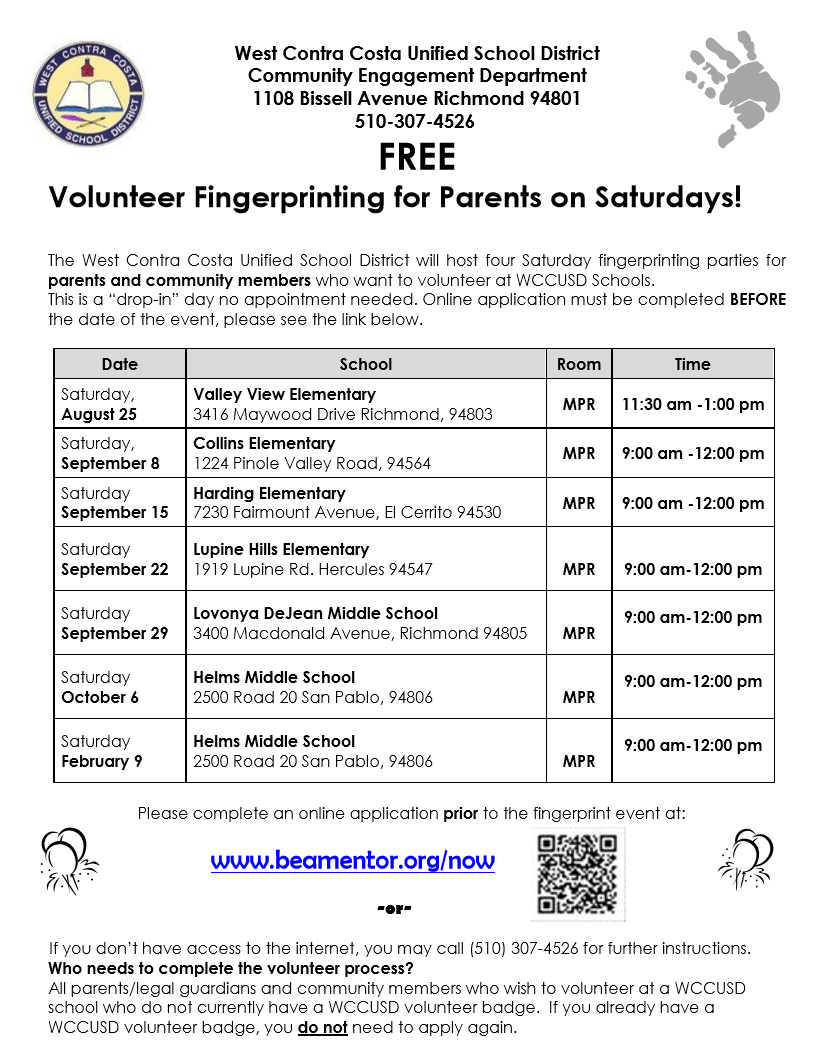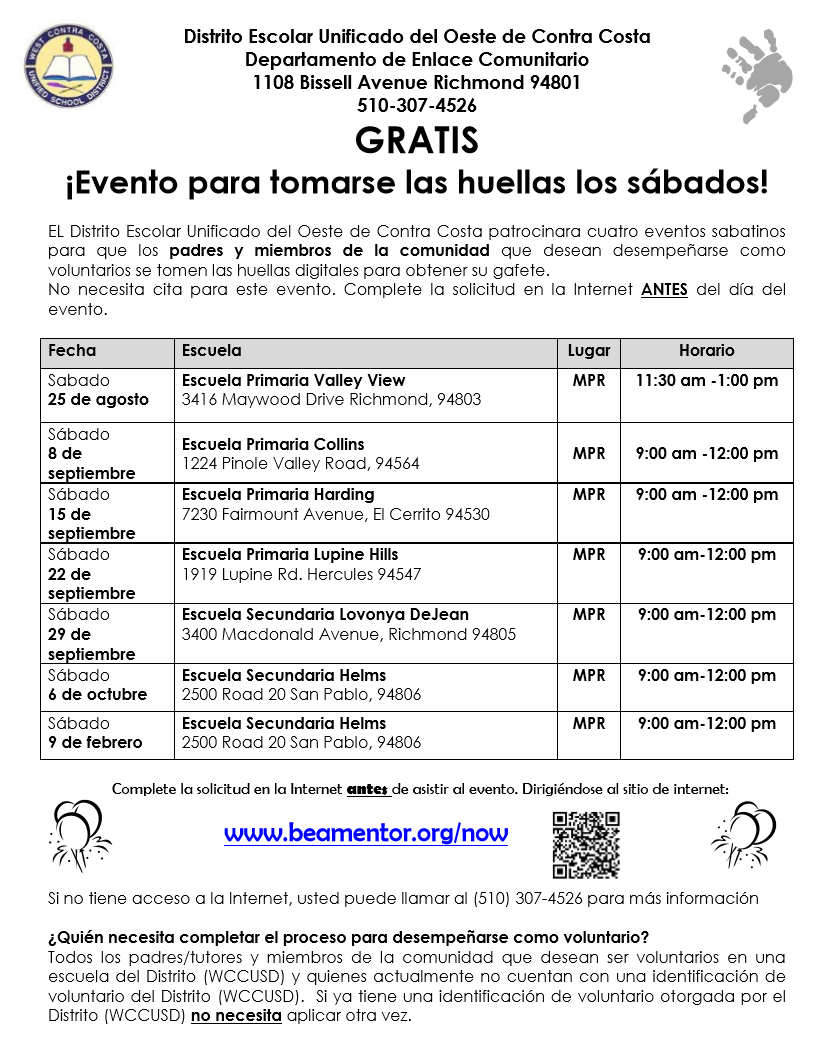 INFORMATIONAL MEETING – EL CERRITO JUNIOR MOUNTAIN BIKE TEAM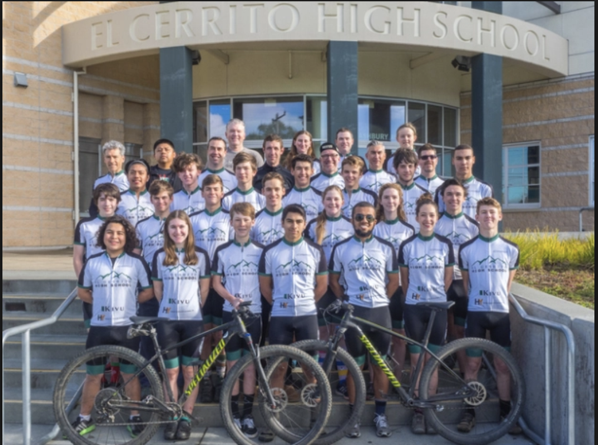 The El Cerrito Junior Mountain Bike Team has an information meeting coming up on Sunday, September 30, 5-6pm @ Kensington Park off the Arlington. Please bring your rider and parent; no bikes needed for the information meeting.
The co-ed team accepts riders of all levels (new or experienced) in grades 6-8. The team is affiliated with the El Cerrito High School team, and all of its volunteer coaches are trained and licensed National Interscholastic Cycling Association coaches. The team offers scholarships and can help riders get loaner bikes if needed. Parent volunteers who are experienced or new to mountain biking are encouraged to also get involved. Please see attached flyer.
For more information, email Head Coach CortisCooper@outlook.com