BAND PARENT MEETING
First band parent meeting of the year!
Tuesday, September 11, 2018
6:00 p.m.
Band Room
Come find out about our amazing band program and how you can help out!
Followed by…..
FIRST PTSA MEETING OF THE YEAR!
Tuesday, September 11, 2018
7:00 p.m.
MPR
JOIN US. FREE. FUN. INFORMATIVE. OPEN TO ALL.
Special Guest: Principal Matthew Burnham
Mr. Burnham will give us his annual
"State of the School"
Plus, we'll discuss and pass a yearly budget and catch up on all sorts of news and events.
BACK TO SCHOOL NIGHT!!
Thursday, September 13, 2018
6:30-8:00 p.m.
Thursday is a Minimum Day. Dismissal at 1:25 p.m.
You'll follow your child's Powerschool schedule.
More information coming.
OUR FIRST TEACHER TREAT DAY!!!
Friday, September 14th
For those that are new to Korematsu: For many years, our PTSA has honored our teachers and staff with a monthly luncheon.
This is the most-loved staff event that happens at the school.
PLEASE HELP SUPPORT OUR WONDERFUL SCHOOL BY CONTRIBUTING FOOD, FUNDS, OR TIME TO MAKE OUR LUNCHEONS A SUCCESS!
First Luncheon: Friday September 14th
What can you contribute?
Your favorite lunch item: Pizza, meat or veggie dishes, noodles, curries or casseroles, sushi, sandwiches, salads, vegetables, bread, cheese, desserts, cookies, pies, cake, fruit, nonalcoholic beverages, and more. Homemade, store-bought, take out, hot or cold, omnivore/herbivore/locavore, … ANYTHING AND EVERYTHING is gratefully received. Let us know on the signup sheet below.
You'd like to help but you can't deliver food?
Drop cash or a check made out to Korematsu PTA at the front desk (in an envelope for PTA Teacher's Lunch with your name on it)–or to the parents below–and we will buy food on your behalf.
Where/when should I drop it off?
Leave your contribution at the front desk in the morning when you drop your child off, or to the faculty lunch room before 11am. Food should be labeled (so we know what it contains) and wrapped or in containers. Be sure to pick up any dishes at the end of the day.
Want to help setup, serve and clean up?
Just click the link below to add your name to volunteer at this month's lunch.
Please click this link to let us know what you can bring:
Sept 14th Teacher Lunch Signup
Questions? Just ask Elaine Addison 510-612-5673 misspoppyuk@aol.com or Ros Wyatt 510-356-8582 roswyatt@sbcglobal.net
Missed Picture Day?
You'll have another chance!
Friday, October 16th
Save the Date!
JOIN OUR PTSA ONLINE!
It is never too late to join.
We support school, staff and students
with programs and events.
Your membership matters and makes a difference!
Thank you for your support!!
https://jointotem.com/ca/el-cerrito/korematsu-middle-school-ptsa/join
REGISTRATION STILL OPEN FOR AFTER SCHOOL ENRICHMENT CLASSES EL CERRITO RECREATION DEPARTMENT

The El Cerrito Recreation Department is still accepting registrations for After School Enrichment Classes at Castro Clubhouse. Intro to Weightlifting, Aikido, and Cooking are all being offered right next door to Korematsu at 1420 Norvell Ave. Classes provide a safe place for your middle schooler to be after the bell rings, and allows them to discover and develop new interests! For more details on the classes, visit http://el-cerrito.org/DocumentCenter/View/10389/Middle-School-Programs-Fall-2018-Flyer. Registration is easy! Visit http://www.el-cerrito.org/onlinereg or simply email recreation@ci.el-cerrito.ca.us. For more information call the El Cerrito Community Center at (510) 559-7000.
KOREMATSU SINGS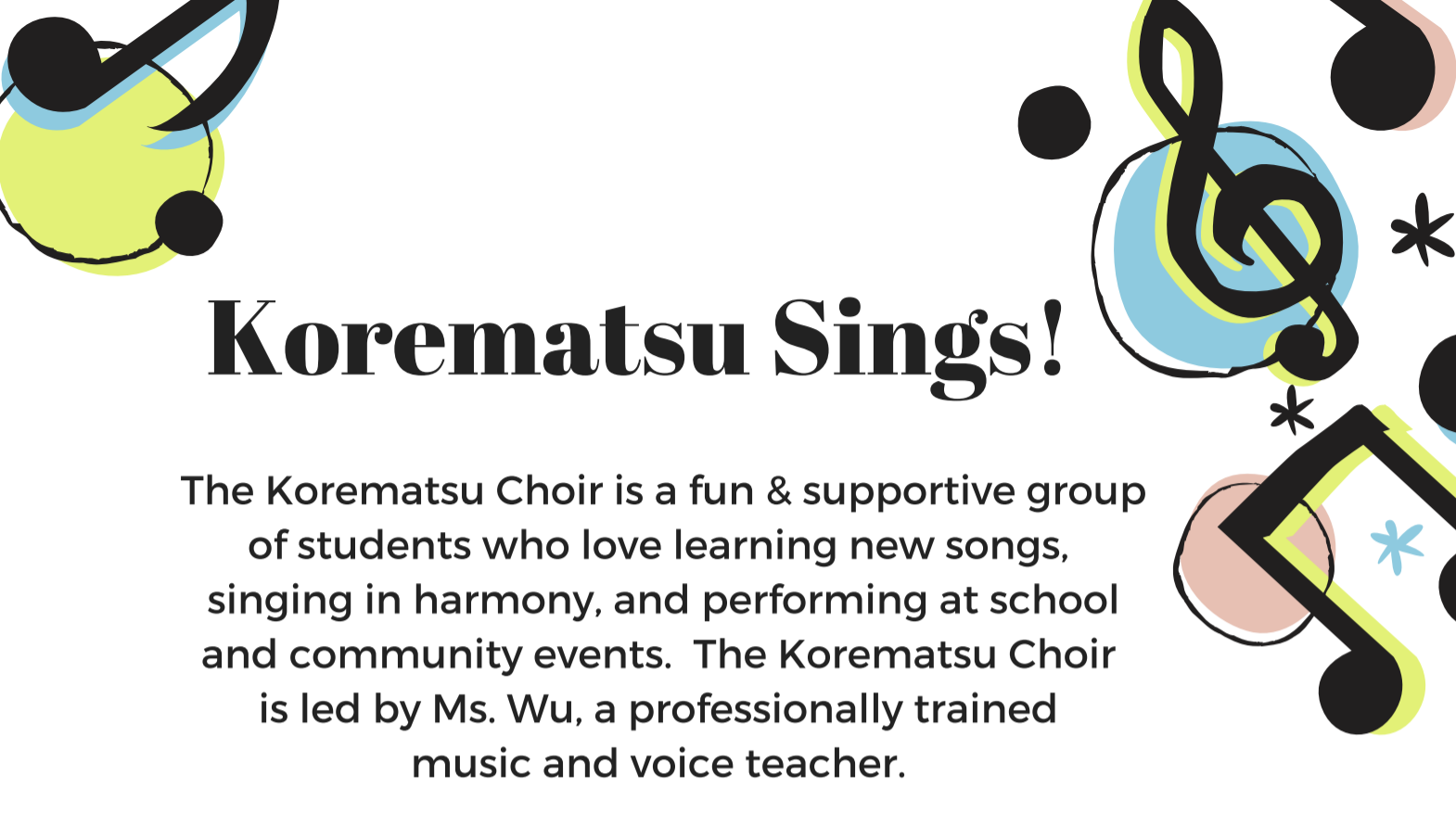 Singers welcome until the 2nd class on Sept. 12th
Meet @ 1:35 outside the Band Room
To secure your student's spot for the Fall Session, submit $150 payment (15 class sessions) soonest (latest by 9/12) OR let us know your student will be on scholarship (or need a payment plan). With some families contributing to a scholarship fund, our goal is to cover whatever scholarships are needed, hopefully in full!
MIDDLE SCHOOL AGED GIRLS….. CHECK OUT SWE++

The Society of Women Engineers at the University of California, Berkeley
Applications due September 10th at 11:59 PST.
SWE++, is a free 10 week program that will focus on introducing middle school girls to the world of computer science. Our applications are now LIVE at this link. If you have a middle schooler or know anyone who would be interested, please encourage them to apply!
We are looking for students who are passionate, dedicated, and ready to learn, and can commit to coming to class every Saturday morning from 10am-12pm at the UC Berkeley campus starting September 15th. We have an awesome curriculum set up and are super excited for our first batch of students, and we are looking forward to being part of our journey to close the gender gap in computer science.
We are looking forward to reading your students' applications, which are due September 10th at 11:59 PST.
SWE++ aims to teach computer science concepts to middle school girls. The ratio of men to women in the technology space is very large, and we need more women in tech. Many girls, including ourselves, haven't been exposed to computer science until much later in life, or we were actively discouraged to not pursue this field. We are here to make some changes and introduce your students to computer science at a younger age in a comfortable and supportive atmosphere.
Maitri, Rebecca, and I are very passionate about introducing more women into technology fields and reducing the gender gap. We'd like to introduce our curriculum to middle school girls so they can get a head start to what the world of computing looks like. This upcoming fall semester, we are going to be hosting around 30 middle schoolers at UC Berkeley. Ever Saturday morning from 10am-12pm (starting September 15-November 17) we will be teaching computer science concepts and working on projects. Our goal is to introduce the girls to CS, but also a community of other girls and mentors that your students can work with and learn from. Throughout the semester, we will have guest speakers and fun events as well. The very last session will be a "Code Day" which will consist of guest speakers, workshops on different areas of CS, and more! We are really looking forward to this upcoming semester!