Jo Boaler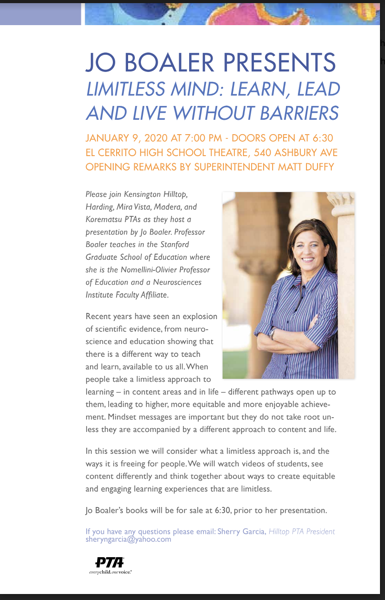 Tonight – Jan 9th
FREE CHILDCARE
EL CERRITO HIGH SCHOOL
PERFORMING ARTS CENTER
DOORS OPEN AT 6:30 p.m.
TEACHER TREAT DAY FRIDAY
Sign up to bring something
or volunteer your time
in the link!
SIGN UP IN THIS LINK!
SPRING PLAY! AUDITIONS!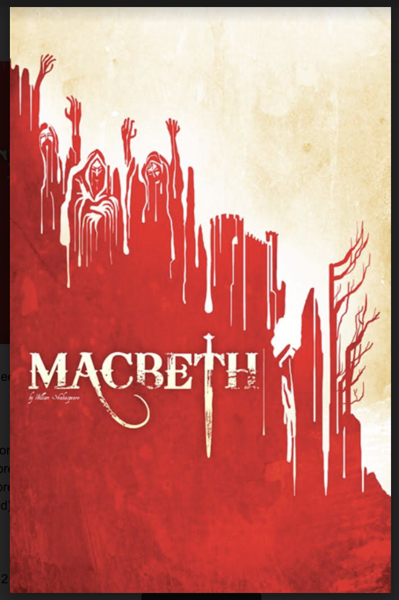 No Shakespeare knowledge needed—you will learn at auditions.
Fri 1/10 Info meeting—3pm
Come Monday OR Tuesday from 3 – 5pm to audition
Mon 1/13: Audition/Class: no preparation necessary
Tues 1/14 Audition/Class: no preparation necessary
Wed 1/15: Callbacks (if needed)
Rehearsals start: Wed 1/22
Wed 1/22 first rehearsal
Performances Th/F/S March 12 – 14
Chipotle Fundraiser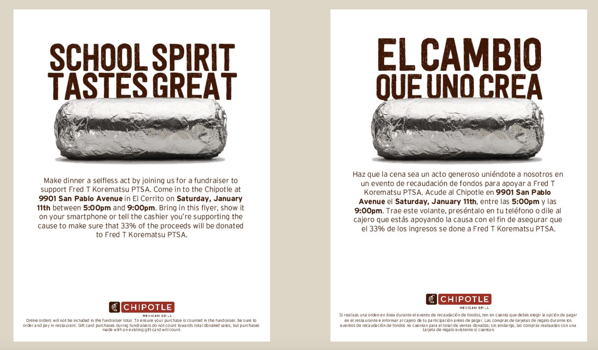 Saturday, January 11, 2020
5:00-9:00 p.m.
9901 San Pablo Ave
El Cerrito
Don't forget this Flier!
Thanks for you support!
SCIENCE FAIR PROJECT JUDGES NEEDED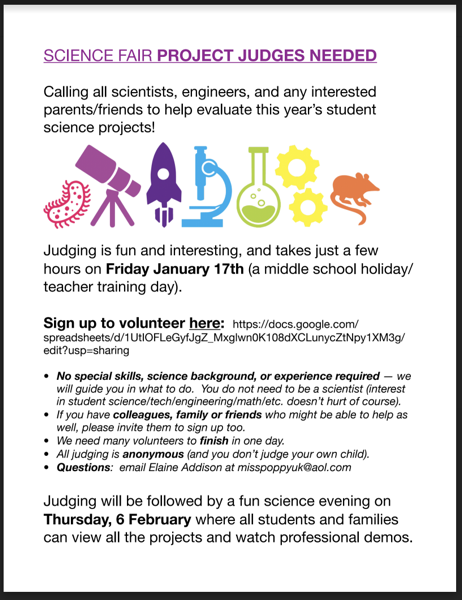 SIGN UP TO JUDGE HERE!
Screen Shot 2019-12-18 at 11.45.38 PM.png
Saturday, February 8, 2020
5:30 – 9:30 p.m.
Unitarian Universalist Church
1 Lawson Road
Kensington CA 94708
CELEBRATE KOREMATSU IS AROUND THE CORNER!
THIS EVENT SELLS OUT EVERY YEAR.
BUY TICKETS NOW!!
Celebrate Korematsu is our annual community- building event.
Our kids provide the entertainment (bands), we have dinner and a live and silent auction.
Please join us for this family-friendly event! Younger siblings are welcome, and they get to see the musical progression of their siblings and neighbors!
This is a totally fun event!
You don't need to be a "band parent" to attend. The event is open to all!
Mr. Vedder is the auctioneer. Returning is Ms. Tiffany Jamison, Former Office Manager to help!
WE ALSO HAVE A SPECIAL GUEST THAT EVERYONE WILL WANT SEE!
BUY CELEBRATE KOREMATSU TICKETS HERE!
DONATIONS TO CELEBRATE KOREMATSU
Do you have something to donate to the auction?
Warriors Tickets?
Pixar Tour?
Donate an Epic Party?
A Great Bottle of Wine that you'll Never Drink??
A Service…. Web Design, Donate a Dinner, A skill?
Let us know! We'd love to talk!
Contact us!
STOCK THE BAR
We intend to auction off a stocked home bar.
Have something to donate to it? Contact us. We'll can arrange pick-up and drop-off!