WELCOME BACK
School is Open!!
Monday, January 6, 2020
Teacher Luncheon
Friday, January 10, 2020
Please drop by 10:30 a.m.
in the Teacher Lounge
Happy New Year and thank you to all who contributed last year!
And it is time again. Let's start the year with a bang and a great first teacher luncheon!
Bring your favorite healthy or maybe not New Year's dish.
Bring what you can or what your heart desires.
No time to cook? No problem!
Pick something up, drop something off.
JO BOALER
THURSDAY, January 9, 2020
El Cerrito High School
Performing Arts Theater
Doors open at 6:30 p.m.
Presentation at 7:00 p.m.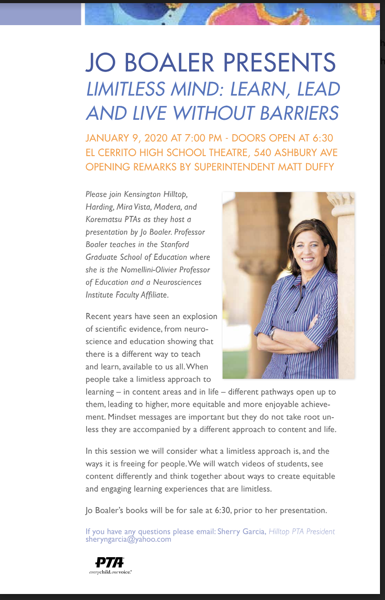 We are super excited to partner with our neighboring PTAs to bring Jo Boaler to speak!
Jo Boaler, Professor of Mathematics Education at Stanford, promotes mathematics education reform and equitable mathematics classrooms. She is the co-founder and faculty director of youcubed, which provides mathematics education resources to teacher, students and parents. At this event, she'll talk about mindset and how at any age we are capable of growth and rewiring. Please save the date and come on out. Bonus Points if you bring a math teacher with you!
Chipotle Fundraiser!
Saturday January 11, 2019
5:00 p.m. – 9:00 p.m.
Chipotle El Cerrito
9901 San Pablo Ave, El Cerrito, CA 94530
Present the flier below and we receive 33% of the proceeds!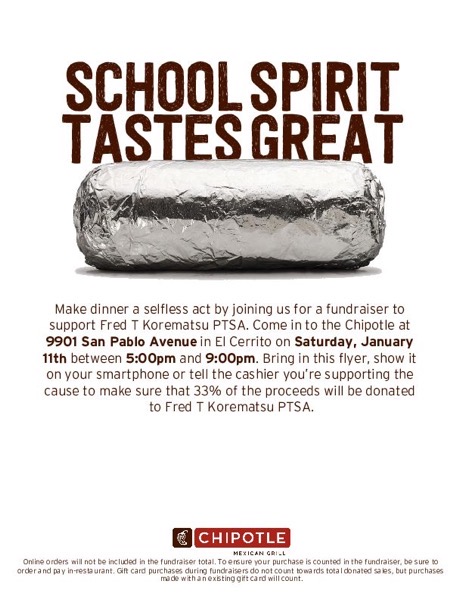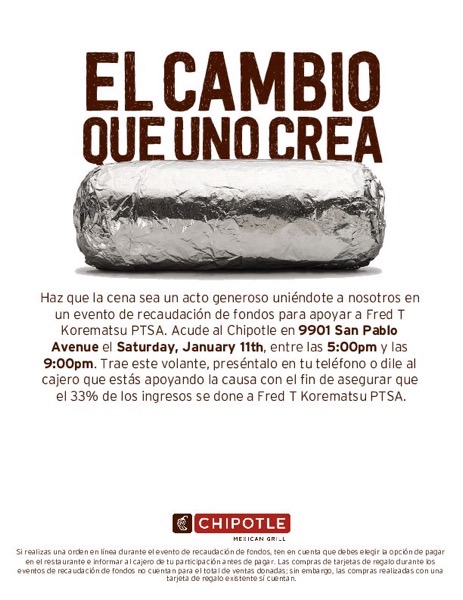 Celebrate Korematsu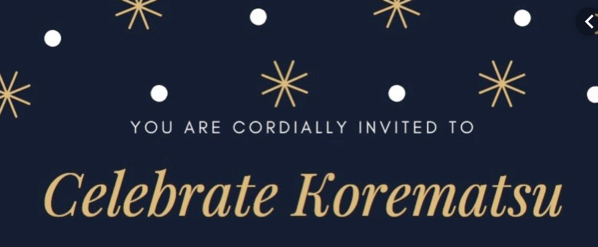 An evening of Music, Community, Food, Live and Silent Auction
Saturday, February 8, 2020
Unitarian Universalist Church
1 Lawson Rd
Kensington CA 94707
Auctioneer: Mr. Vedder, 8th Grade English Teacher
SPECIAL GUESTS!
CALL FOR DONATIONS
We plan to a give away a "Stock the Bar" for Celebrate Korematsu
Can you donate a bottle of….
Gin
Tequila
Bourbon
Scotch or Whiskey – Rye, Irish or other (or both)
Brandy
Light Rum
Dark Rum
Vodka
Beer
Wine – Red, White, Rose, Sparkling, Champagne
Mixers – Tonics, Club Sodas
Bitters Kit
Simple Syrup
Other?
Contact us! korematsuptsa@gmail.com