SEE EVERYONE TONIGHT!
You can look up your student's schedule in PowerSchool.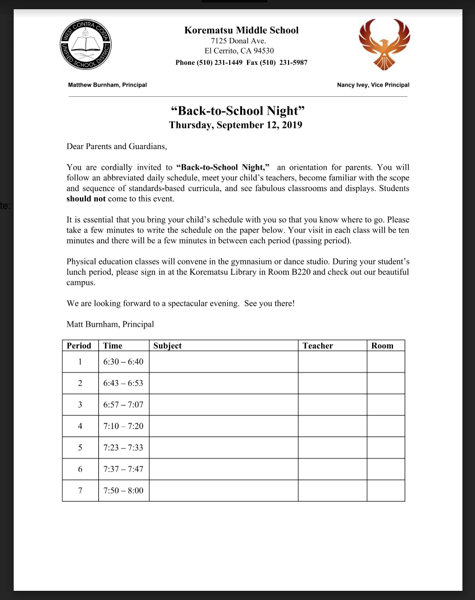 MINIMUM DAY
TOMORROW, FRIDAY, SEPTEMBER 13 IS A MINIMUM DAY 1:25 p.m. DISMISSAL
FIRST TEACHER TREAT DAY TOMORROW!
STILL TIME TO SIGN UP TO BRING SOMETHING OR VOLUNTEER!
JOIN PTA
We are far behind. Last year at this time, we had over 250 members, and had over 300 members for the entire year. Today, we are slightly over 150. Please join! Memberships are $15.00. Students can join. Teachers can join. Parents and community members can join.
In the "comments" section, write "PTSA Membership" and list the names of the joining members.
We are also significantly behind in donations. We pay for classroom grants, field trips, math tutoring, drama and more. If you have not done so already, and can afford it, please consider a donation at any level. We appreciate your support.
Join and donate here:
http://www.korematsumiddleschool.org
Click on the yellow DONATE button. You may also send in checks to the office payable to Korematsu PTSA. We humbly thank you for your support.
TEXTBOOKS ARE NOW AVAILABLE IN THE EL CERRITO LIBRARY
The El Cerrito Library on Stockton Street has Korematsu 7th and 8th Grade Textbooks. Great for studying after school, or if one is forgotten at school over a weekend or break!
YEARBOOK SALE
ORDER TODAY
NOW $30.00
That's a savings of $10.00 when you order by Friday, September 13, 2019.
SAVE NOW
LIMITED TIME OFFER
Get four free icons (valued at $16.00) when you upgrade the cover by adding a name, crest, or monogram for $6.00. Offer ends Friday, September 13, 2019.
FREE ICONS
Also! We need your photos! The yearbook relies on parents (and sometimes students) providing photos of Korematsu events throughout the year. If you are in the PTSA, if you are a parent of an athlete, if your child is in the play or another performance, please share your photos with the yearbook staff. Don't wait! We need great photos before December. So bookmark this link and send photos to our Dropbox: http://bit.ly/yearbookKMS
FIRST PTSA MEETING OF THE YEAR
Please join us Tuesday, September 17, 2019, 7:00 p.m.
MPR
SPECIAL GUEST: Principal Matthew Burnham will give us a "STATE OF THE SCHOOL"
We'll be discussing the calendar, the budget and more.
VIEW THE AGENDA HERE
BAND PARENTS MEET JUST BEFORE
Tuesday, September 17, 2019
6:00 p.m.
Band Room
GOLDEN GATE FIELDS SIGN UP!
SUNDAY, SEPTEMBER 22, 2019
WE'VE GOT SPOTS AVAILABLE FOR VOLUNTEERS!
VOLUNTEER OPPORTUNITY
GOLDEN GATE FIELDS
Sunday, September 22, 2019
We've been awarded two Golden Gate Fields Days. We go down to the racetrack and hand out beer and hot dogs. In return we receive a $1,000 check and usually $100+ in tips. This is a very fun day.
We are looking for 3 1/2 hour commitments. Sign up in the link and thank you for your support!
CHAIR WANTED: EL CERRITO CITYWIDE YARD SALE
DO YOU LIKE JUNK? We looking for a chair to head up the El Cerrito Citywide Yard Sale. We've got volunteers to help. We just need you to head it up. Saturday, October 5, 2019 with a few collection days prior. Interested? contact us! korematsuptsa@gmail.com
TALK SUPE!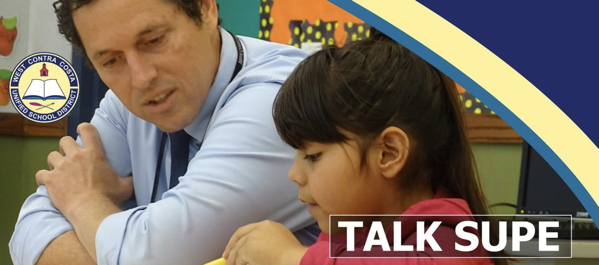 DEEPER LEARNING!