The Celebrate Korematsu online auction is NOW OPEN!


As most of you know, Celebrate Korematsu is our ONLY large fundraiser of the year. We invite you to register and bid on one of the 200 auction items, including amazing restaurant gift certificates, incredible furniture, beautiful jewelry and much more! The auction will close on Thursday, January 31st at 11:59pm, so start bidding NOW before it's too late!
To begin bidding click here: https://www.auctria.com/auction/CelebrateKorematsu2019
If you've already purchased your Celebrate Korematsu tickets, log in to your account, click catalog and then begin bidding.
If you have not bought tickets, please register (of course buy tickets if you plan to come to the event) and then click catalog and begin bidding.
If you don't plan to join us at the event, but don't want to miss these fabulous items, click on "buy tickets", then scroll to the bottom of the page and click "skip" (not next). This will take you to a page where you can register as a bidder only. Then go to the catalog and begin bidding.
The catalog will be updated as new items are received, so please check back frequently. We will also be previewing live auction items throughout the week – another great reason to visit the site.
Thanks for supporting Korematsu Middle School!
CELEBRATE KOREMATSU NEEDS YOU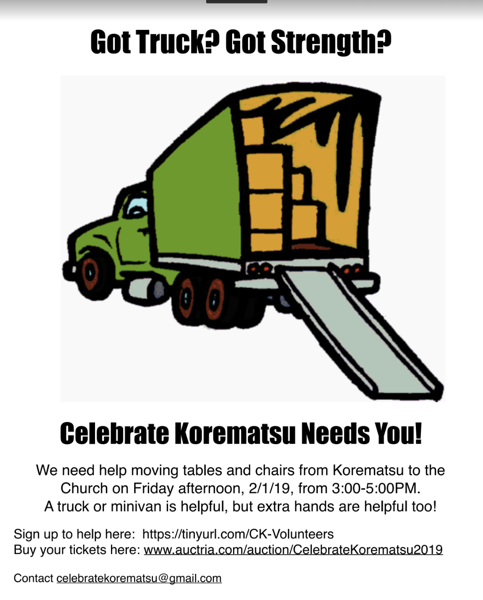 SIGN UP TO VOLUNTEER HERE:
https://tinyurl.com/CK-volunteers
BUY TICKETS HERE:
https://www.auctria.com/auction/CelebrateKorematsu2019
CONTACT:
celebratekorematsu@gmail.com
ANYONE GOING TO NORTH PETALUMA
ANYTIME BETWEEN
January 28th and Feb 1st
9:00 a.m. – 5:30 p.m.
We've got an auction pick up!
Contact us if you can help! korematsuptsa@gmail.com
Thank you!!
CHIPOTLE FUNDRAISER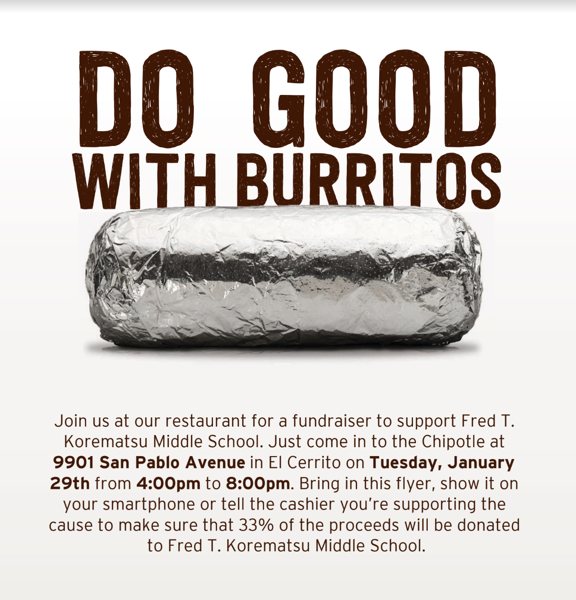 DATE CHANGE
PLEASE REVISE YOUR CALENDAR!
Tuesday, January 29
4:00 – 8:00 p.m.
Buy Your Yearbook Before the Price Goes Up!
Until Jan 31, you can get a Korematsu Yearbook for $30. But the price goes up next month! So order your yearbook TODAY to get the lower price. https://www.jostens.com/apps/store/customer/1003883/Fred-T.-Korematsu-Middle-School/
After Feb 1, yearbooks will cost $40.
It's 2019 and the yearbook is well underway. But we greatly need your help! So far, we have very few photos from the Korematsu community, and we could use many, many more!
Please send any photos of students or events to us using one of the methods below. We'd love to have at least 100 photos by the end of January, and we're currently far, far short of that goal.
AS EASY AS 1, 2, 3
Spread your payments over time with our three-payment installment plan.*
GET STARTED
*Credit card installment plan available on orders of $30 or more.
Send Us Your Photos
Our yearbook staff would love to include your photos in this year's book! Share your pix with us.
Method #1 – Dropbox: The easiest way to send photos is using the Dropbox we have set up. Just upload photos to: https://www.dropbox.com/request/dmoKUQUIljZQ2Ov6yVKI
Method #2 – ReplayIt: Another easy way to send photos is to use Jostens' mobile app called ReplayIt! Just download the app to your phone or tablet, select Korematsu as your school, then add photos. https://www.replayit.com/#/home
A cool thing about ReplayIt is that your photos (once approved by Jostens) will appear on the web site. You can also use this link to upload photos from your computer. Plus, you can add photos whenever and wherever you have internet access, so it's a great option for photos at events.
Reserve Your Yearbook! Order Today!!
Just in case: Link for "Get Started" is http://click.e.jostens.com/?qs=4aeb30b999ba6f08c1ec6cabf03ae1db758cc50b23be91eedfd946fe3b1a9de8d679bb0b82b9312bcc12571340041c1d5bc8c1af69db2bd1
THE YOUNG WOMEN OF COLOR COLLECTIVE 1st ANNUAL MOVIE NIGHT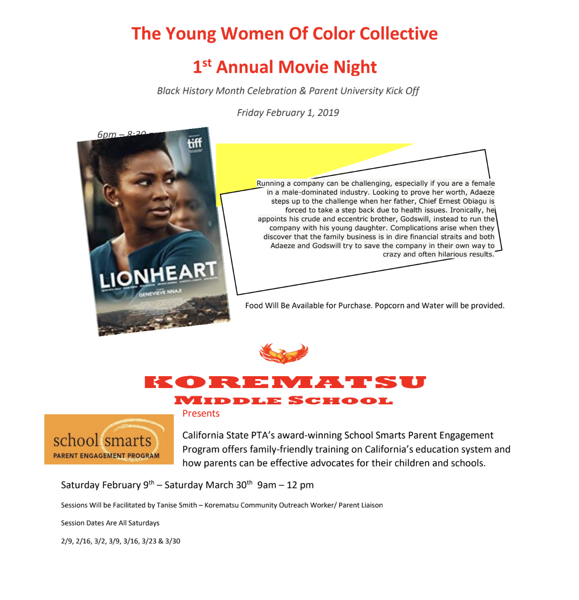 PARENT ENGAGEMENT PROGRAM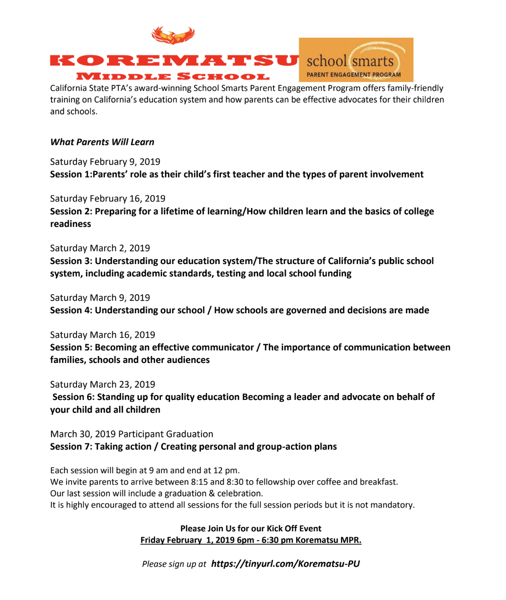 Girls & Boys Basketball Scores – Jan 17th
The 7th grade boys lost an exciting, well-contested game versus Martinez Junior High by a score of 42-43. The 8th grade boys, after going scoreless in the first quarter, came back to win 40-35 versus Martinez. The girls lost at home to King as they prepare for postseason tournament beginning next week. Thank you to our volunteer scorekeepers: Grace and Sam
BERKELEY ENGINEERING

https://engineering.berkeley.edu/admissions/pathways-college
The UC Berkeley BESSA's annual A Stand For Education event was postponed last November due to health concerns about the air quality from smoke. The new revised date is January 26, 2019.
We wish for you to distribute the following information to students who may be interested in STEM.
BESSA, the Black Engineering and Science Student Association, is the University of California, Berkeley chapter of our parent organization, the National Society of Black Engineers (NSBE). Our mission as a National Organization is to increase the number of culturally responsible Black engineers and scientists who excel academically, succeed professionally, and positively impact the community.
A Stand For Education steps as one of the events which help our organization achieve its mission. The purpose of "A Stand for Education" is to expose African American students to higher education and STEM (Science, Technology, Engineering, Mathematics) related careers. This one-day program includes workshops and experiments for students K-12, and will occur on January 26, 2019 from 9am to 3pm.
Sign Up Link on Eventbrite:
https://www.eventbrite.com/e/2018-a-stand-for-education-tickets-51113143789
WCCUSD NEWSLETTER

WCCUSD Newsletter in this Link!