TEACHER TREAT DAY
TOMORROW, January 18, 2019
January's theme is "Comfort Foods."
We're thinking mac and cheese, soups, stews, anything that keeps you warm and cozy.
Volunteer to cook something, volunteer to serve, or donate some funds.
Sign up in the link!!!
NO SCHOOL – MONDAY and TUESDAY – January 21 and 22
January 21 school is closed to honor Dr. Martin Luther King.
January 22 is a teacher work day. Teachers will be on campus, but no classes for students.
See you Wednesday, January 23rd
(unless you are judging science projects)
CHIPOLTE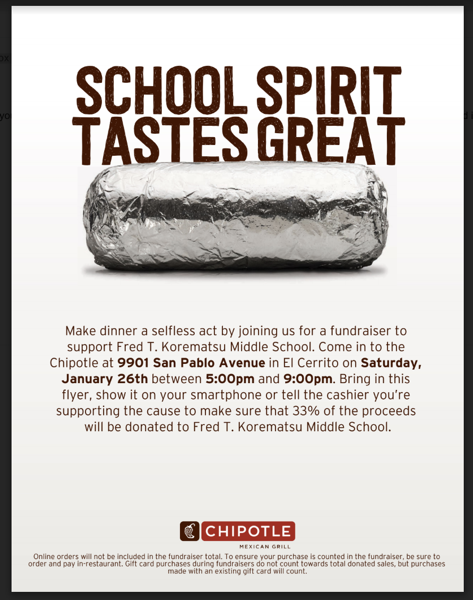 CELEBRATE KOREMATSU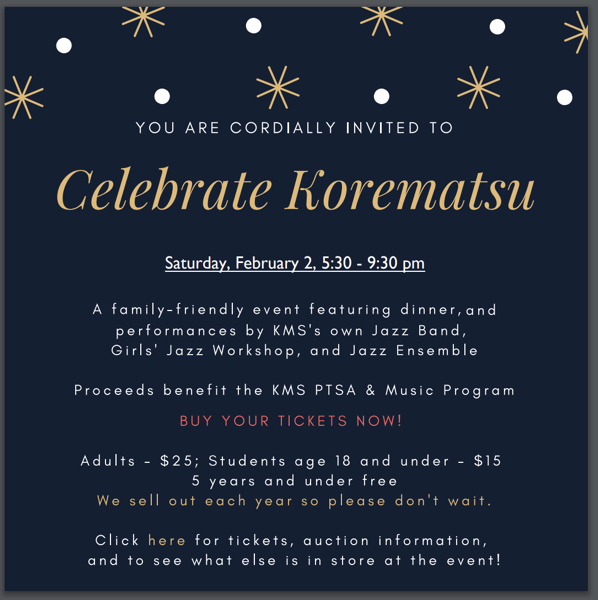 YOU ARE INVITED!!!!!
CELEBRATE KOREMATSU
Saturday February 2, 2019
Unitarian Universalist Church of Berkeley
1 Lawson Road
Kensington, CA
It is time! Please join us for Celebrate Korematsu, our annual community-building and fundraising event! Our music students provide the entertainment, we have dinner, and raise money for our PTSA and Band programs through live and silent auctions. This is a family-friendly event. Siblings are welcome. Buy tickets as soon as possible. This event always sells out!
CELEBRATE KOREMATSU AUCTION ITEMS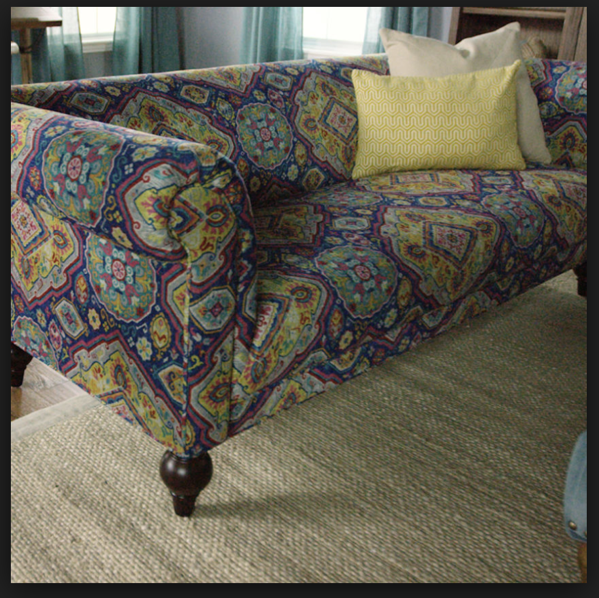 This Gorgeous Sofa Can Be Yours!
This vintage-inspired sofa is upholstered in 100% polyester fabric featuring an exclusive print for a look that's equally bohemian and elevated. In a classic rolled arm silhouette, its frame is crafted of eucalyptus wood with four dark brown rounded rubberwood feet and a center leg for added support.
Specifications
Eucalyptus wood frame, rubberwood feet with dark brown espresso finish and 100% polyester upholster
Dry clean only
World Market exclusive
Assembly required
Overall: 80″W x 35″D x 28″H, 87 lbs.
Seat: 60″W x 22″D
Floor to bottom of seat: 8″H
Floor to top of seat: 18.5″H
Floor to top of arms: 28″H
Top of seat to top of back: 12″H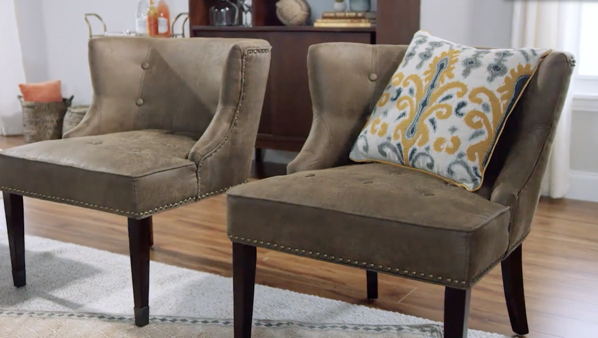 These Gorgeous Chairs Can be yours!
Upholstered in soft, distressed, bi-cast leather that gives you an authentic look at an appealing price, it has a cozy, lived-in feel. Featuring birch legs with metal foot cups, nailhead details and subtle tufting, our sophisticated chair will take pride of place in your living room.
Specifications
Crafted of bi-cast leather and manmade materials with distressed finish, wood frame, birch wood legs, and metal foot cups with antique bronze finish
Nailhead details and tufting
Overall: 28.34″W x 28.74″D x 31.49″H, 24 lbs.
Seat: 25.19″W x 22.04″D
Floor to bottom of seat: 12.99″H
Floor to top of seat: 18.11″H
Top of seat to top of back: 22″H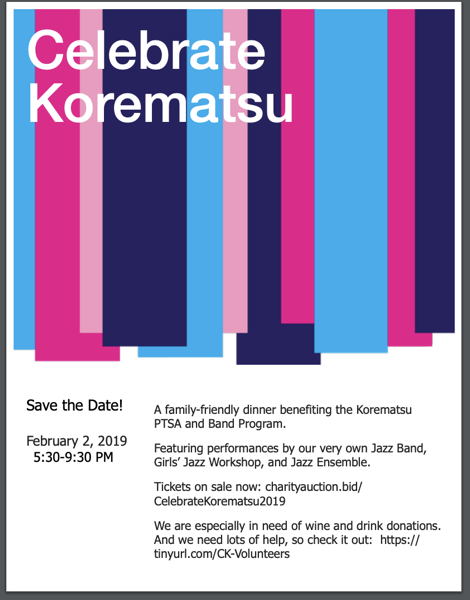 CELEBRATE KOREMATSU VOLUNTEERING
Both Band and PTSA have some volunteer spots available for various positions.
PLEASE SIGN UP HERE
Please contact us if you have some time to spare!
celebratekorematsu@gmail.com
SCIENCE PROJECT JUDGES REQUESTED
NO SPECIAL SKILL REQUIRED
You do not need to be a scientist to participate in judging.
We'll teach you everything you need to know.
TUESDAY, JANUARY 22
Do you have a background in engineering, science or science education? If so, Korematsu's Science Fair needs you! Please consider volunteering some of your time to judge the efforts of our young scientists!
Judging hours: 8:30 am – 8:00 pm on Tuesday, January 22 (Please allow a total of 3-4 hours to judge.)
If you can volunteer to judge, please email Marit Oieroset at moieroset@yahoo.com
Please help grow our science fair tradition! Any one of these projects have the potential to continue onto the WCCUSD district fair, the SF Bay Area fair, CA state fair, and ultimately the Intel ISEF.
Korematsu Science Fair
February 5, 2019
6:30 p.m.
Come see the work of our students at our annual science fair.
This is a family-friendly event, where younger students can see more advanced projects. It's fun for them to see.
We may have a few other surprises as well! Stay tuned for details!
SAN JOSE
WILL ANYONE BE IN SAN JOSE PRIOR TO FEBRUARY 2, 2019?
CAN YOU PICK SOMETHING UP FOR US ON SOUTH FIRST STREET?
email: korematsuptsa@gmail.com
IF YOU CAN HELP!
Thanks!
KOREMATSU GLEE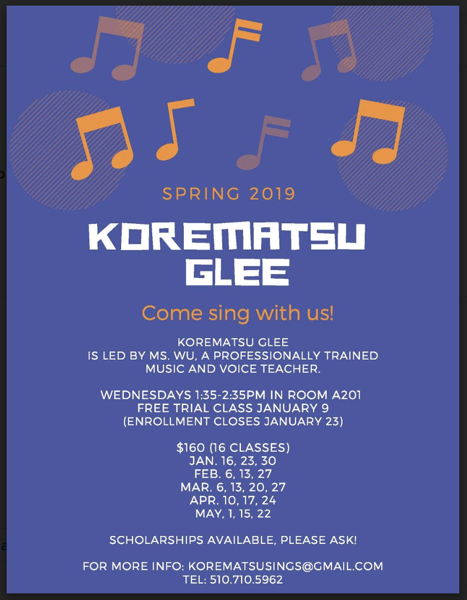 Singers are welcome to consider/join in up until enrollment closes on January 23rd.
To secure your student's spot for the Spring Session, submit $160 payment (total payment for the entire session/16 classes) soonest
OR let us know your student will be on scholarship (or payment plan).
For more information (including how to submit payment or about scholarships), contact parent coordinators Georgina & Mary at korematsusings@gmail.com
Help Make the Yearbook Great
It's 2019 and the yearbook is well underway. But we greatly need your help! So far, we have very few photos from the Korematsu community, and we could use many, many more!
Please send any photos of students or events to us using one of the methods below. We'd love to have at least 100 photos by the end of January, and we're currently far, far short of that goal.
Two Ways to Send in Photos
Method #1 – Dropbox: The easiest way to send photos is using the Dropbox we have set up. Just upload photos to: https://www.dropbox.com/request/dmoKUQUIljZQ2Ov6yVKI
Method #2 – ReplayIt: Another easy way to send photos is to use Jostens' mobile app called ReplayIt! Just download the app to your phone or tablet, select Korematsu as your school, then add photos. https://www.replayit.com/#/home
A cool thing about ReplayIt is that your photos (once approved by Jostens) will appear on the web site. You can also use this link to upload photos from your computer. Plus, you can add photos whenever and wherever you have internet access, so it's a great option for photos at events.
Order Your Yearbook Today Before the Price Goes Up
Right now, you can get a Korematsu Yearbook for $30. But the price goes up next month! So order your yearbook TODAY to get the lower price. https://www.jostens.com/apps/store/customer/1003883/Fred-T.-Korematsu-Middle-School/
After Feb 1, yearbooks will cost $40.
Add Special Recognition for Your Student
Want to add a personal message to your student in the yearbook? This year we are including special recognition ads, with a portion of the proceeds benefitting the DECA club. These ads will appear in the back of each yearbook, letting you recognize the accomplishments of your child.
Visit the Korematsu store page on Jostens' site to place your order. https://www.jostens.com/apps/store/customer/1003883/Fred-T.-Korematsu-Middle-School/
Note, too, that you can use the store link to order your yearbook.
Reserve Your Yearbook! Order Today!!