CELEBRATE KOREMATSU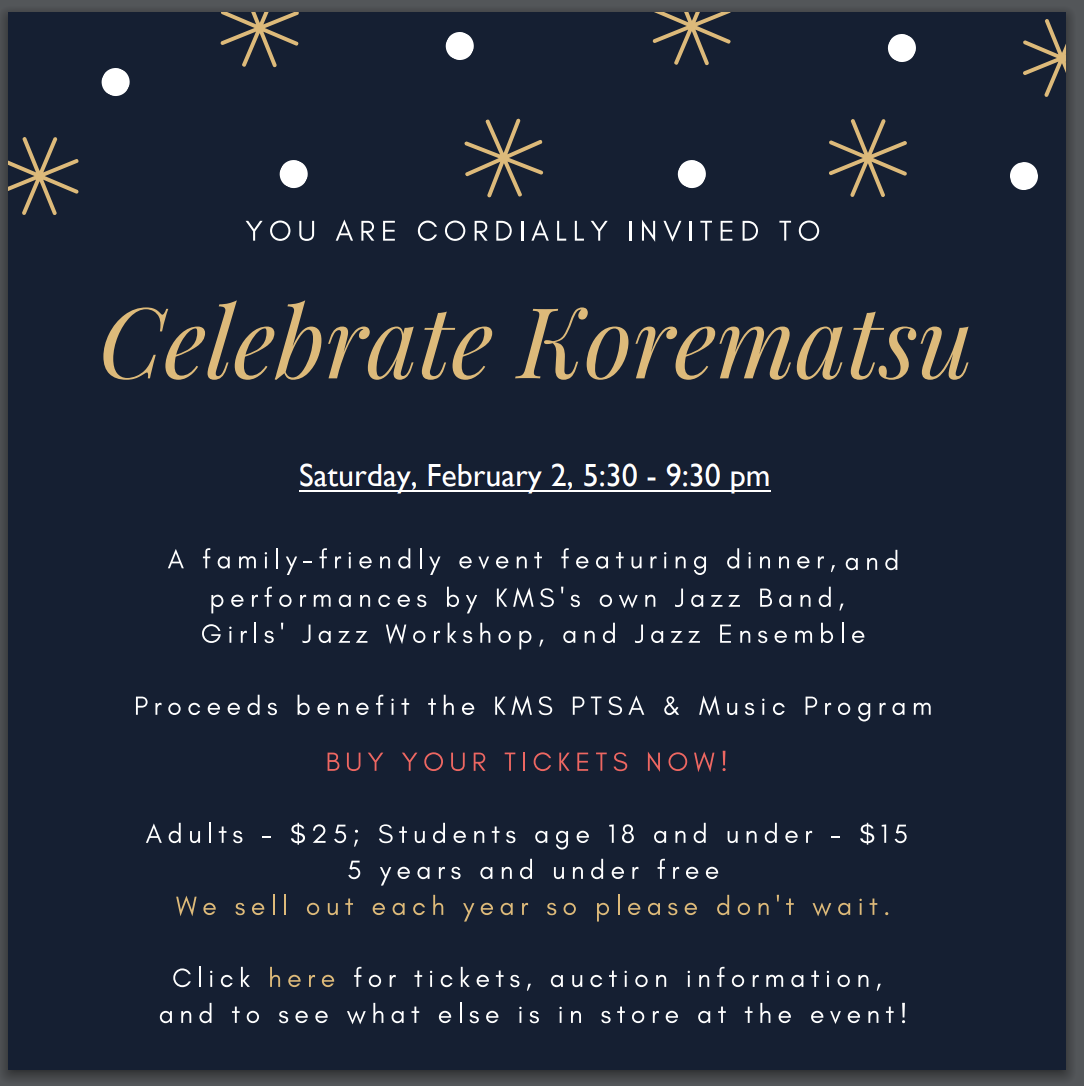 YOU ARE INVITED!!!!!
Saturday February 2, 2019
Unitarian Universalist Church of Berkeley
1 Lawson Road
Kensington, CA
It is time! Please join us for Celebrate Korematsu, our annual community-building and fundraising event! Our music students provide the entertainment, we have dinner, and raise money for our PTSA and Band programs through live and silent auctions. This is a family-friendly event. Siblings are welcome. Buy tickets as soon as possible. This event always sells out!
BUY TICKETS HERE!
CELEBRATE KOREMATSU VOLUNTEERING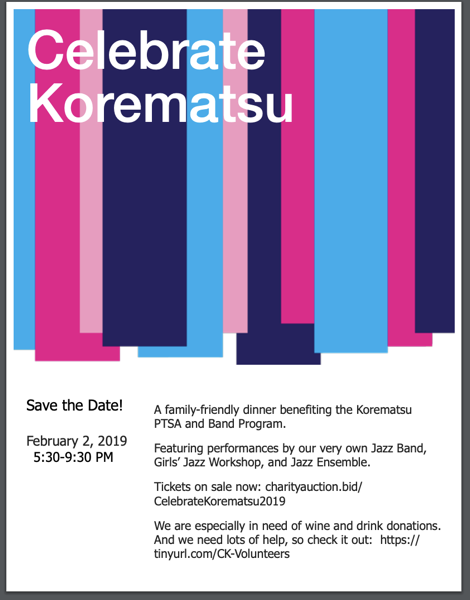 Both Band and PTSA have some volunteer spots available for various positions.
PLEASE SIGN UP HERE
https://tinyurl.com/CK-Volunteers
Please contact us if you have some time to spare!
celebratekorematsu@gmail.com
TEACHER TREAT DAY
Friday, January 18, 2019
January's theme is "Comfort Foods."
We're thinking mac and cheese, soups, stews, anything that keeps you warm and cozy.
Volunteer to cook something, volunteer to serve, or donate some funds.
Sign up in the link!!!
https://docs.google.com/spreadsheets/d/1iHK5C7JLFxYQ7oIP0LDwvrMpTXCrfajG6u33WshuY38/edit#gid=0
SCIENCE PROJECT JUDGES REQUESTED
NO SPECIAL SKILL REQUIRED
You do not need to be a scientist to participate in judging.
We'll teach you everything you need to know.
TUESDAY, JANUARY 22
Do you have a background in engineering, science or science education? If so, Korematsu's Science Fair needs you! Please consider volunteering some of your time to judge the efforts of our young scientists!
Judging hours: 8:30 am – 8:00 pm on Tuesday, January 22 (Please allow a total of 3-4 hours to judge.)
If you can volunteer to judge, please email Marit Oieroset at moieroset@yahoo.com
Please help grow our science fair tradition! Any one of these projects have the potential to continue onto the WCCUSD district fair, the SF Bay Area fair, CA state fair, and ultimately the Intel ISEF.
Korematsu Science Fair
February 5, 2019
6:30 p.m.
Come see the work of our students at our annual science fair.
This is a family-friendly event, where younger students can see more advanced projects. It's fun for them to see.
We may have a few other surprises as well! Stay tuned for details!
KOREMATSU GLEE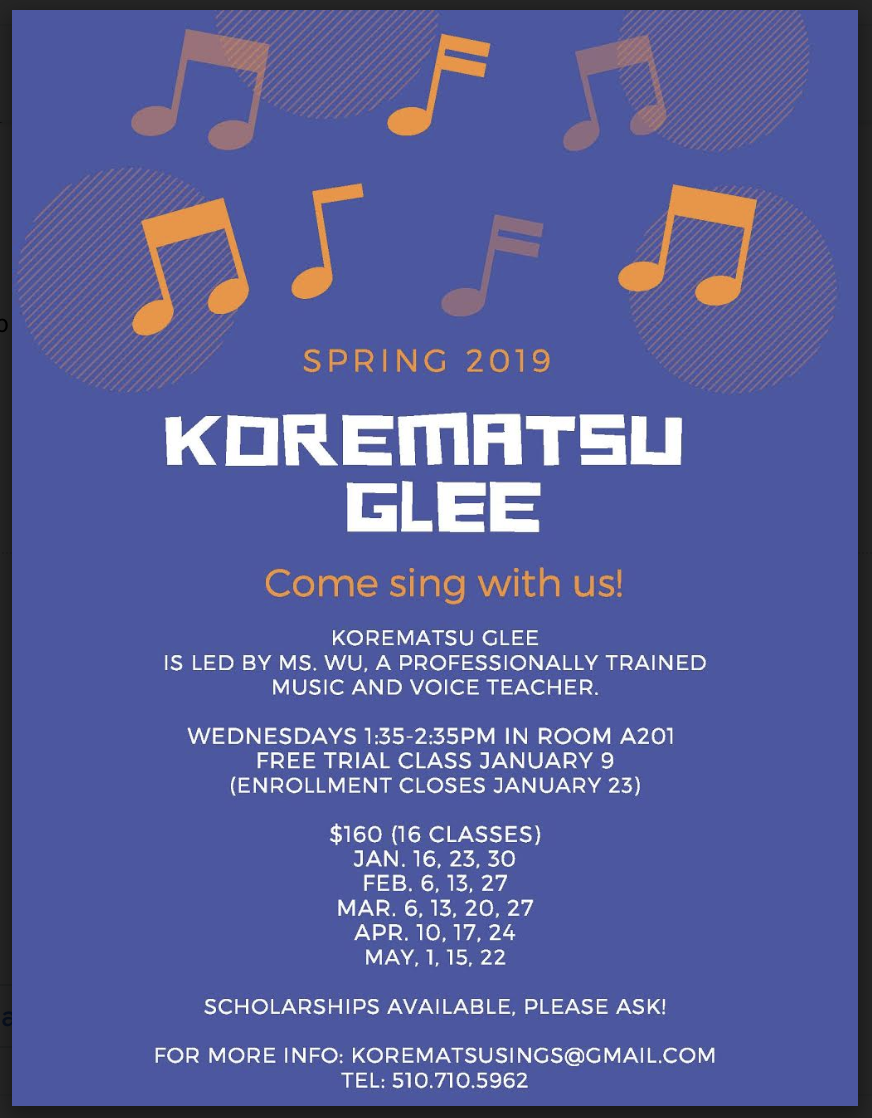 Singers are welcome to consider/join in up until enrollment closes on January 23rd.
To secure your student's spot for the Spring Session, submit $160 payment (total payment for the entire session/16 classes) soonest
OR let us know your student will be on scholarship (or payment plan).
For more information (including how to submit payment or about scholarships), contact parent coordinators Georgina & Mary at korematsusings@gmail.com
KOREMATSU MIDDLE SCHOOL PARENT TOURS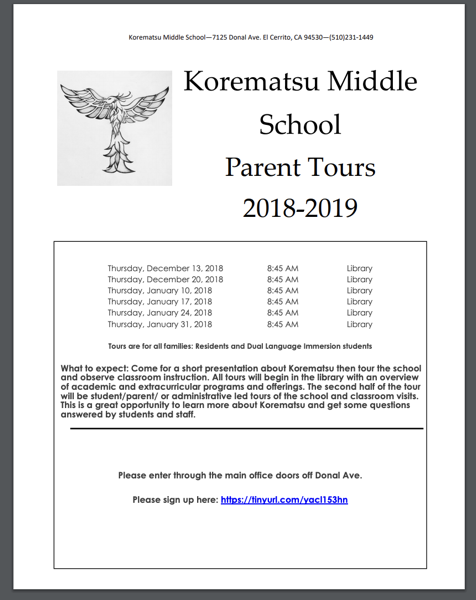 Please sign up here: https://tinyurl.com/yacl153hn
DOWNLOAD THE SCHEDULE: KMS School tours 18-19.pdf
IMPORTANT INFORMATION ABOUT YEARBOOKS!
Thanks to Korematsu's DECA club for helping guide the 2018-2019 yearbook. These students have contributed ideas and photographs, made key decisions, and added energy and enthusiasm. But we still need your help! The more photos the Korematsu community provides, the better our yearbook! If you have photos of students or events please send them to us using one of the methods below. We need lots of photos soon to make our first Jostens deadline next week, so don't delay, send them in today!
YEARBOOKS!
TWO WAYS TO SEND IN PHOTOS!
One easy way to send photos is to use Jostens' mobile app called ReplayIt! Just download the app to your phone or tablet, select Korematsu as your school, then add photos. https://www.replayit.com/#/home
A cool thing about ReplayIt is that your photos (once approved by Jostens) will appear on the web site. You can also use this link to upload photos from your computer.
An alternate method of submitting photos is to use the Dropbox we have set up. Just upload photos to: https://www.dropbox.com/request/dmoKUQUIljZQ2Ov6yVKI
BOYS BASKETBALL SCHEDULE!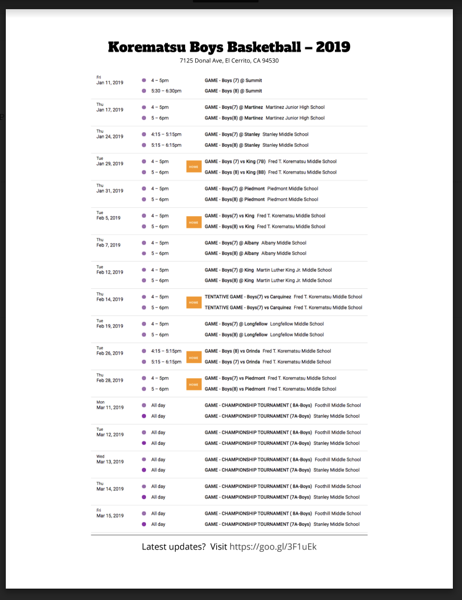 Printable Schedule here: korematsu-boys-basketball-2019.pdf
Full schedule of Boys and Girls Basketball here: https://goo.gl/3F1uEk
ECHS SCHOOL TOURS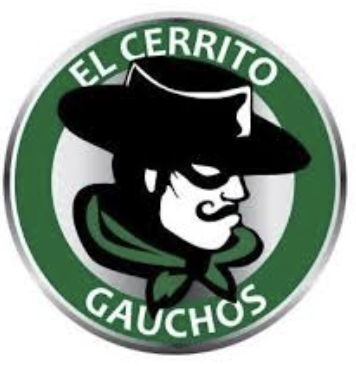 El Cerrito High School tours for incoming 9th grade students and their guardians are held on the first Friday of each month. The parent/guardian must sign up at the front desk at ECHS ahead of time. School Phone Number: 510- 231-1437
REMIND

EL CERRITO HIGH SCHOOL REMIND ACCOUNT
Parents can join via this link, https://www.remind.com/join/ecgauchos
Text this message ecgauchos to 81010
Or add @ECGauchos if you are already registered on Remind
This Remind account is or general school events/information.
PARENT ED JuuL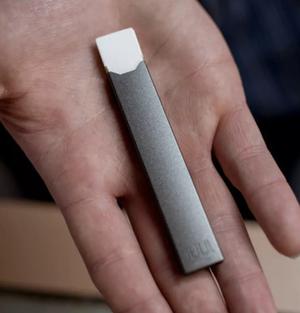 At this week's PTA meeting, it became clear that parents need a crash course on JuuL. Juul is the #1 e-cigarette/vaping brand, and JUUL use among teens is on an astronomical rise. Parents may not even know what to look for, and if they find vaping devices, what to do. Juul, is the most popular vape product by far among teens. Parents and their teens may not realize that e-cigarettes deliver nicotine, sometimes an extremely hefty dose. A typical Juul cartridge, or 'pod,' contains about as much nicotine as a pack of 20 regular cigarettes. More easily hidden, these products can be used more with less detection, and leave less traces of use, and are looking to be extremely addictive. Further, at this time, there are zero research-driven data solutions on how to stop. We are putting together a presentation on vaping and certain social media hot topics. In the meantime, here are some links so that you can get caught up.
ARTICLES
https://www.vox.com/science-and-health/2018/5/1/17286638/juul-vaping-e-cigarette
https://www.vox.com/science-and-health/2018/12/18/18144951/juul-vaping-e-cigarettes
https://www.vox.com/2018/12/20/18150202/juul-altria-deal
https://www.youtube.com/watch?v=AFOpoKBUyok
EXECUTIVE FUNCTION BOOTCAMP FOR FAMILIES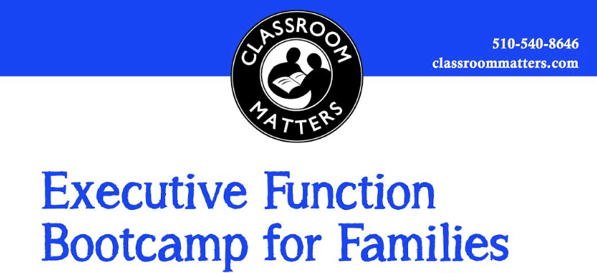 Free workshop:
____________________
TOPIC: Prepping for final exams
DATE/TIME: Thursday, January 10th; 7-8pm
LOCATION: Classroom Matters, 2436 Sacramento Street, Berkeley, CA (nearest intersection is Sacramento & Dwight)
INSTRUCTOR: Rosalind Diaz
_____________________
All materials will be provided. Students are welcome to bring healthy snacks and a reusable water bottle.
Please note this workshop is for students only. We will be sending home some materials for you to review with them. We suggest arriving a few minutes early in order to find parking and to check-in.
Also, please note that Classroom Matters provides academic tutoring and homework support in all subject areas with an emphasis on study skills and organization. If you think that your student(s) might benefit from some additional academic support and reinforcement of the workshop material, please do not hesitate to contact us to learn more about our program.
RSVP: Teresa@classroommatters.com
EDUCATION FAIR