TONIGHT!!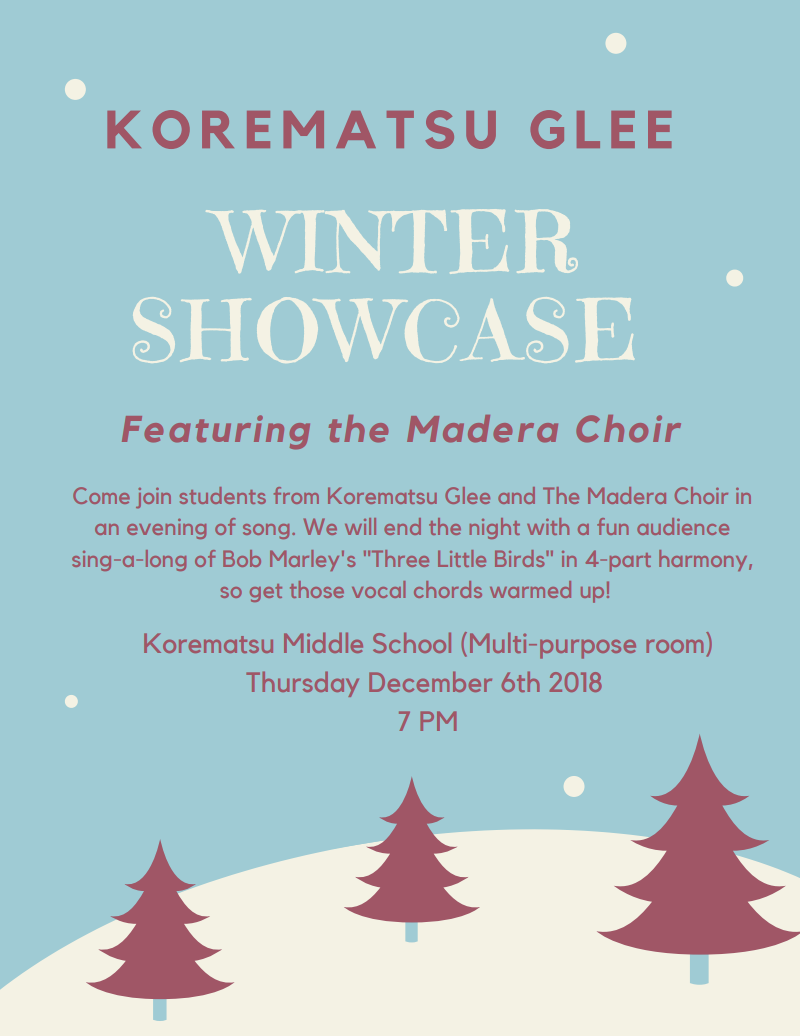 FRIDAY – ECHS SCHOOL TOURS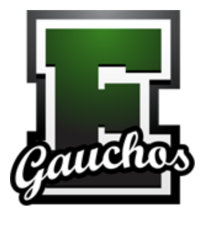 El Cerrito High School tours for incoming 9th grade students and their guardians are held on the first Friday of each month. The parent/guardian must sign up at the front desk at ECHS ahead of time. School Phone Number: 510- 231-1437
FOOD DRIVE

Our students are participating in a food drive for the Food Bank of Contra Costa County. The preferred list of donations are:
Natural Peanut Butter
Whole Grain Cereals
Hearty, Low-Sodium Soups
Beans and Lentils (Dried and Canned)
Canned Tuna and Chicken in Water
Canned Fruit in Juice
Non-perishable, low-sodium ready-to-eat meals (Chili, Ravioli, etc.)
Low-sodium Canned Vegetables
Brown Rice
Whole Wheat/Grain Pasta
Canned Tomato Products
Please, no food in glass.
Thank you so much for your support!
SIGN UP! DECEMBER 14th TEACHER LUNCHEON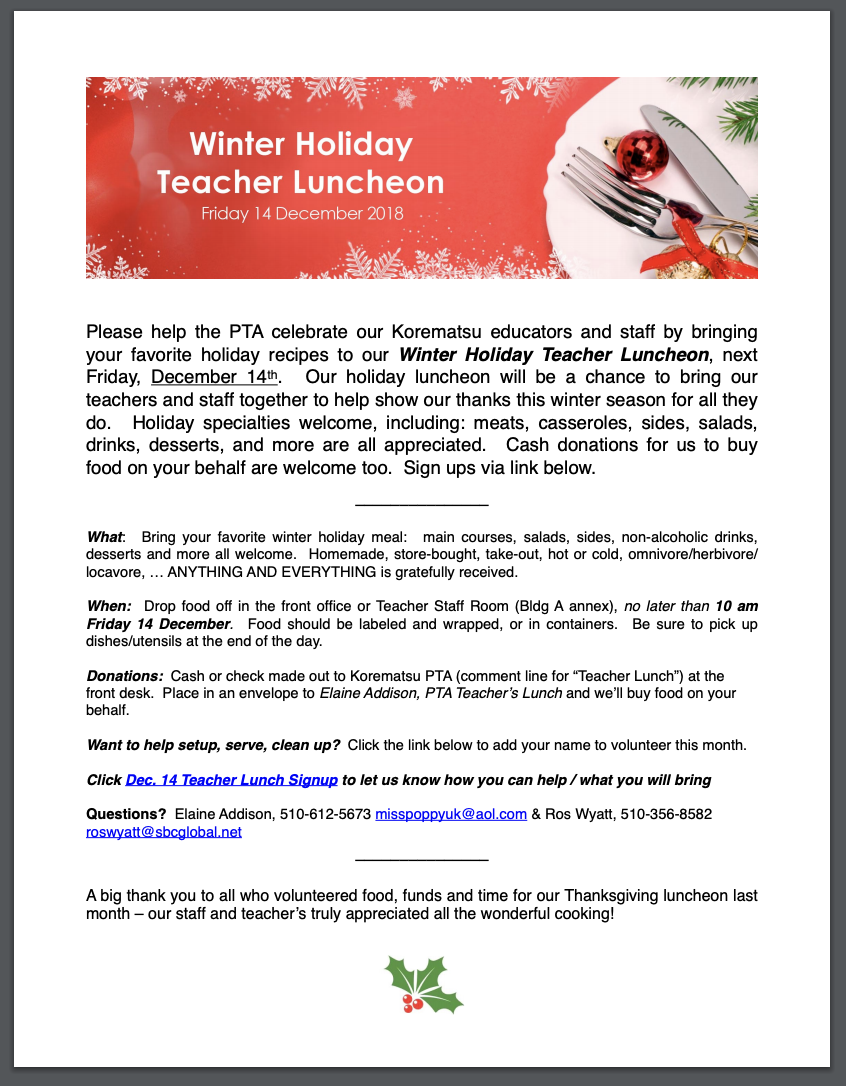 Sign up to Bring Food in this Link!
Korematsu Holiday Teacher Luncheon.pdf
CALL FOR VOLUNTEER JUDGES: SCIENCE FAIR TUESDAY, JANUARY 22
Do you have a background in engineering, science or science education? If so, Korematsu's Science Fair needs you! Please consider volunteering some of your time to judge the efforts of our young scientists!
Judging hours: 8:30 am – 8:00 pm on Tuesday, January 22 (Please allow a total of 3-4 hours to judge.)
If you can volunteer to judge, please email Marit Oieroset at moieroset@yahoo.com
Please help grow our science fair tradition! Any one of these projects have the potential to continue onto the WCCUSD district fair, the SF Bay Area fair, CA state fair, and ultimately the Intel ISEF.
KOREMATSU PARENT TOURS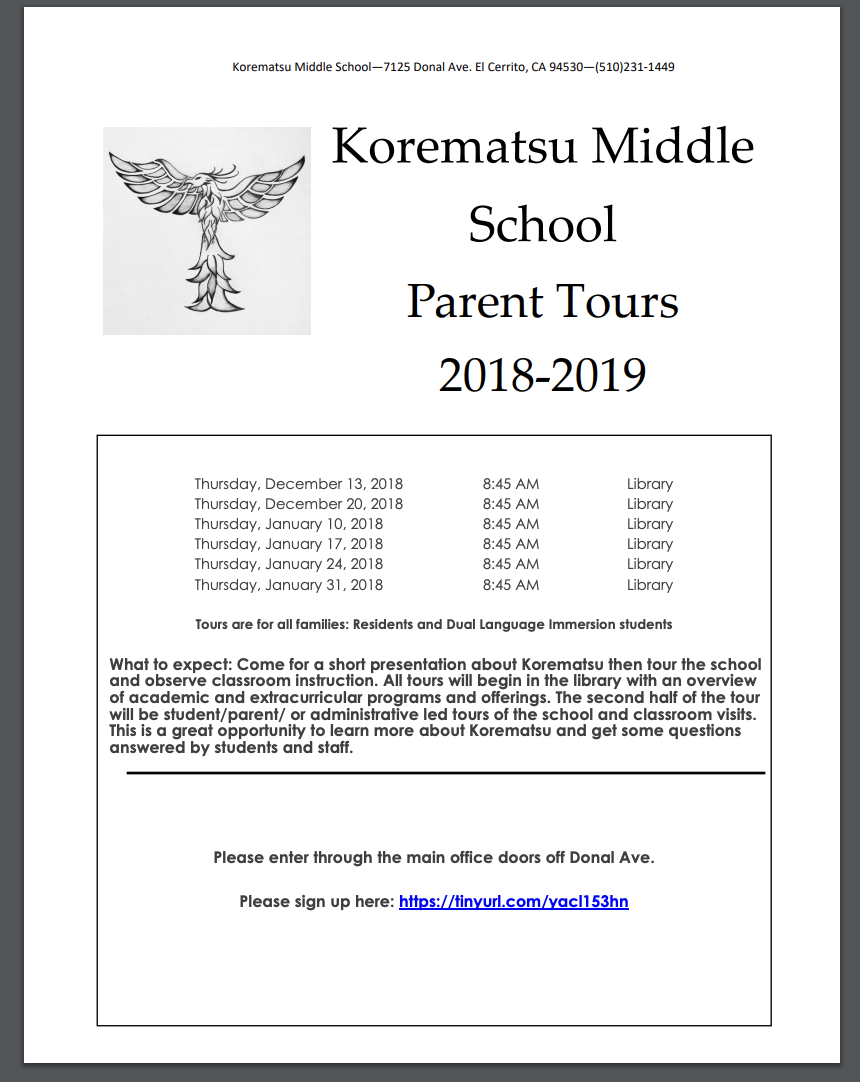 Please sign up here: https://tinyurl.com/yacl153hn
DOWNLOAD THE SCHEDULE HERE
KMS School tours 18-19.pdf