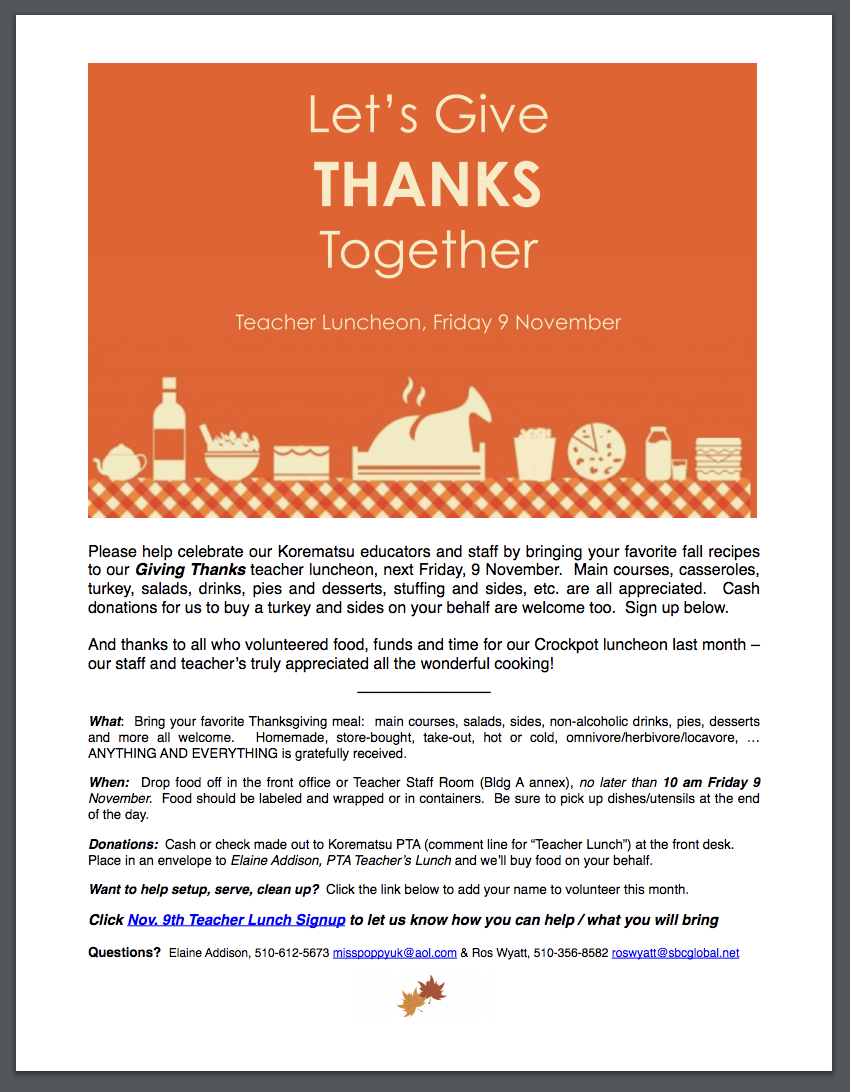 CLICK ON THIS LINK TO SIGN UP
Please help celebrate our Korematsu educators and staff by bringing your favorite fall recipes to our Giving Thanks teacher luncheon, next Friday, 9 November.
Main courses, casseroles, turkey, salads, drinks, pies and desserts, stuffing and sides, etc. are all appreciated. Cash donations for us to buy a turkey and sides on your behalf are welcome too. Sign up below. And thanks to all who volunteered food, funds and time for our Crockpot luncheon last month – our staff and teacher's truly appreciated all the wonderful cooking!
–––––––––––––––
What: Bring your favorite Thanksgiving meal: main courses, salads, sides, non-alcoholic drinks, pies, desserts and more all welcome. Homemade, store-bought, take-out, hot or cold, omnivore/herbivore/locavore, …
ANYTHING AND EVERYTHING is gratefully received.
When: Drop food off in the front office or Teacher Staff Room (Bldg A annex), no later than 10 am Friday 9 November. Food should be labeled and wrapped or in containers. Be sure to pick up dishes/utensils at the end of the day.
Donations: Cash or check made out to Korematsu PTSA (comment line for "Teacher Lunch") at the front desk. Place in an envelope to Elaine Addison, PTA Teacher's Lunch and we'll buy food on your behalf.
Want to help setup, serve, clean up?
Click the link below to add your name to volunteer this month.
and let us know how you can help / what you will bring Questions? Elaine Addison, 510-612-5673 misspoppyuk@aol.com & Ros Wyatt, 510-356-8582 roswyatt@sbcglobal.net