NO SCHOOL ON MONDAY, OCTOBER 9 (STAFF DEVELOPMENT DAY).
SEE YOU TUESDAY!
PTSA ANNUAL GIVING CAMPAIGN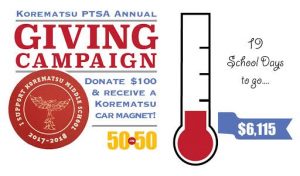 The Korematsu PTSA Annual Giving Campaign is in full swing! Between now and October 31, 2017, please donate to enable our school to offer the best possible programs for our students. We only have 20 days to go so please make your contribution now!
Flyers with more details are going home with your student today, so please look for them. Donations of any amount are gratefully accepted. Please give now to help us reach our goal! . Also, please consider copying this message into an email to friends and family members. Or, share our flyer with others. Every donation helps!
FRIGHT WRITE STORY AND ART CONTEST
DEADLINE EXTENDED TO OCTOBER 10
Unleash your creative spirit! All students are invited to participate in "Fright Write," an annual story, art, and comic strip contest sponsored by the PTSA. Submissions must be given to the office or English teacher by Tuesday, October 10 (new deadline).
KOREMATSU BENEFIT YARD SALE, SATURDAY, OCTOBER 14, 9-4 PM
DROP OFF FRIDAY OCTOBER 6th, WEDNESDAY, OCTOBER 11 6 p.m. – 8:00 p.m.
FRIDAY, OCTOBER 13, 5:00 p.m. – 9:00 p.m.
Your gently used items can make a difference for our kids!!!!! How?
Korematsu School's 2017 Garage Sale
Oct. 14, 9am – 3pm (EC citywide garage sale)
How can you help?
Donate your gently used, sellable goods to our school! Ask your family and neighbors too!
When and Where?
Bring your donations to the Parents Room, just inside the orange gates, at Korematsu during these scheduled donation sessions:
*October 6, Friday, 6pm – 8pm
*October 11 Wednesday, 6pm – 8 pm
*October 13 Friday, 5pm – 9pm
Volunteers needed for Friday Oct. 13, 5-9pm & Saturday during the sale, contact:
Cindy Spade 415 596 1851 email verunicafashion@gmail.com
TEACHER LUNCHEON!
THEME: CROCK POT MEALS!
FRIDAY, OCTOBER 20th!!!
SIGN UP!
The last teacher luncheon was a hit! Let's do it again! This month it will be on October 20th. It's time for a crock pot extravaganza. If no crock pot, no problem! Your favorite stew or salad will be appreciated as well. As always, vegan and vegetarian options are also appreciated. Any questions email: Astrid Broberg liissaUSA@aol.com
Please sign up by clicking on the link below:
​
Oct. 20th Teacher Luncheon
​
DONATE MS. PULLEY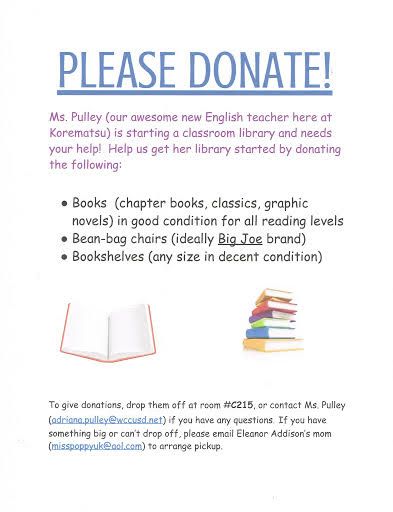 El Cerrito Arts Day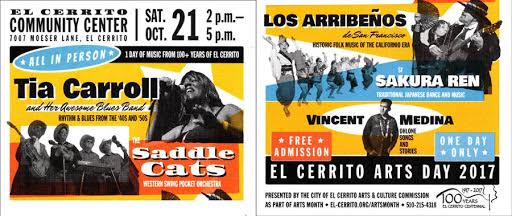 Celebrating the City's History Through Music!
This year's Arts Day celebration will honor El Cerrito's many musical heritages. The event is at the EC Community Center, 2:00-5:00pm, on Saturday, October 21. Free! All ages are welcome.
The event's program will include songs, dances, and stories of Ohlone Indians, Spanish colonists and Mexican ranchers, the Issei generation of Japanese Americans, and the thousands of war industry workers who came here during World War II.
For more information, go to: http://www.el-cerrito.org/751/Arts-Day
MOVIE NIGHT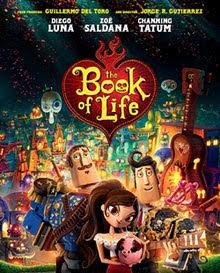 Korematsu Staff, Students and Families:
The Hispanic and Chicano Committee will be hosting our
2nd Movie Night on Thursday, November 2, 2017 @ 6:15pm in the Multipurpose Room.
We will watch
The Book Of Life.
We will have traditional Latin American snacks & drinks Bring your blankets, lawn chairs, and pillows. Pajamas are acceptable!