TEACHER TREAT DAY
Friday December 13, 2019
Last Teacher luncheon of the year. Save the date! Friday, Dec.13th !! We will make treat bags for the staff as well so please bring extra cookies!! Any favorite food or Holiday food is appreciated. Salads are always welcome, and sides like baguette, sourdough or any other yummy bread. Please contribute to make this event a success again. If no time to cook, no problem. Bring what you can. Questions to liissaUSA@aol.com. Thank you.
Korematsu Winter Concert
Wednesday, December 18, 2019
MPR
Doors Open 6:30 p.m.
Concert at 7:00 p.m.
Come support our musicians!
Jo Boaler coming!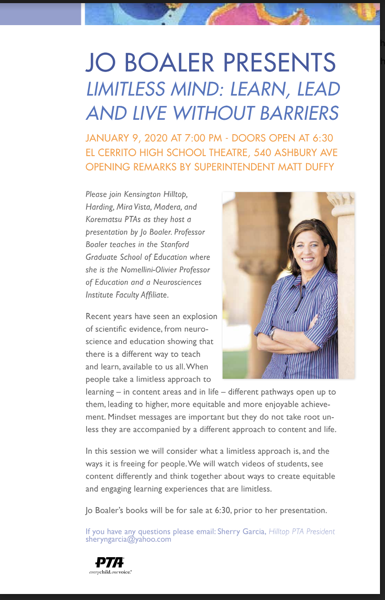 Thursday, January 9 2019
7:00 p.m.
El Cerrito High School
Opening Remarks by Superintendent Matthew Duffy
Free! Open to All!
We are super excited to partner with our neighboring PTAs to bring Jo Boaler to speak!
Jo Boaler, Professor of Mathematics Education at Stanford, promotes mathematics education reform and equitable mathematics classrooms. She is the co-founder and faculty director of youcubed, which provides mathematics education resources to teacher, students and parents. At this event, she'll talk about mindset and how at any age we are capable of growth and rewiring. Please save the date and come on out. Bonus Points if you bring a math teacher with you!
DISTRICT BUDGET TOWN HALL UPDATE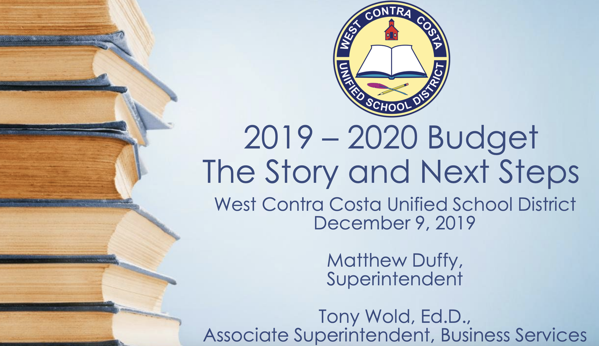 If you were unable to view the budget town hall, it has been recorded.
VIEW THE TOWN HALL TAPES HERE
View the Town Hall Here – English
View the Town Hall Here in Spanish
VIEW BUDGET TOWN HALL SLIDES
Budget Town Hall Slides – English
Budget Town Hall Slides – Spanish
TAKE THE BUDGET SURVEY
Spanish Survey
English Survey
DISTRICT'S LINK TO ALL BUDGET DOCUMENTS
https://www.wccusd.net/budget
HIGH SCHOOL EVENTS! GREAT VISUAL AND PERFORMING ARTS PERFORMANCE PERFECT FOR THE WHOLE FAMILY!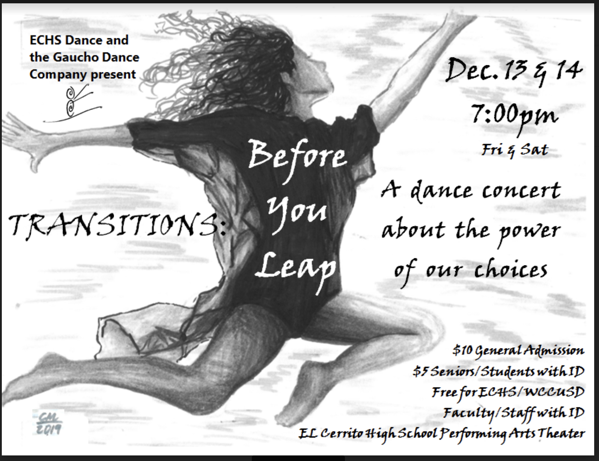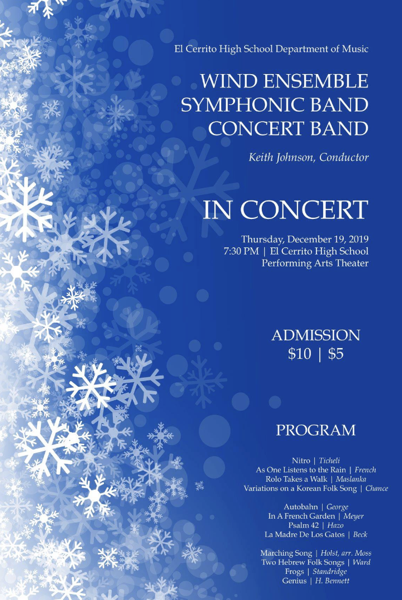 SUPERINTENDENT DUFFY'S DECEMBER MESSAGE