TEACHER TREAT DAY
Friday December 13, 2019
Last Teacher luncheon of the year. Save the date! Friday, Dec.13th !! We will make treat bags for the staff as well so please bring extra cookies!! Any favorite food or Holiday food is appreciated. Salads are always welcome, and sides like baguette, sourdough or any other yummy bread. Please contribute to make this event a success again. If no time to cook, no problem. Bring what you can. Questions to liissaUSA@aol.com. Thank you.
Sign up to Volunteer and Donate in this Link!
EMPTY GALLON MILK CARTONS NEEDED PENNY WARS FUNDRAISER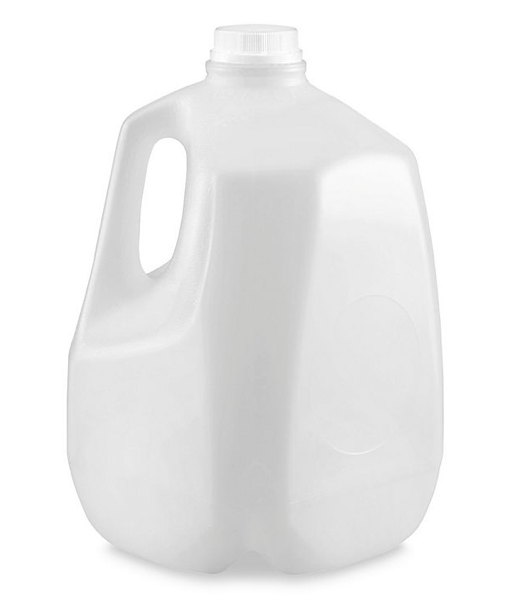 The school is planing a Penny Wars fundraiser and is looking for clean and empty gallon milk jugs to collect the donations. We plan to start after winter break. Turn into the Main Office labeled for Katherine Davis. Thank you!
DISTRICT BUDGET FORUM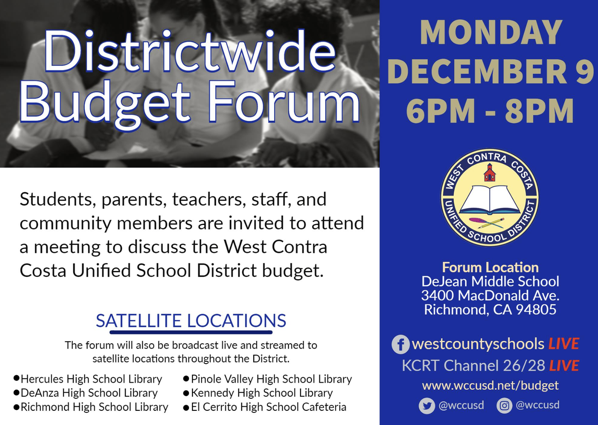 The District Budget Forum is taking place on Monday evening from 6 p.m. to 8 p.m. The event will be held at DeJean Middle School and broadcast to six satellite locations where members of the district staff will be on hand to transmit questions to the presenters.
The satellite locations will be:
Hercules Middle/High Schools Library, 1900 Refugio Valley Road, Hercules, CA
Pinole Valley High School Library, 2900 Pinole Valley Road, Pinole, CA
De Anza High School Library, 5000 Valley View Road, Richmond, CA
Richmond High School Library, 1250 – 23rd Street, Richmond, CA
Kennedy High School Library, 4300 Cutting Blvd., Richmond, CA
El Cerrito High School Cafeteria, 540 Ashbury Ave., El Cerrito, CA
Babysitting and translation services will be available at all locations.
Buy Your Yearbook Before the Price Goes Up!
Until Jan 31, you can get a Korematsu Yearbook for $35. But the price goes up next month! So order your yearbook TODAY to get the lower price. https://www.jostens.com/apps/store/customer/1003883/Fred-T.-Korematsu-Middle-School/
After Feb 1, yearbooks will cost $40.
=== Send Us Your Photos ===
It's 2019 and the yearbook is well underway. But we greatly need your help! So far, we have very few photos from the Korematsu community, and we could use many, many more! We'd love to have at least 100 photos by Dec 12, and we're currently still far short of that goal.
Our yearbook staff would love to include your photos in this year's book! Share your pix with us. The easiest way to send photos is using the Dropbox we have set up. Just upload photos to:
http://bit.ly/yearbookKMS
We'll consider any photos of students or events sent to us. We especially need photos of sports teams and after school activities! Photos received before Dec 12 can be considered for the first half of the yearbook, which is due prior to Winter Break.
=== Add Special Recognition for Your Student! ===
Want to add a personal message to your student in the yearbook? This year we are including special recognition ads, with a portion of the proceeds benefitting the DECA club. These ads will appear in the back of each yearbook, letting you recognize the accomplishments of your child.
Visit the Korematsu store page on Jostens' site to place your order. https://www.jostens.com/apps/store/customer/1003883/Fred-T.-Korematsu-Middle-School/
Note, too, that you can use the store link to order your yearbook.
Reserve Your Yearbook! Order Today!!
Elemental Volleyball Academy – 2019 Winter Chill
(6th Annual)!
Location: El Cerrito High (3 Beautiful Courts)
Led by Scott Bishop – 30 year veteran coach and other experienced and awesome staff.
2 Clinics offered – – Grades 4th – 12th Girls Only.
Sunday, December 22 – Clinic #1
9 am – 11 am – Session #1
11am – 12 pm – Lunch Break (Bring your own)
12:00 – 2:00 pm – Session # 2
Sunday, December 29 – Clinic #2
9 am – 11 am – Session #1
11am – 12 pm – Lunch Break (Bring your own)
12:00 – 2:00 pm – Session # 2
The 4-6th graders will use volley-lites (the light weight 12 and under ball) and playing on a lower net (7′).
The 7-12th graders using regulation balls (Molten and Spalding) and playing on the standard height net (7'4 1/8″).
Players will be trained in multiple skills, game play and fun.
Players will also be using the AirCat and Accu-Spike machines (see videos to the right).
Every prepaid player will receive a Molten Mini-Volleyball!
SNAP THE GAP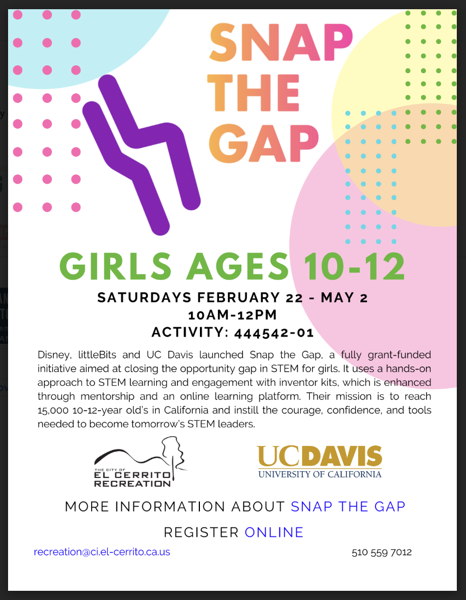 WINTER BAND / ORCHESTRA / CHOIR / THEATER / DANCE FESTIVAL