FIRST DAY OF SCHOOL
First Day of School is Tomorrow, Monday August 19, 2019
First Bell Rings 8:05 p.m.
Must Be in Class 8:10 a.m.
5 minutes "passing period"
MONDAY IS A MINIMUM DAY
SCHOOL IS OVER AT 1:25 p.m.
BELL SCHEDULE
CLICK ON THIS LINK FOR THE BELL SCHEDULE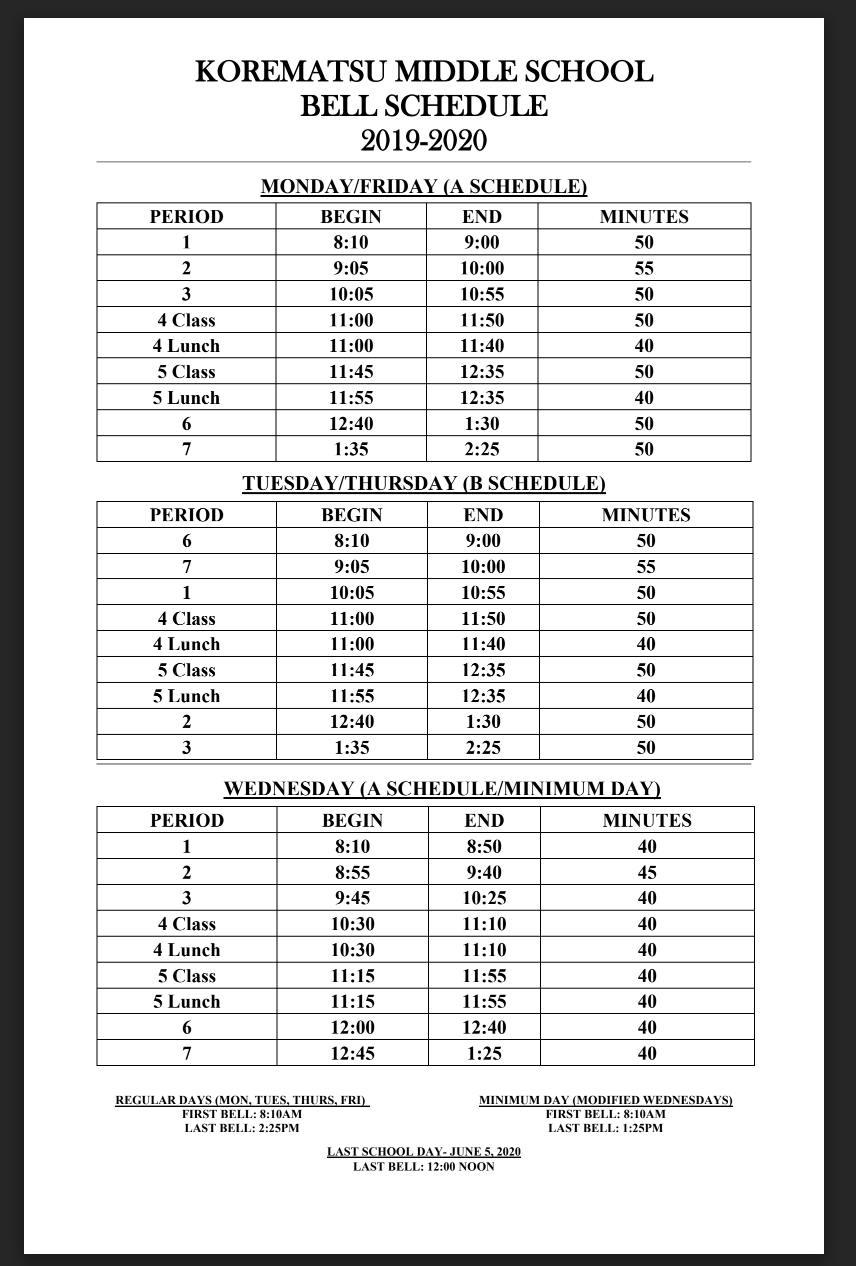 Here is Mr. Burnham's weekend Robocall
Hello Korematsu parents and guardians and of course students,

This is Principal Matthew Burnham calling to welcome you to a new school year. Our staff has been working hard in preparation for what promises to be a great year. Let's kick off the school year with a renewed determination to create the most positive and challenging learning environment for our students. Monday the 19th is the first day of school. Please make sure students arrive early enough to find their first period class. Classes begin at 8:10 AM with the first bell ringing at 8:05 AM.

Many schedules have changed since registration in an ongoing effort to balance classes. Posted throughout the school are lists in alphabetical order of students. Next to each name is their first period teacher and room number. Students need to find their name, make note of the teacher and room and head to the classroom. Students will receive their updated schedule. Other documents will also be handed out.

Unless there is a glaring error on a schedule (such as missing periods) we will not make class changes until Friday at the earliest. Our enrollment has increased once again and our ability to adjust schedules is limited. This year we expect to provide students with lockers by the end of the first week of school. But keep in mind we do not have enough lockers for all our students. We will once again be asking some students to share with a trusted friend.

When dropping off your student please be sure to drop along Lawrence street at the top of campus, or Norvell St. at the bottom of campus. Be sure to drop your student on the right hand side of the street so they do not need to cross the street. The key here is that cars travel in a clockwise direction. Donal Ave. is reserved for AC transit and Yellow school busses and not for regular vehicle traffic. And please remember we are located in a residential neighborhood so please do not block driveways.

I look forward to seeing all our wonderful students focused and ready to learn. Students First! Thank you!

Matt Burnham, Principal
Fred T. Korematsu Middle School
DRIVING, DROP-OFF's, PARKING, AC TRANSIT
Drive around the school in a clockwise direction. Drop and pick up students at the marked, designated areas on Norvell and Lawrence. For student safety, and to improve traffic flow, drop students only on the school side of the street. Please refrain from dropping students directly in front of the school on Donal Avenue. In the mornings and afternoons, Donal Avenue is used by AC Transit and other buses, therefore, it must be kept clear so that the buses can make their stops.
Parking
Except for one or two lonely short-term parking spots, there is no parking on the school side of Donal Avenue. The school side of Donal Avenue must be kept clear for AC Transit and other bus use. Please park legally on Lawrence, Gladys or Norvell Streets.
Please respect our neighborhood and our neighbors. Please refrain from blocking any driveways …. even for a minute … and always follow traffic rules and regulations.
AC Transit
AC Transit runs dedicated routes to and from Richmond. These routes run only on school days Monday to Friday and the schedules are timed to match the hours of local schools and operate only when schools are in session. Even though these buses are specific to school schedules, they are open to all passengers at regular fare. Visit AC Transit Supplementary Service Calendar for complete information.
Routes
click on the bus links for specific routes, stops and times
667 North Richmond (Market Avenue and Third), Richmond (Seventh Street; MacDonald Avenue), El Cerrito (San Pablo Avenue), El Cerrito High, Korematsu Middle School.
668 Richmond BART, Richmond (Cutting Boulevard; Harbor Way South), El Cerrito (San Pablo Avenue), El Cerrito High School, Korematsu Middle School.
675 Richmond BART, Richmond (Cutting Boulevard; Harbor Way South) Richmond (Potrero Avenue, Hartnett Avenue) El Cerrito (Carlson Boulevard, San Pablo Avenue) El Cerrito Hight School, Korematsu Middle School.
SCHOOL MAP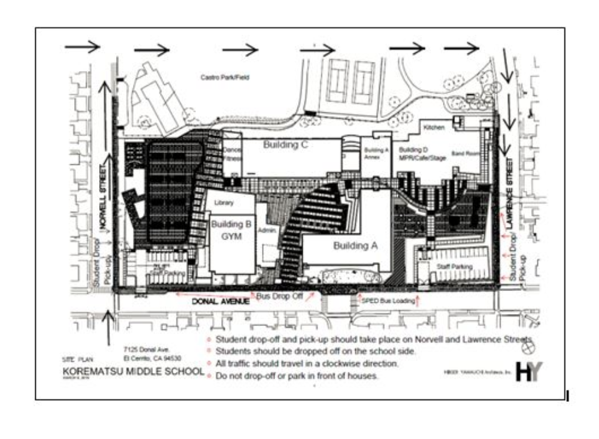 YOU CAN PRINT THE SCHOOL MAP FROM HERE
Classrooms that are 100 = First Floor
Classrooms that are 200 = Second Floor
Classrooms that are 300 = Third Floor
WHAT SHOULD I BRING?
School ID on lanyard.
Class schedule and map of campus. There will be lots of adults around to help students find their way.
Sharpened pencils and erasers (mistakes OK!!).
Lunch or meal card or cash to purchase.
Binder with paper inside.
Backpack to hold it all!
Some returning students report they used a composition book for each class. You may need a 5-tab binder with pockets to hold handouts. Teachers will tell students what is required for class. If you buy ahead, save the receipt in case a teacher changes it up.
P.E. Meets in the Gym. You do not change for P.E. on the first day.
Please be patient. There could be schedule changes as we settle into the year and balance classes.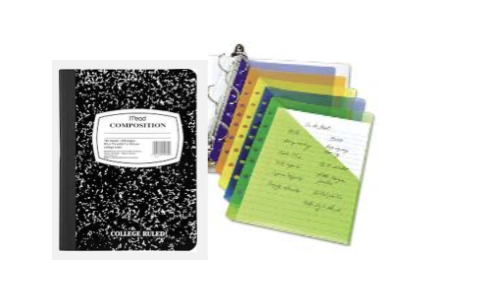 (Example of Composition Book and Three Ring Binder with Sleeves)
PICTURE DAY IS POSTPONED
Picture day is no longer Friday, August 23.
We'll announce the rescheduling.
KOREMATSU Fall Play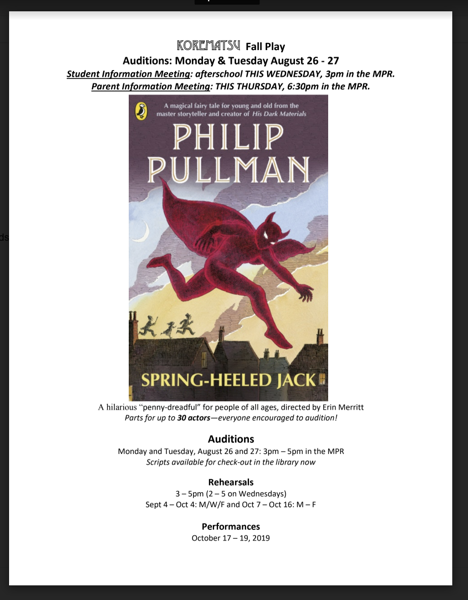 Auditions: Monday & Tuesday August 26 – 27
Student Information Meeting: After School THIS WEDNESDAY, August 21 3:00 p.m. in the MPR.
Parent Information Meeting: THIS THURSDAY, August 22, 6:30pm in the MPR.
Meeting Announcement Flyer.pdf