REGISTRATION/ORIENTATION SEE YOU STARTING TOMORROW!
We are looking forward to seeing everyone next week August 6,7,8 for registration/orientation. We'll be in the MPR.
We've got more than you need to know up on our website.
Check it out all the links here! https://korematsumiddleschool.org/?page_id=3132
If you are unable to navigate PowerSchool, do not worry. We'll have people on hand to help.

It is certainly our preference to have you come in August 6,7,8. However, if you are unable to attend these events, please come into the office beginning Monday, August 12, and we'll get you taken care of.

REGISTRATION DAY VOLUNTEERS NEEDED
Tiffany Jamison, Office Manager Extraordinaire, and our hard-working office staff is hoping some of you can lend your helping hands for Registration Days. Please sign up in the link below and help out if you are available.
CLICK ON THIS LINK TO VOLUNTEER
JOIN OUR PTSA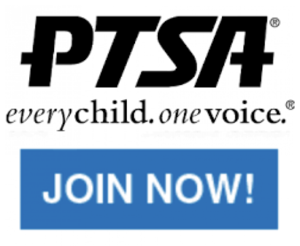 We are your forum for community advocacy and volunteer participation. We are extremely proud of our PTSA, and have over 300 members. We were #1 in membership last year in the Bayside Council (30+ units). You may notice that we are a PTSA. We encourage student participation in our unit. Each membership is $15.00. There are three ways to join:
Phone: Take a picture of this QR code with your phone's camera and it will take you to you to the online site where you can finish the transaction.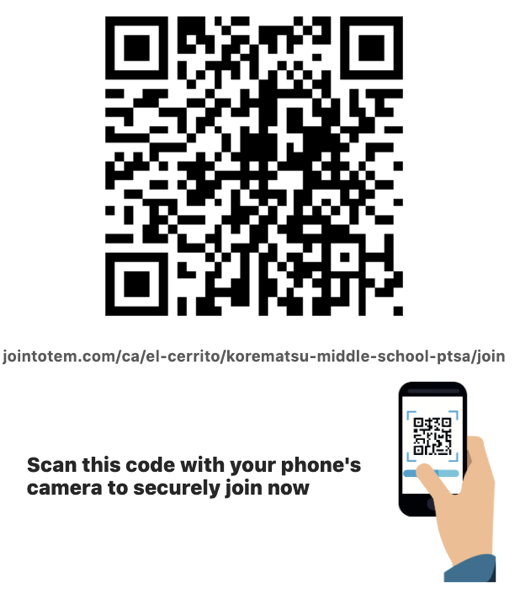 Website: https://jointotem.com/ca/el-cerrito/korematsu-middle-school-ptsa/join.
Checks or Cash: Drop off a check or cash at registration or in the main office. The membership form is on the reverse side of this letter. Make checks payable to "Fred T. Korematsu PTSA."
DONATE TO SUPPORT PROGRAMS
We make a real difference in the programs and services that can be offered at Korematsu. We spend more than $40,000 per year on many campus extras. We've employed a math tutor, we've paid for the track, cross country and drama programs. We've paid for field trips. Every teacher at Korematsu gets $400 to spend on classroom supplies. If every family gave $100, we'd have more than enough to provide for our needs. You can set up monthly donations using the Paypal link on our website: www.korematsumiddleschool.org
Come Visit our table at registration where you can find out what we do and volunteer. We welcome you!!!
VOLUNTEERS NEEDED AT THE PTSA TABLE!
PTSA can use some helpful hands at our table too.
Sign up for An Hour or Two in this Link!
Or contact us! korematsuptsa@gmail.com
PTSA – SPONSORED ALL-SCHOOL ICE CREAM SOCIAL
Join us for our all-school ice cream social Saturday, August 17, 2019, 2:00- 4:00 p.m. Castro Park, 1420 Norvell St, El Cerrito, CA 94530. The whole family – parents, guardians, siblings and students are invited to meet new friends and catch up with old. We look forward to seeing you there!
NO LONGER ATTENDING KOREMATSU?
WANT TO UNSUBSCRIBE FROM OUR ETREE?
To unsubscribe from this group and stop receiving emails from it, send an email to korematsu-ptsa-news+unsubscribe@googlegroups.com. We'll miss you!