FIDDLER ON THE ROOF JR.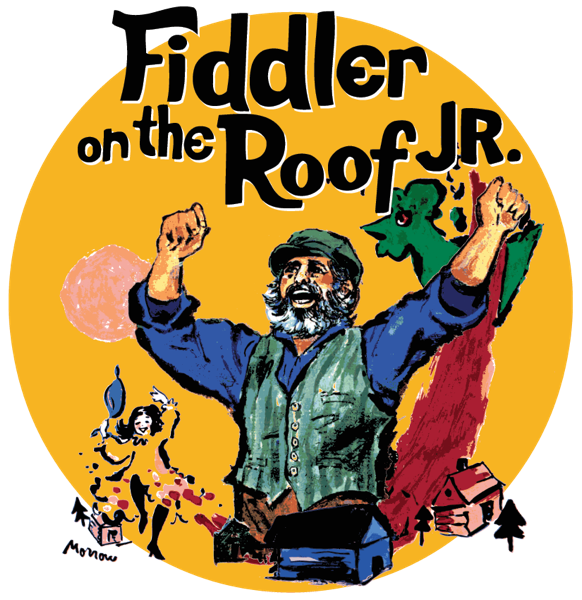 TONIGHT AND FRIDAY!
Come see Fiddler on the Roof Jr.!
May 2nd, and 3rd
7:00 p.m. in the Korematsu MPR
Over 50 Korematsu drama students have been working hard to bring you our spring musical, Fiddler on the Roof Jr. Bring the whole family!
Fiddler on the Roof Jr.
May 1st, 2nd, and 3rd
7pm in the Korematsu MPR
Tickets are a recommended donation of $4 at the door.
CHINA APPLICATION IS NOW AVAILABLE!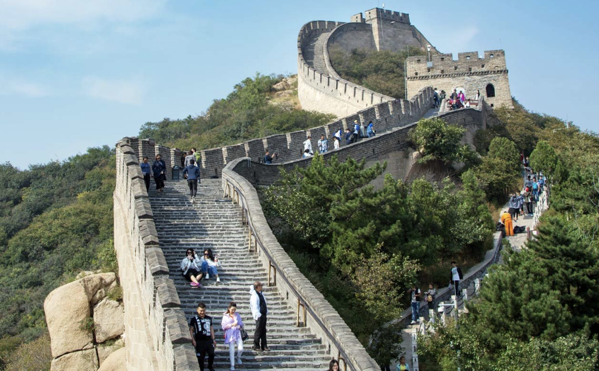 PRIORITY DEADLINE MAY 3
The online application is available at https://www.pccedu.org/ambassadorprogram
The application due date for priority consideration is May 3.
SPRING (PRIMAVERA) DANCE! CANCELED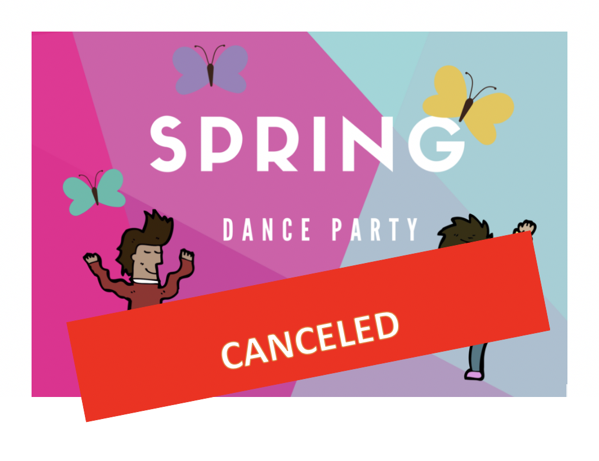 Due to scheduling conflicts, the Spring Dance is Canceled.
Thanks to all that volunteered!
SAVE THE DATE RESTAURANT NIGHT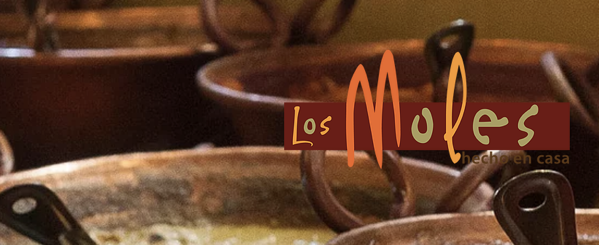 Monday, May 6th
El Cerrito's Los Moles
Cino de Mayo Mas Uno
(Cinco de Mayo Plus One)
Come and join us at this popular, delicious and local favorite!
You eat, we profit!!
Annual Speech and Debate Showcase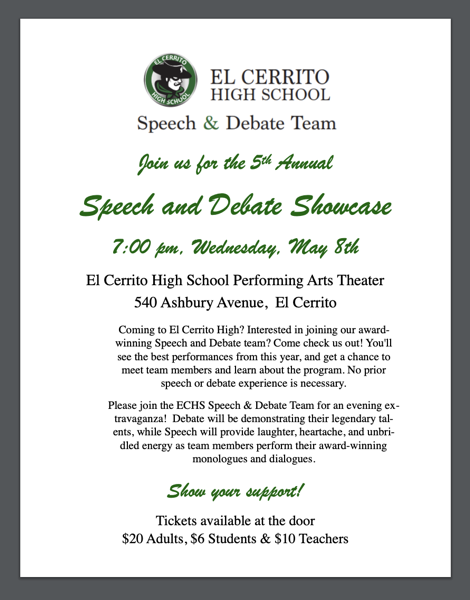 Wednesday, May 8, 2019
7:00 p.m.
El Cerrito High School Performing Arts Theater
Coming to El Cerrito High?
Interested in joining our award-winning Speech and Debate team? Come check us out!
You'll see the best performances from this year's students, and get a chance to meet team members and learn about the program.
No prior speech or debate experience is necessary.
See you there!
AFTER HIGH SCHOOL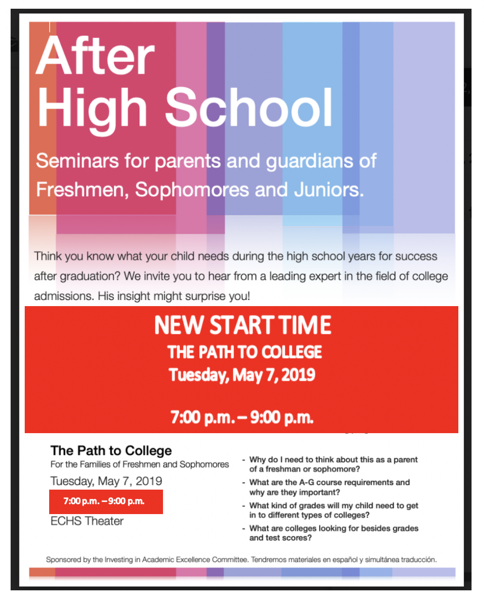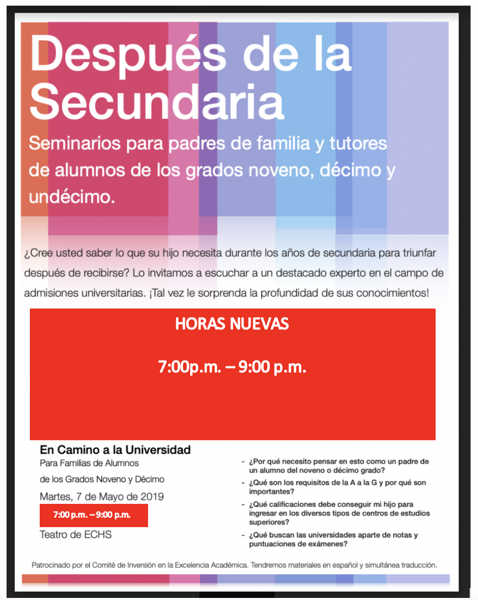 EIGTH GRADE FAMILIES WELCOME AND ENCOURAGED TO ATTEND
EL CERRITO HIGH SCHOOL
PERFORMING ARTS THEATER
NEW START TIME
7:00 p.m.
KOREMATSU PTSA NEEDS YOU!

Every PTA unit needs a president in order to be a complaint, functioning unit. We need a president.
We have a wonderful unit with over 300 members! We support the school in a lot of really important ways.
We provide very generous classroom grants to teachers, we pay for numerous field trips, the drama program,
we run the teacher luncheons and publish this e tree every week.
We need a leader! The secretary and treasurer positions are filled with competent and reliable people.
We need you to lead the way! Take a chance of leadership! You'll have fun and we promise a rich and rewarding experience.
The vice president supports, with the objective of becoming a leader the following year.
We are also looking for a membership chair! We have over 300 members and we are very proud of this! We are #1 in membership in the entire Bayside Council of PTAs. The majority of the work occurs in August and September, and has been made much simpler due to new online software! This is a good position for someone who is detail-oriented and doesn't mind using a computer to enter names and addresses.
Please contact us! korematsuptsa@gmail.com
MULTICULTURAL NIGHT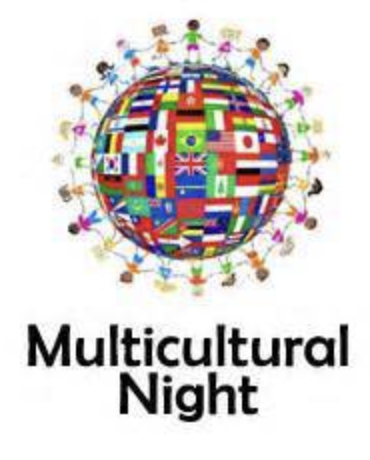 Tuesday May 14th 2019 is Multicultural Night at Korematsu.
Everyone is invited to join us in the MPR for a multicultural potluck. Bring a dish to share.
6:30 p.m. Dinner
7:00 PTSA business
7:30 p.m. Socialize, enjoy student art and projects and learn about all the cultures that make Korematsu amazing!
SPRING BAND / ORCHESTRA / CHOIR / THEATER / DANCE FESTIVALS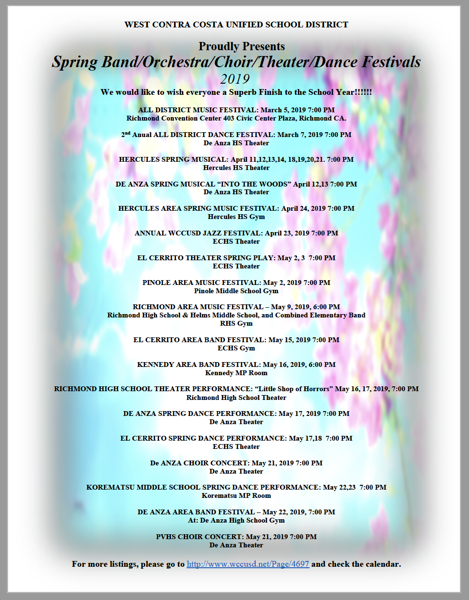 HILLSIDE FEST 2019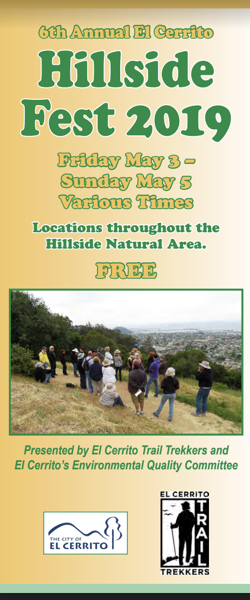 El Cerrito's 6th Annual Hillside Festival, May 3-5, features a wide variety of activities for young and old throughout the 100-acre natural area: hikes and walks about geology, native plants, birds, insects, wildflowers, history, poetry-geocaching, wildland fire prevention, and more. There's even meditation in nature, and Dog Scouts!
Hikes range from strenuous to easy. Download the full schedule and map to events at www.ectrailtrekkers.org.
Sponsored by El Cerrito Trail Trekkers and El Cerrito's Environmental Quality Committee. FREE