Friday, December 21 is a MINIMUM DAY
Schools are Closed
Monday, December 24- Friday, January 4th
Happy New Year!
We'll see you Monday, January 7, 2019!
LOST AND FOUND TO BE DONATED FRIDAY
COME COLLECT YOUR THINGS!!
Attention Parents and Students
All this week, Lost & Found items will be placed outside the office for claiming.
This Friday, items will be donated to a shelter if not claimed. Please come collect your things prior to break!!
Thanks, Korematsu Front Office.
GIRLS BASKETBALL
GOOD NEWS!!
The Korematsu Girls Basketball team had a gigantic home victory versus Carquinez Middle School on Tuesday afternoon. Special thanks to our new scorekeepers: Grace and Sam.
The girls play their next game following winter break at home versus Summit-Tamalpais on January 15th.
BOYS BASKETBALL SCHEDULE!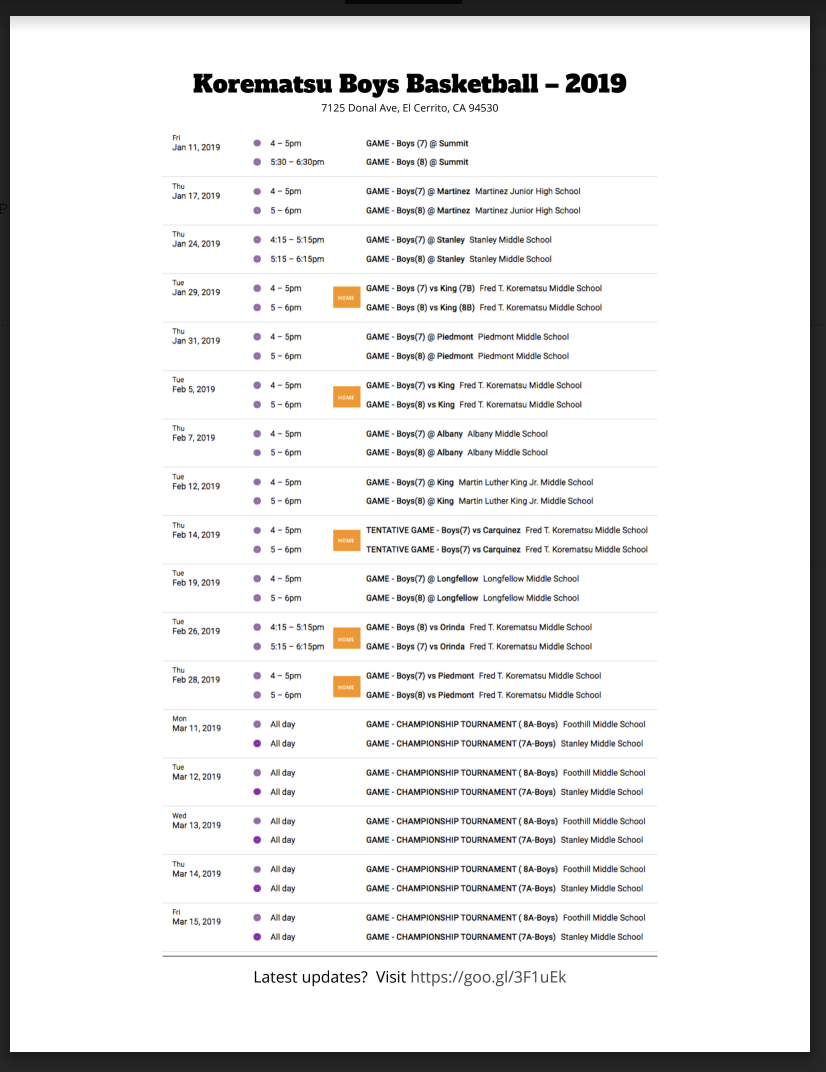 Printable Schedule here: korematsu-boys-basketball-2019.pdf
Full schedule of Boys and Girls Basketball here: https://goo.gl/3F1uEk
KOREMATSU SCHOOL TOURS!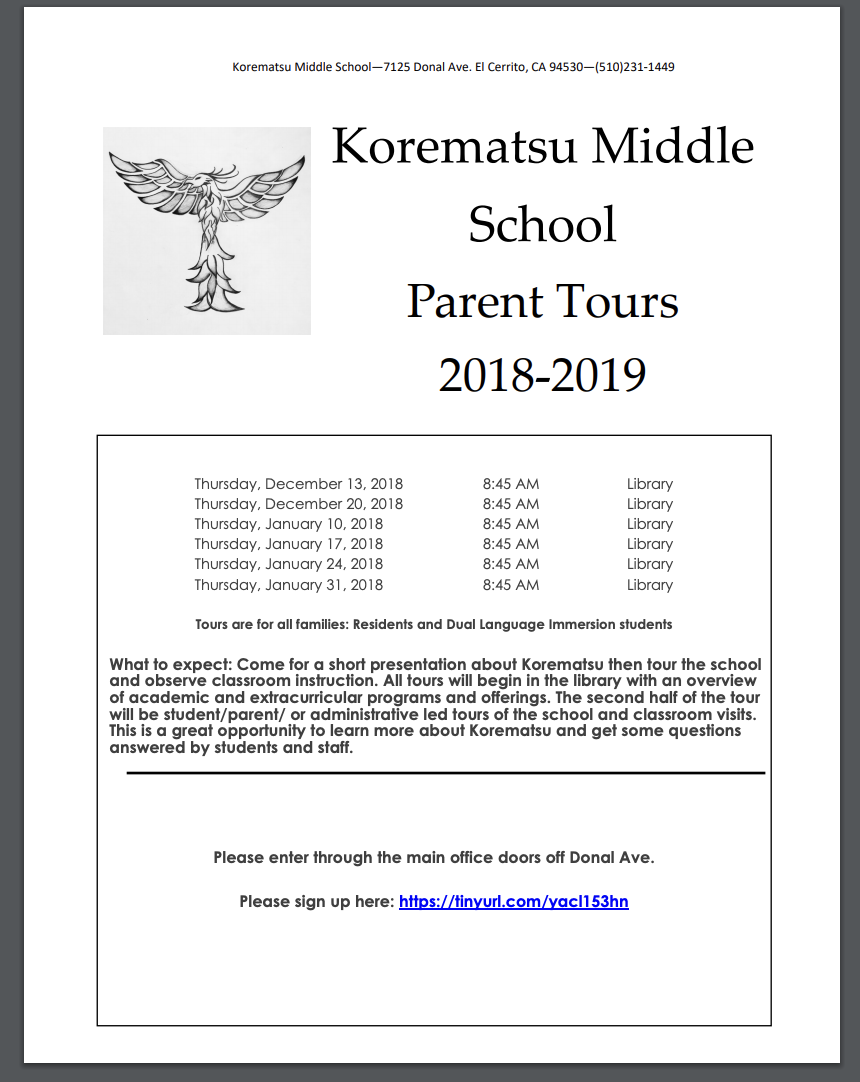 CELEBRATE KOREMATSU IS AROUND THE CORNER!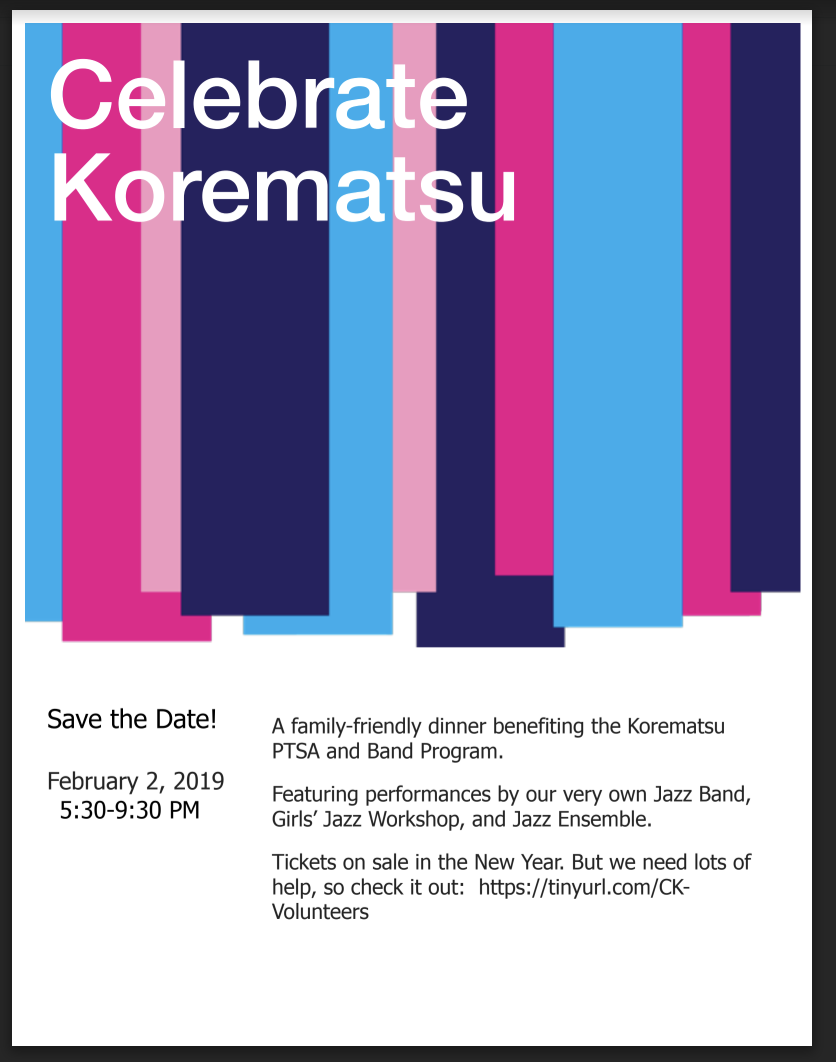 Celebrate Korematsu, our annual community gathering and fundraising event, is scheduled for Saturday, February 2, 2019! We come together as a community to listen to our fabulous bands, have dinner, and we host a live and silent auction. The event, and the proceeds are split between the band and the PTSA, and we, in turn, invest the proceeds back into our school improving programs and opportunities. Some of our investments are: math tutor, classroom grants to teachers, field trips, new instruments, books, materials and supplies and more. This is a family-friendly event. Siblings are welcome!
Please consider becoming a part of this community-building event. We're looking for…..
DONATIONS!!!
Donate something to the live/silent auction
* Do you run a business that provides a service?
* Would you consider hosting a party?
* Do you have a vacation rental? Can you donate a weekend stay?
* Do you work for a company that holds tours or other events? Pixar, Tesla, Google?
* Warriors tickets?
* Are you willing to head up or donate to "Dessert of the Month" or "Bouquet of the Month"?
* Another idea? We'd love to hear it.
Contact us! korematsuptsa@gmail.com
EL CERRITO HIGH SCHOOL REMIND ACCOUNT
Parents can join via this link, https://www.remind.com/join/ecgauchos
Text this message ecgauchos to 81010
Or add @ECGauchos if you are already registered on Remind
This Remind account is or general school events/information.
ANNUAL MARTIN LUTHER KING
CELEBRATION IS AROUND THE CORNER
30TH ANNIVERSARY
JOIN US!
Flyer attached & Lots of info. here: http://el-cerrito.org/mlk
We're excitedly gearing up for the 30th Annual El Cerrito MLK Celebration.
Our event team is working hard with El Cerrito's HRC Commission, St. Peter Christian Methodist Episcopal Church, the El Cerrito Branch NAACP, and the West Contra Costa County Unified School District to make this year's festivities extra special. The celebration will include two events: Sun. Jan 20th @4pm Movie & Panel Discussion "Cracking the Codes" and Mon. Jan. 21st Rally (8:30am) Parade (9:30am) & Program (11am)
Would be honored for your participation.
3 ways to support and participate in the 2019 Celebration
* Join the Parade, click HERE to complete interest form (we'll reach out with additional details as date draws near)
* Volunteer, lots of fun ways you can help, sign up HERE
* Donate HERE
Of course, if you can share this information with others, it's appreciated.
Warmly,
Georgina Edwards, 30th Anniversary MLK Event Team
former Commissioner Human Relations, El Cerrito
510-710-5962
SPARKPOINT CONTRA COSTA EVENTS!
Attached are our SparkPoint Contra Costa workshop calendars for January. Please note that we will be adding workshops from the Small Business Development Center at both of our main offices. People can register by following the links on the calendar or on their website at www.contracostasbdc.com.
We will also be starting our free tax preparation again in Bay Point for years 2015-2018. Please make sure people call to schedule an appointment. People can also call to inquire about enrolling or renewing enrollments for ITINs (Individual Taxpayer Identification Number).
I hope you all have a fantastic holiday season! See you in 2019.
Thank you.
www.sparkpointcenters.org
Mission: Partner with agencies to empower individuals and families to become financially sustainable and advocates for social change.
Values: Partnership; Offering Equity; Sustainability; Social Change; Empowerment