COACHES WANTED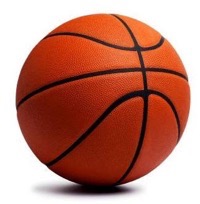 We need girls and boys basketball coaches for the upcoming season.
A few details…
Season:
The girls basketball season lasts approximately 3 months (Oct – Jan)
The boys basketball season last approximately 3 months (Jan – Mar)
Practice Schedule:
4 – 6 hrs per week; days TBA
Games:
10 -12 games regular season + postseason tournament
Paperwork required:
WCCUSD volunteer badge (background check)
Please contact Chuck Harris (charrisjr@gmail.com | 510-323-4933) as soon as possible if interested.
A Slow Cookin' luncheon for our Teachers & Staff!
Friday, October 12, 2018
For this month's celebration of our teachers, please help by bringing your favorite slow cooker recipe for our CrockPot feast for the teachers on Friday, October 12th. Salads, drinks, desserts, sides, etc. are also appreciated. Cash donations for us to buy something on your behalf are welcome too. Sign up below.
Many thanks to all who volunteered food, funds and time for our first luncheon last month – our staff and teacher's truly appreciated it down to the last crumb!
What: Bring your favorite crockpot meal, or salads, non-alcoholic drinks, cookies, pies, desserts and more. Homemade, store-bought, take out, hot or cold, omnivore/herbivore/locavore, … ANYTHING AND EVERYTHING is gratefully received.
When: Drop food off in the office or Teacher Staff Room (Bldg A annex), no later than 10 am Friday 12 October. Food should be labeled (so we know what it contains) and wrapped or in containers. Be sure to pick up any crockpots/dishes at the end of the day.
Donations: Cash or check made out to Korematsu PTA (with comment line for "Teacher Lunch") at the front desk. Be sure to put it in an envelope for Elaine Addison, PTA Teacher's Lunch with your name on it and we will buy food on your behalf.
Want to help setup, serve and clean up? Click the link below to add your name to volunteer at this month's lunch.
Please click this link: October 12th Teacher Lunch Signup to let us know how you can help / what you can bring:
Questions? Just ask Elaine Addison, 510-612-5673 misspoppyuk@aol.com or Ros Wyatt, 510-356-8582 roswyatt@sbcglobal.net
SPIRIT WEEK IS COMING!!!
October 29- November 2nd.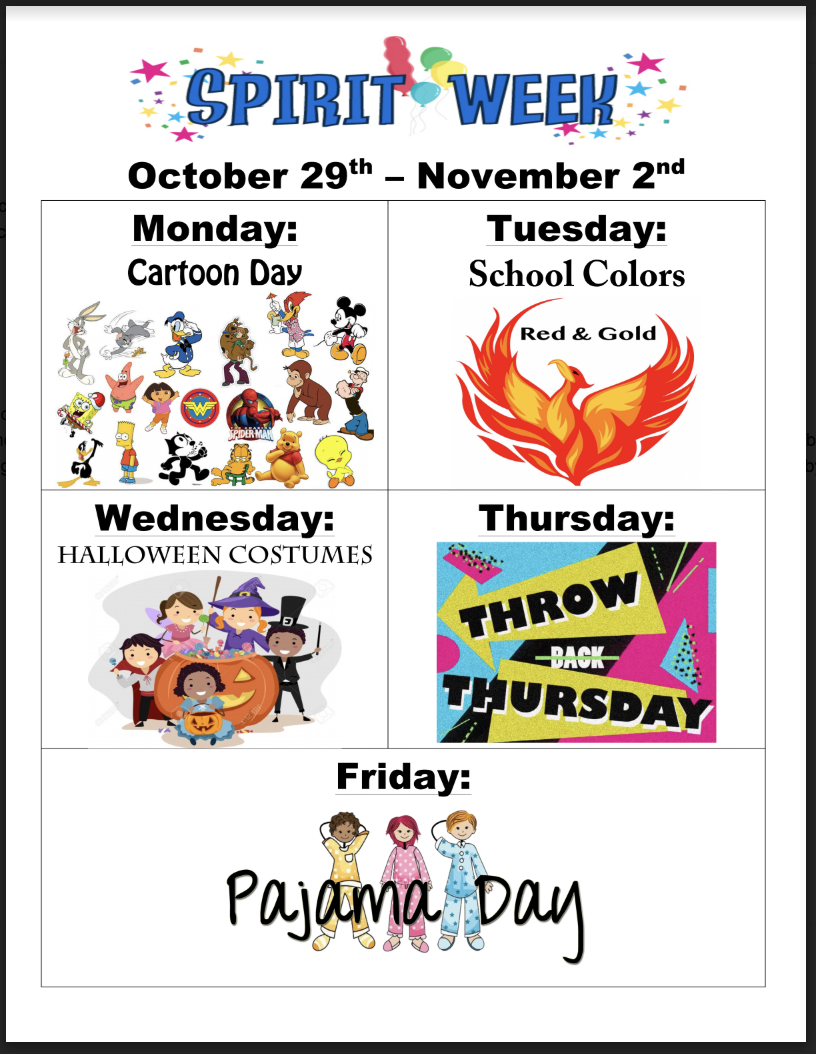 KOREMATSU'S ANNUALHALLOWEEN DANCE IS COMING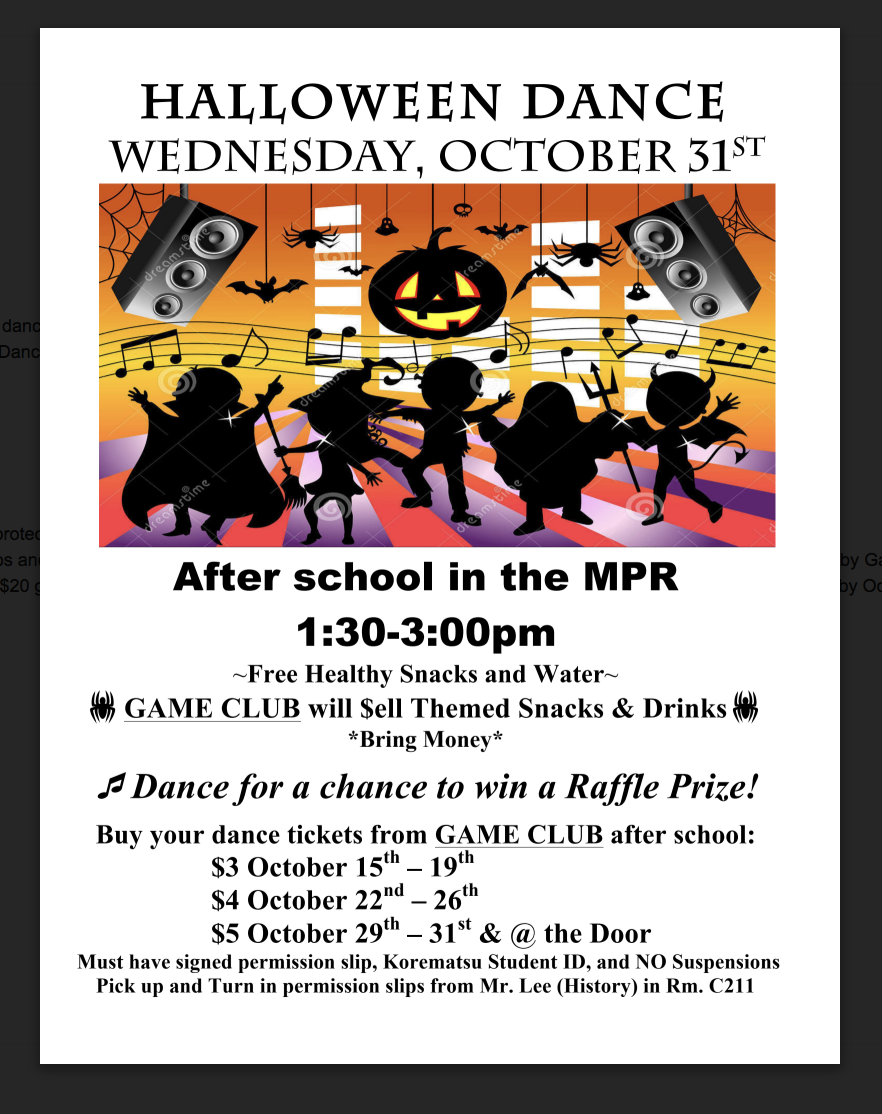 PARENTS SIGN UP!
Korematsu's Halloween Dance will take place after school Wednesday, October 31st from 1:30-3:00 pm.
Dance permission slips will be available form the main office and Mr. Lee's (History) classroom C211.
We would very much appreciate parental assistance with the following:
-Setting up during 7th period at 12:45- 1:30 pm. 3 Volunteers
-Supervising from 1:30-3:00 pm. 3 Volunteers
-Cleaning up from 3:00-3:30 pm. 3 Volunteers
-Donations/borrowing of a fog machine, string lights, and two extension outlet surge protectors
-Slightly Health Food donations including a vegetable party tray, a fruit party tray, chips and salsa, water, and caramel apples.
You can sign up in the link below! Contact: mariela.alcocerruiz@wccusd.net and the Dance Committee
SIGN UP TO VOLUNTEER OR DONATE FOOD, STRING LIGHTS AND MORE BY CLICKING ON THIS LINK.
School Board Candidate Forum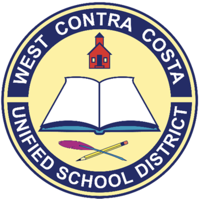 Invites you to the West Contra Costa Unified School District School Board Candidate Forum
There are eleven candidates running for three seats.
Come hear what they have to say!
FREE AND OPEN TO THE PUBLIC
Monday, October 22, 2018
7:00 p.m. – 8:30 p.m.
Korematsu Middle School
Multipurpose Room (MPR)
7125 Donal Avenue
El Cerrito, CA 94530
Moderator:
Heidi Hernandez Gatty
Vice President, Legislation
32nd District PTA
Questions for the candidates are appreciated ahead of time
Email: Baysidepta@gmail.com
We'll also take questions from the audience at the event.
🚗🚗🚗🚗🚗 TRAFFIC REMINDER!
Korematsu Middle School is located in a residential neighborhood. Please observe all traffic rules and regulations. To alleviate car congestion, consider parking a few blocks away and walking to the campus.
Our Neighbors Thank You!
MAKE UP PICTURE DAY
October 16th!
Starting this Month! Youth Sports: Drills & Skills at Korematsu

Beginning October 16, the El Cerrito Recreation Department will offer volleyball and basketball practices and scrimmages for grades 6-8.
"Drills and Skills" practices are great way for beginners & more advanced players alike to improve skills and get ready for league play in basketball and volleyball. Play will take place at the Korematsu gym lead by local coaches from Skyhawks Sports and the El Cerrito Recreation Department.
Participants can attend all five weeks of the Drills and Skills program, or drop in at their convenience.
More information can be found at:www.el-cerrito.org/youthsports
Taylor Melton
Recreation Supervisor
City of El Cerrito Recreation Department
7007 Moeser Lane
El Cerrito, CA 94530
Direct Line: (510) 559-7004
Main Office: (510) 559-7000
Fax: (510) 528-9413
http://www.el-cerrito.org/recreation
ParksMakeLifeBetter!
THE CITY OF EL CERRITO HOSTS RESTAURANT WEEK!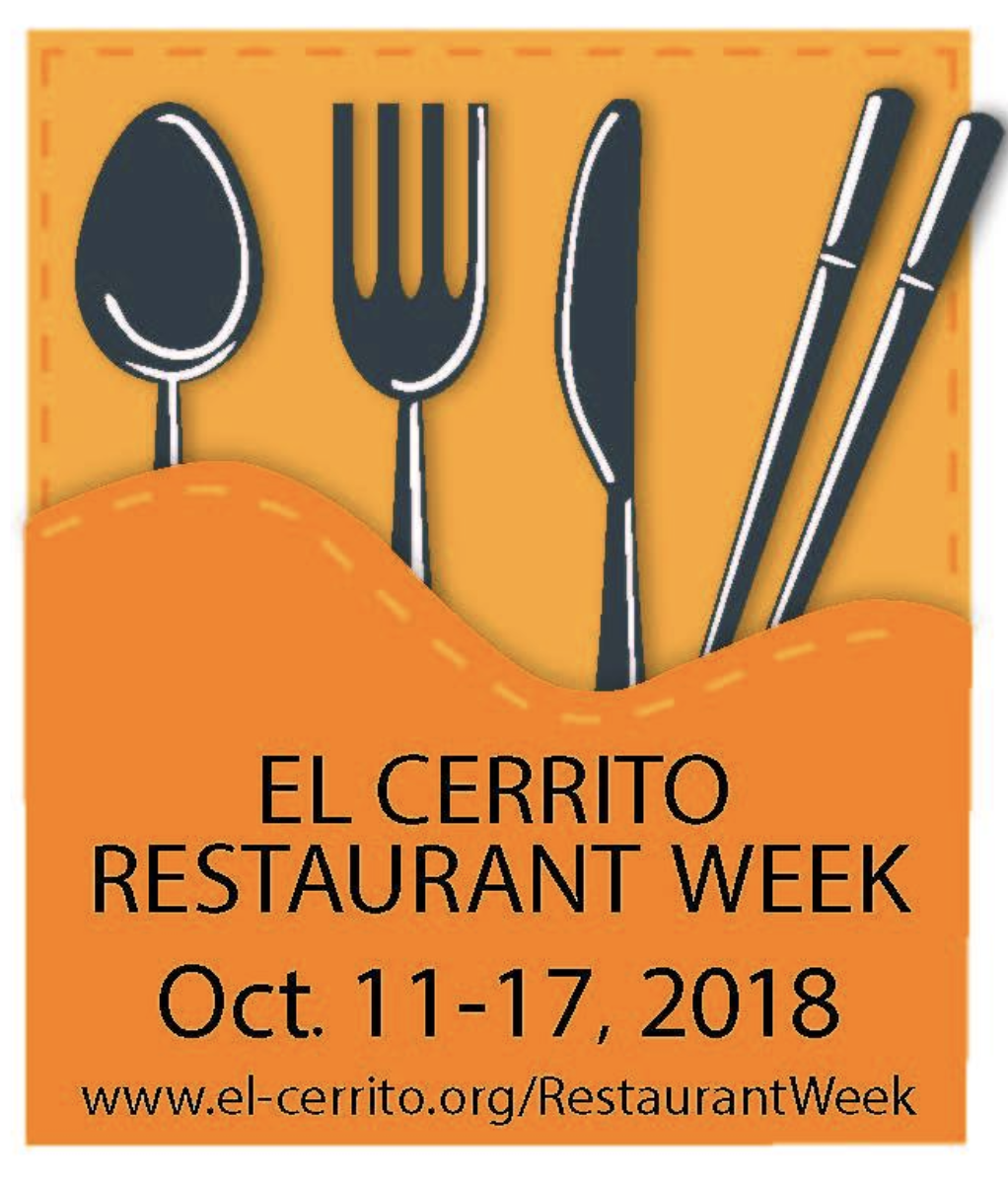 October 11-17, 2018
Try something new, or, visit an old favorite!
Participating restaurants and their special offers are available in the link.
Click on this link for restaurant specials!
AMAZON SMILE

Looking to buy something on Amazon?
Can you wait until October 29th!
PLEASE DO!
AmazonSmile will host a special promotion with added bonuses October 29 – November 2.
That means we'll get a larger portion of the proceeds.
More on AmazonSmile here in the middle of the page.
https://korematsumiddleschool.org/?page_id=361