WELCOME AND WELCOME BACK!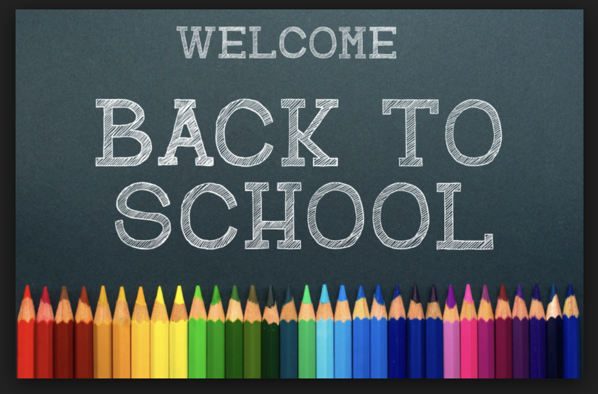 The first day of school is
Monday, August 20, 2018
First Bell: 8:10 a.m.
It is a Minimum Day. School Ends at 1:25 p.m.
HOW TO DROP OFF AND PICK UP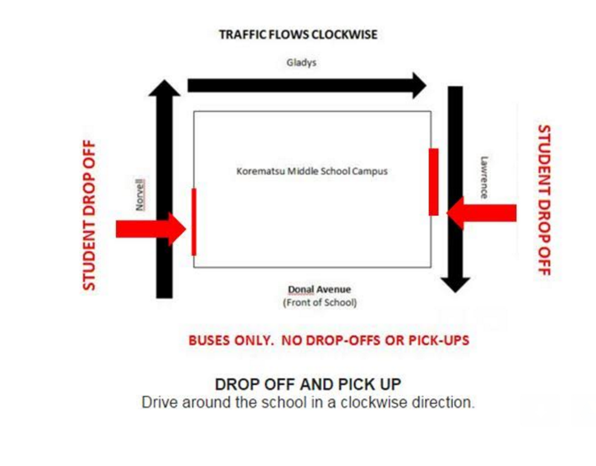 Drive around the school in a clockwise direction.
Drop in the designated areas on Lawrence and on Norvell.
It is very helpful to have your student seated on the PASSENGER side
of the vehicle for a safer and more efficient drop off.
Do not drop or pick up in front of the school.
The front is reserved for busses only.
R-E-S-P-E-C-T THE NEIGHBORHOOD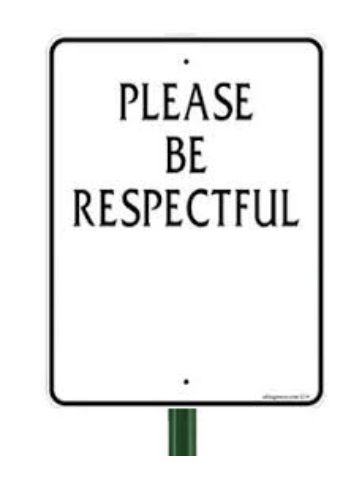 We are located in a residential neighborhood.
Please exercise the utmost care when visiting.
Please observe all traffic rules and regulations.
Please refrain from illegal U-turns double-parking, never block a driveway…..even for a minute…
Please, if you can, park your car a few blocks away and walk in to the campus.
It helps to alleviate some of the congestion.
Our neighbors thank you!
BUS? AC TRANSIT SCHEDULES HERE!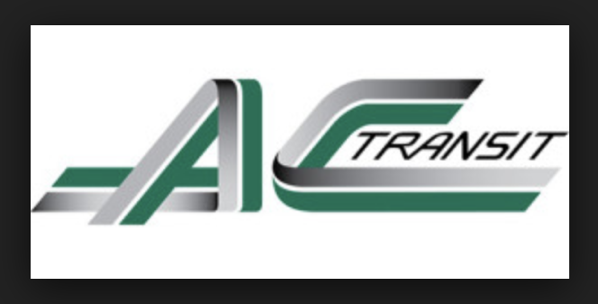 AC Transit runs dedicated routes to and from Richmond. These routes run only on school days Monday to Friday and the schedules are timed to match the hours of local schools and operate only when schools are in session. Even though these buses are specific to school schedules, they are open to all passengers at regular fare.
Routes
click on the bus links for specific routes, stops and times
667 North Richmond (Market Avenue and Third), Richmond (Seventh Street; MacDonald Avenue), El Cerrito (San Pablo Avenue), El Cerrito High, Korematsu Middle School.
668 Richmond BART, Richmond (Cutting Boulevard; Harbor Way South), El Cerrito (San Pablo Avenue), El Cerrito High School, Korematsu Middle School.
675 Richmond BART, Richmond (Cutting Boulevard; Harbor Way South) Richmond (Potrero Avenue, Hartnett Avenue) El Cerrito (Carlson Boulevard, San Pablo Avenue) El Cerrito Hight School, Korematsu Middle School.
FIRST DAY….WHAT TO BRING:
1. Your schedule. NOTE: THERE COULD BE SCHEDULE CHANGES. Adults will be on campus to direct students, and first period classes will be posted on campus. Check before you proceed to your first class.
2. ID on Lanyard.
3. Lunch or meal card or cash to purchase.
4. Pencils, some paper. Eraser. Teachers will tell students what they need. Some former students have reported that they used a composition notebook for each class, and one five pocket binder to hold the papers. If you are buying ahead, save the receipts in the event a teacher changes it up.
5. Backpack to hold it all.
6. P.E. meets in the gym. You do not change for P.E. on the first day.
AFTER SCHOOL OPPORTUNITIES
KOREMATSU VOLLEYBALL!!
Korematsu is starting a girls volleyball team!
If you are interested in trying out please email Scott at cantdigme@gmail.com asap.
No experience required!
Practices will be 2 days a week with some weekly scrimmages as well.
AFTER SCHOOL ACTIVITIES
SPONSORED BY EL CERRITO REC!
CHECK IT OUT!!!
NEW & fun after school activities for middle schoolers, organized by El Cerrito Recreation. Online registration and payment of course fees can be completed at www.el-cerrito.org/onlinereg or submitted directly to the El Cerrito Community Center. To see what other programs are available for middle schoolers check out the REC guide at http://www.el-cerrito.org/656/Recreation-Brochure
Middle School Programs Fall 2018 Flyer.pdf
Questions?
Taylor Melton
Acting Community Services Supervisor
TMelton@ci.el-cerrito.ca.us
City of El Cerrito Recreation Department
Direct Line: (510) 559-7004
AFTER SCHOOL CHOIR!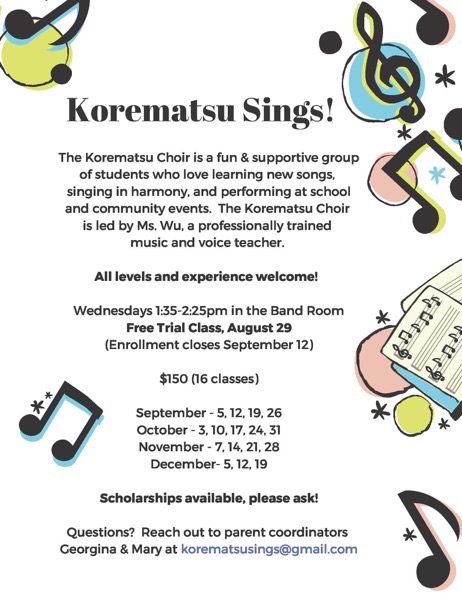 Fall 2018 Choir's first class/rehearsal ("trial class") is Wed. August 29th 1:35-2:25pm in the Band Room.
Singers are welcome to consider/join in up until enrollment closes on September 12th. To secure your student's spot for the Fall Session, submit $150 payment (total payment for the entire session/16 classes) soonest OR let us know your student will be on scholarship (or payment plan). For more information (including how to submit payment or about scholarships), contact parent coordinators Georgina & Mary at korematsusings@gmail.com