TEACHER LUNCHEON FRIDAY APRIL 13TH 2018
Help appreciate the teachers with your favorite spring dishes.
Bring on the salads, sandwiches, quiches, frittatas, fruits and yummies.
What's your favorite dish to bring to a potluck or a picnic?
Let's share it with our teachers and staff.
Questions to Astrid Broberg liissaUSA@aol.com.
EARTH DAY – APRIL 21ST 2018 – VOLUNTEER EVENT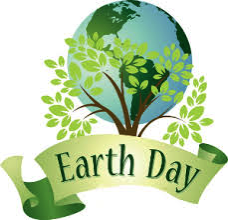 Celebrate Earth Day in El Cerrito by volunteering at the Earth Day Work Party
Saturday April 21st 2018
9am – 12pm
Free volunteer luncheon will be provided!
Release for City Volunteer Program
Join our 2018-19 Korematsu PTSA Board!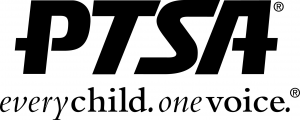 The Korematsu PTSA Board has a number of vacancies for the next school year due to 8th grade parents leaving.
Here's the list of what is needed.
PLEASE JOIN US!
We are a great group!
You'll meet people, share your skills, learn new ones and support our students, school and community.
President: Manu Wong
Executive Vice President: Stacey Steele
Secretary:OPEN
Treasurer: Filled
Financial Secretary: Evelyn Smith
Vice President Fundraising: OPEN
Membership Chair: Anita Miller
Auditor: Jenny Jensen
Volunteer Chair: OPEN
Parliamentarian:OPEN
Historian: OPEN
Yard Sale Chair: Cindy Spade
Annual Giving Co-chairs: OPEN
Restaurant Fundraisers Coordinator: Tiffany Hill
Golden Gate Fields Coordinator: Jody Lengyel
Info Night Chair: OPEN
Teacher Luncheon Day Chair:OPEN
Yearbook Chair:Tim Warner
Parent Librarian: Kim Paige
Fright Write Chair: OPEN
Fright Fest Chair: OPEN
Science Fair Chair: OPEN
Math Club Co-Chairs: OPEN
Band Parents Association Chair: FILLED
Fairmont Elem Comm Liaison: Saidah Said
Harding Elem Comm Liaison: Beth Dawson
Kensington Elem Comm Liaison: Kim Paige
Madera Elem Comm Liaison: OPEN
Stege Elem Comm Liaison: OPEN
Washington Elem Comm Liaison: OPEN
ELAC Parent Liaison: OPEN
Website Maintenance/Development: Doug Diego
If you, or someone you know, would be able and willing to fill a vacancy, and for any corrections, suggestions and questions,
please reply to this email ASAP.
korematsuptsa@gmail.com
We will have Elections for the Board Members at our May meeting.
2ND ANNUAL BUILDING & CONSTRUCTION TRADES CAREER FAIR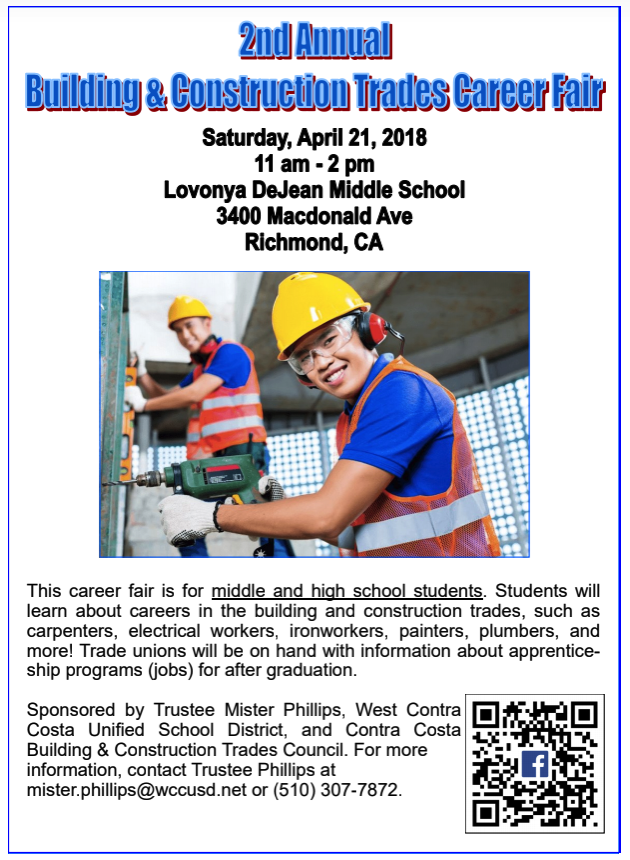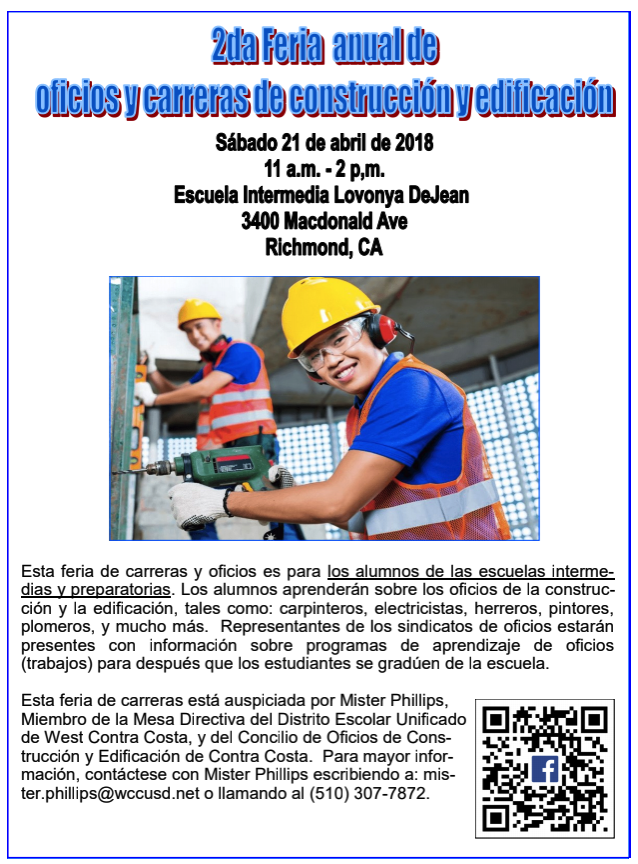 53rd ANNUAL STUDENT ART SHOW
Community members are invited to attend the 53rd Annual Student Art Show Tuesday, March 27 through Sunday, April 22 at the Richmond Art Center to see art created by middle and high school students throughout the District.
More than 300 pieces will be displayed during the exhibition, and select students will be recognized and awarded for their artistic talents and creativity from local organizations, including the El Sobrante Art Guild. Students and art teachers will be honored at the Art Show Reception Tuesday, April 17, from 5 p.m. – 7 p.m.
Who: Middle and High School students in the West Contra Costa Unified School District.
What: 53rd Annual WCCUSD Student Art exhibition showcasing over 300 student art pieces.
When: Exhibition opens Tuesday, March 27, 2018 and ends Sunday, April 22, 2018. The Art Show reception is Tuesday, April 17, 2018 from 5 p.m .- 7 p.m.
Where: Richmond Art Center, 2540 Barrett Ave. Richmond, CA 94804.
Why: To showcase student art work and honor and award students for creativity.
Visit the Richmond Art Center website for more information.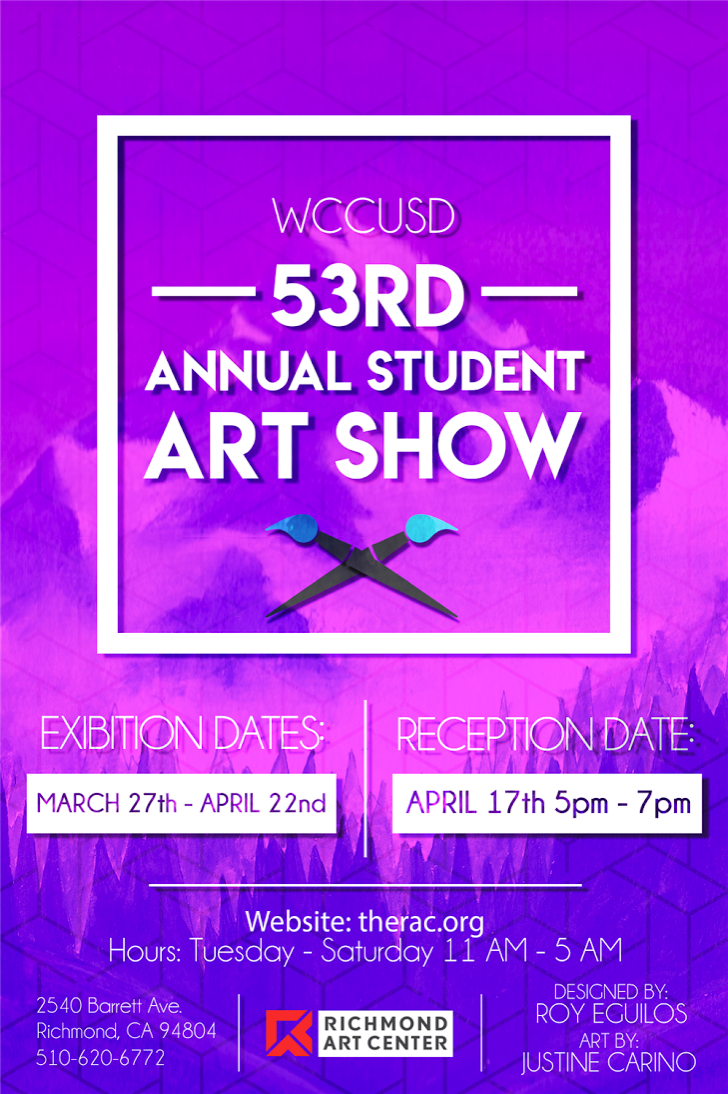 WACAC College Fair
Friday, May 4, 2018.
Cal State East Bay, University Gymnasium.
You will be able to meet with representatives from more than 100 colleges and universities.
It is a FREE event admission and there is FREE parking.
You can pre-register at wacaccollegefair.com