SPRING BREAK
HAVE A GREAT SPRING BREAK!
SCHOOL CLOSED : APRIL 2ND – 6TH
KOREMATSU TAKES HOME MEDALS FROM THE GOLDEN GATE STEM FAIR!
The 2018 Golden Gate STEM Fair was held March 19th-23rd 2018 at the San Francisco County Fair Building in Golden Gate Park. For some 50 years, the GG STEM Fair (San Francisco Bay Area Science Fair) has celebrated student science in a highly competitive regional competition.
Beginning with science fairs at public and private junior and senior high schools, the 300 top Bay Area projects are selected from almost 50,000 student projects spanning 8 Northern California counties including San Francisco, San Mateo, Marin, Napa, Sonoma, Solano, West Contra Costa and Mendocino.
Korematsu had a strong contingent of young scientists this year, with the following students invited to present (each having first won a ribbon at our school fair, and then again at the West Contra Costa Science Fair):
8th Grade
Maya Escalante
William Flowers
Ayaz Earley
Milan Willett
7th Grade
Rika Adam
Eleanor Addison
Lauren Bjeldanes
Tobias Classen
Sophie Gillern
Grace Maguire
Johan Phan
Ben Pilling-Chappelear
Tess Roorda
Henry Warmerdam
In an exciting awards ceremony Thursday evening, students and parents watched as Marcus Wojtowiak of the Randall Museum, and philanthropist and founder of the Museum of Mathematics, Dr. Glen Whitney, presented medals and ribbons to our winners:
7th Grade
Eleanor Addison, 1st Place, Physical Science
Sophie Gillern, 3rd Place, Behavioral Sciences
Ben Pilling-Chappelear, 3rd Place, Biological Sciences
Johan Phan, 3rd Place, Mathematics
Tess Roorda, 4th Place, Biological Sciences
Rika Adam, Bill Tobin Memorial Award
8th Grade
William Flowers, 3rd Place, Behavioral Sciences
Ayaz Earley, 4th Place, Physical Science
Our first place winner Eleanor Addison goes on to represent Korematsu, WCCUSD, and the Bay Area at the California State Science and Engineering Fair, April 23-24 in Los Angeles. She also was nominated to represent us at the Broadcom MASTERS (Math, Applied Science, Technology and Engineering for Rising Stars), the national science and engineering competition for sixth, seventh and eighth grade students, being held in Washington, DC this fall.
SHAKE YOUR BEAUTY 2018
Thursday, 3/29, 4 – 5:30 pm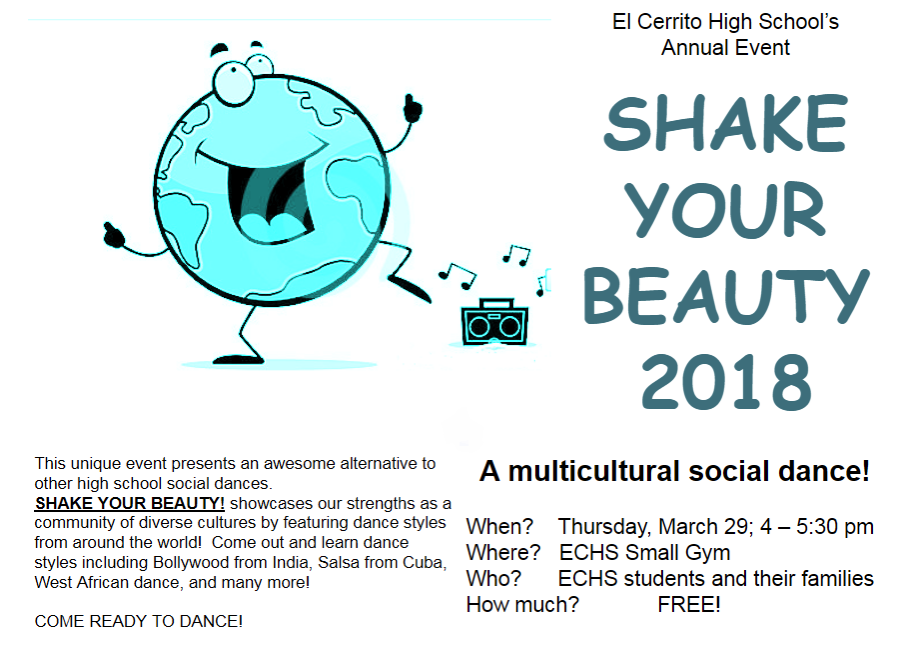 Ms. La Due is looking for parents who can help build sets for the spring musical!
The Drama Club will be having a set-building day for Annie Jr. on Saturday, March 31st starting at 11am in the Korematsu MPR.
We are REALLY in need of folks who are handy with tools and know a bit about construction! Our biggest need is to build risers like the ones seen in this video — we will need to build six 6×4 risers in total. Ms. La Due will purchase the wood and supplies but will need folks to bring tools and know-how!
We will also be painting our existing flats from the previous production and working on some of the props needed for this productions, so there will be jobs for our kids to do that don't involve powertools!
Finally, we really need someone with a truck who can help us transport some furniture. Particularly, we have some furniture that needs to be returned to CCCT in El Cerrito and some other donations for this show that need to be picked up. Please let Ms. La Due know if you can help with this!
Contact Ms. La Due at sarah.ladue@wccusd.net if you can help!
TEACHER LUNCHEON
Our next Teacher Luncheon will be on April 13th 2018.
WACAC College Fair
Friday, May 4, 2018.
Cal State East Bay, University Gymnasium.
You will be able to meet with representatives from more than 100 colleges and universities.
It is a FREE event admission and there is FREE parking.
You can pre-register at wacaccollegefair.com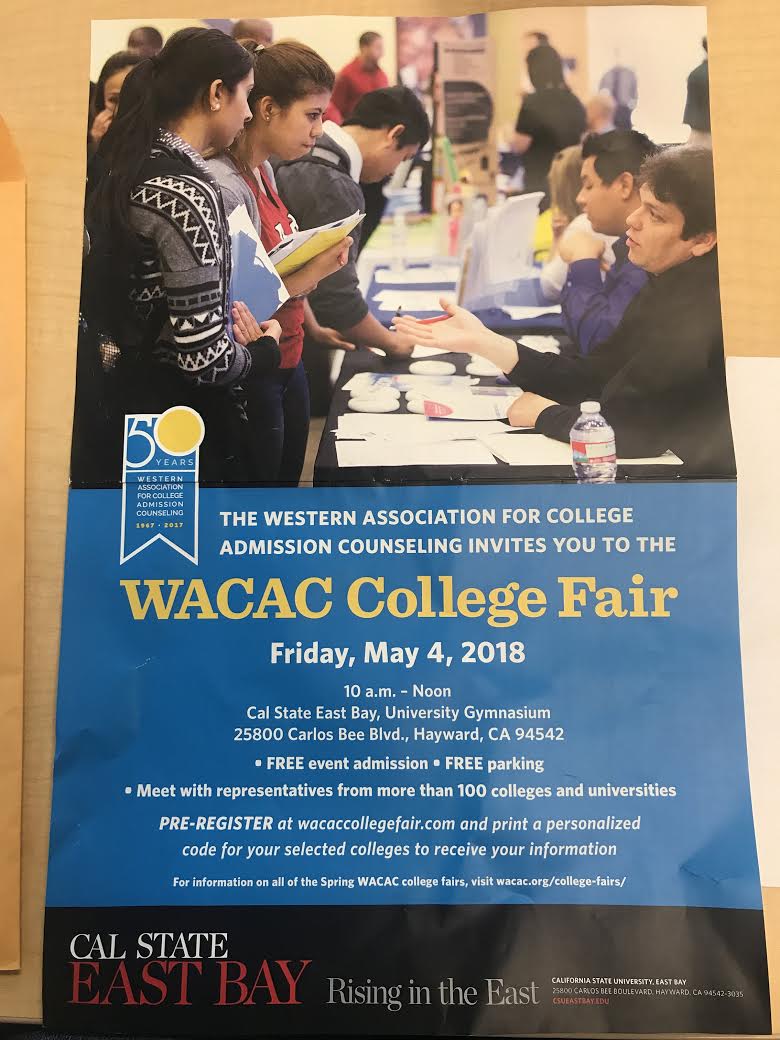 2ND ANNUAL BUILDING & CONSTRUCTION TRADES CAREER FAIR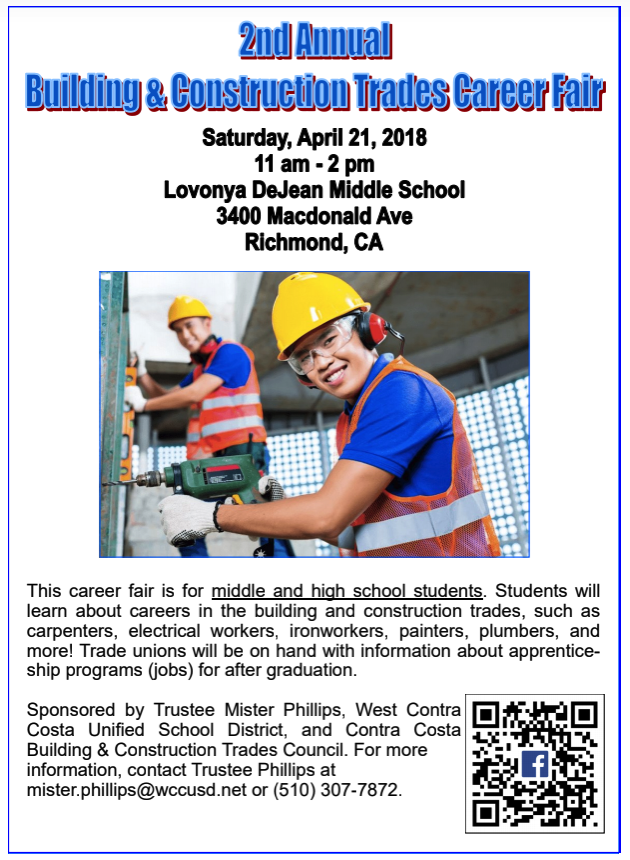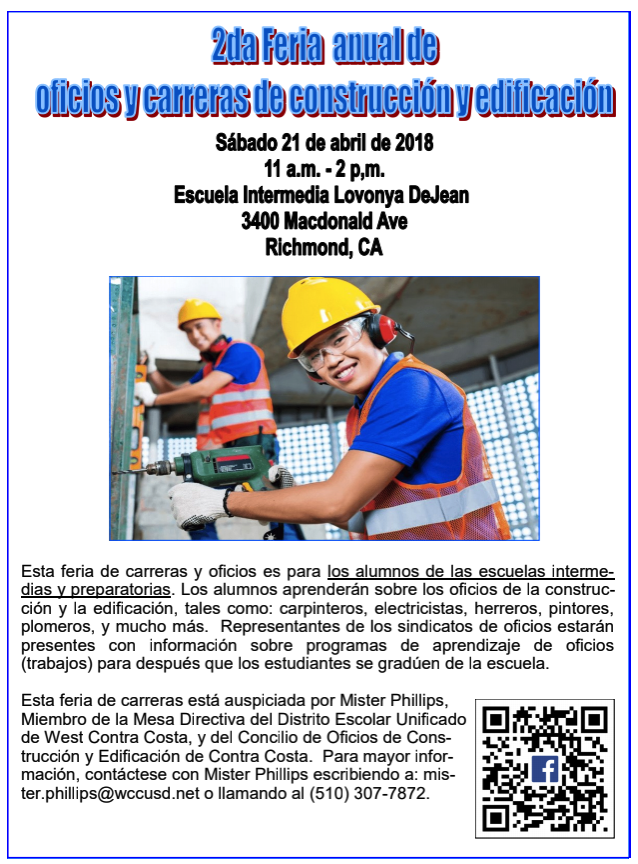 53rd ANNUAL STUDENT ART SHOW
Community members are invited to attend the 53rd Annual Student Art Show Tuesday, March 27 through Sunday, April 22 at the Richmond Art Center to see art created by middle and high school students throughout the District.
More than 300 pieces will be displayed during the exhibition, and select students will be recognized and awarded for their artistic talents and creativity from local organizations, including the El Sobrante Art Guild. Students and art teachers will be honored at the Art Show Reception Tuesday, April 17, from 5 p.m. – 7 p.m.
Who: Middle and High School students in the West Contra Costa Unified School District.
What: 53rd Annual WCCUSD Student Art exhibition showcasing over 300 student art pieces.
When: Exhibition opens Tuesday, March 27, 2018 and ends Sunday, April 22, 2018. The Art Show reception is Tuesday, April 17, 2018 from 5 p.m .- 7 p.m.
Where: Richmond Art Center, 2540 Barrett Ave. Richmond, CA 94804.
Why: To showcase student art work and honor and award students for creativity.
Visit the Richmond Art Center website for more information.